Rasa O'Donnell Named Allied Health Program Specialist
October 31, 2023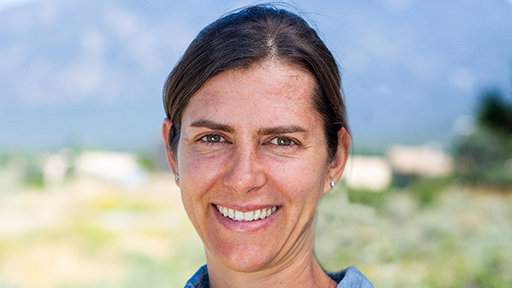 Photo by Ash Haywood
UNM-Taos Allied Health Program Specialist Rasa O'Donnell.
Rasa O'Donnell, ND, (Doctor of Naturopathic Medicine), joined UNM-Taos as the Allied Health Program Specialist in October. She previously worked for UNM-Taos from 2016-2018 under a grant through the Department of Labor called SUN PATH. Its purpose was to assist under-prepared learners to successfully complete their programs of study and gain employment in the healthcare field. Dr. O'Donnell advocated for students who had criminal backgrounds, who were undocumented, veterans, getting back into the workforce, and other challenging situations that make students apprehensive about committing to school.  
After O'Donnell left UNM-Taos, she worked on other grants such as addressing the opioid epidemic, substance use disorder (SUD), public health, and harm reduction. She learned that clinics and agencies often lack capacity to meet the needs of the community. When one is in that vulnerable moment of readiness to get help, they need to be able to access treatment right away. This motivated her to return to UNM-Taos to build up the medical and behavioral workforce in Taos.  
O'Donnell is looking forward to engaging the community to connect potential students to the UNM-Taos allied health programs. She hopes to add courses including a medical assistant certificate, phlebotomy, and behavioral health options. She is most excited to connect students with employment after the completion of their programs. 
"Seeing our students working in the community is one of the most rewarding parts of this work," O'Donnell reflects.  
O'Donnell is grateful for the UNM-Taos community and happy to be back.