LoboCard
The LoboCard is the official UNM ID card carried by students, faculty, staff and others for access to university services, secure buildings and more.

For UNM-Taos students and employees, the LoboCard is the single most important form of campus identification you can have. Not only does it function as a photo ID, but it also grants you access to many of UNM's facilities and services.
Getting your LoboCard
If you are new to UNM-Taos, one of your first orientation checklist items is to get your LoboCard.
If you have been through New Student Orientation and still need a card, call 575.737.6215 to set up an appointment to have one made. 

UNM-Taos students, faculty and staff want to support our community and shop locally!
About
The UNM-Taos LOBOS Buy LOCAL program is designed to bring discounted goods and services to the attention of the campus community and encourage Lobos to support our business community by shopping locally.
We have been working across campus to identify ways to engage with and support our community, and one way we can give back to the businesses who have given so much to support education in Taos is to encourage our campus community to invest in local businesses.
Information For Businesses
The LOBOS Buy LOCAL program is a win-win! 
Increase campus engagement and support of the business community
Attract customers and increase sales volume
Partner with your community college and show support for education
Encourage students, faculty and staff to patronize local businesses
How to participate in LOBOS Buy LOCAL program
It's quick and easy! Simply enter your business information and offer on the following online form: LOBOS Buy LOCAL Business Signup Form. Or, you can email taos@unm.edu to request a paper form.
What you will receive…
Promotion of your business

On the

 

LOBOS Buy LOCAL

 

page at taos.unm.edu
In welcome packets during orientation and employee onboarding
In email announcements to our campus listserv, with over 1,700 subscribers
On bulletin boards around campus.

A LOBOS Buy LOCAL decal

 

to post at your place of business and electronic version to post on your website, if you choose!
A

 

UNM-Taos

 T

-shirt as a big Lobo THANK YOU!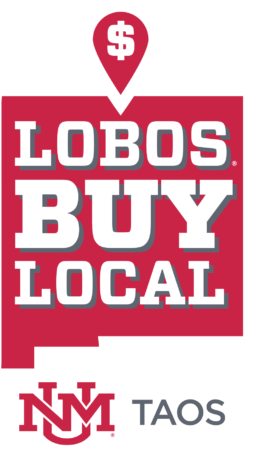 Information for Students, Faculty and Staff
Check back to this page regularly to see the promotions and discounts that local businesses are offering. You can also look for the logo decal at participating businesses.
Lobos Buy Local Businesses
Business Listing
New Wave Rafting
We offer a complete choice of raft and funyak outings, from family-friendly scenic float trips to the wild whitewater of the Taos Box.
(800) 984-1444
newwaverafting.com
10% off
Taos Vibe
Cigar & Smoking essentials/gift shop
(575) 613-6137
10% off
Kit Carson Internet
Fiber Optic to the Home Internet Service Provider
(575) 758-4838
www.kitcarson.com/Internet
10% Discount with Current Student ID
Copy Queen of Taos
High-quality color and black-and-white copies. Wide format copies and scanning. Fax service. Notary service. Business cards, postcards, labels and stationery. Send files for print to: cq@taosnet.com. 216 Paseo del Pueblo Norte in Yucca Plaza. Open 9-5, Monday thru Friday and Saturdays, 10-2.
(575) 758-3999
copyqueenoftaos.com
Taos Mountain Outfitters
Specialty outdoor store
(575) 758-9292
www.taosmountainoutfitters.com
10% off regular-priced merchandise
Two Gray Hares Disc Golf Course
Disc golf course with 18 holes and driving range at 5794 Hwy 518. Pro shop for all your disc golf needs. Lessons available.
(575) 587-2087
www.wisutravel.com
Two-for-one course fees for the day with your UNM card.
WISU Travel
Travel specialist to help you set up all your travel needs from a simple hotel for a business trip to your dream vacation
(575) 770-1935
www.wisutravel.com
Extra onboard credit for any cruise booked (Amount depends on value of cruise. Contact us for details and mention code UNM Taos
print.direct, inc.
Direct to garment & sublimation printing services. "We create quality printed garments and material blanks with your photo, text, or design."
(800) 620-2721
http://print.direct
20% Off Website Orders. Used Code LOBOSBL
Couse-Sharp Historic Site
Homes and studios of two founding members of the Taos Society of Artists, who helped create the cultural fabric of Taos and the West as we know it today. A TSA research center opened in 2021.
(575) 751-0369
couse-sharp.org
admission by appointment always free; 10% off books & swag
Taos Financial Strategies, LLC
Accounting, bookkeeping, payroll, personal and business income tax preparation
(575) 758-5835
15% Discount on Tax Preparation
Body and Skin Taos
Facials, lash extensions, massage therapy. David and Lehsa both do massage, also available for a couples massage. David is a retired chiropractor and now does massage therapy. Lehsa specializes in skincare and eyelash extensions. Available by appointment only.
(575) 741-5026
https://www.bodyandskintaos.com
10% off regular service fee. Cannot be combined with any other offer or discount.
Bond Plumbing
Plumbing, heating, sewer service and solar energy (Valverde Energy), new construction, repair
(575) 751-0060
Bondplumbing.com
5% with discount total of $75.00