FAQs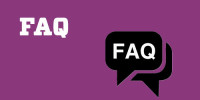 Do I have to apply for financial aid every year?
Yes. You can complete your FAFSA beginning October. To be considered for priority aid, you must apply before early January. Priority aid is awarded to eligible students on a first-come, first-served basis
Do I still attend classes even if my financial aid file is not complete and I have not received my disbursement?
Yes. You must attend classes even though your financial aid file is not complete. You are responsible for paying for your tuition, books, and fees until your file is complete.
Can I get my financial aid disbursement immediately?
No. If your financial aid file is not complete, then you are not eligible to receive any financial aid until it is completed. It can take several days for any changes made to your file to become effective. Financial aid disbursements are ONLY done on Wednesdays and Fridays after the first week of classes, and are available through direct deposit to your account or by a check mailed out to your current address on file.
Why haven't I received my financial aid disbursement?
Log onto Lobo Web through my.unm.edu and select the Financial Aid menu to determine if your file is complete. All financial aid forms can be obtained online through your Lobo Web, at finaid.unm.edu, or outside the financial aid office. If your file is complete and you have not received your disbursement, please contact the Financial Aid Office.
What's the UNM-Taos school code used for the FAFSA?
The code is: 002663, which is the same as main campus so you will see the Albuquerque address.
Are the Bridge and Lottery Scholarships automatically awarded?
You must fill out a Bridge Scholarship application and submit it to the Financial Aid Office. If you have already filled out an application and cannot see the award on your Lobo Web, please contact us immediately. Any questions regarding eligibility should be directed to the Financial Aid Office.