Frequently Asked Questions About Kids Campus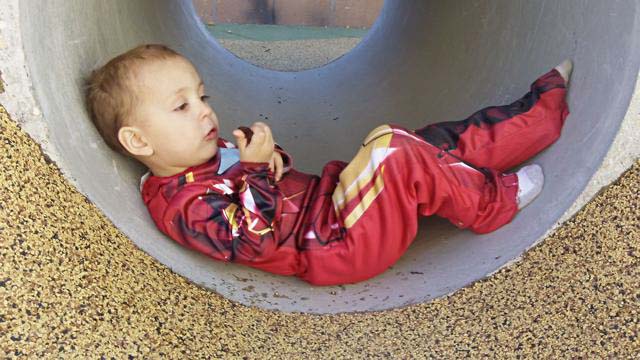 What are the program hours?
Kids Campus is open Monday-Friday 7:30 a.m.-5:30 p.m.
What is the philosophy of the program?
Hands‐on activities and play inside and outside
Music, movement and fantasy play
Real-life experiences such as field trips, walks and visitors
An environment that offers opportunities and choices that build independence.
A child‐centered environment in which the children have ownership and responsibility.
Constructive, guided and trustful interactions and relationships with their teachers.
A safe environment is provided by consistency and predictability of routines and boundaries.
Open‐ended questions
Teacher and family collaboration and communication
A staff that respects and understands the different ways in which children develop.
Family‐style dining to encourage language, social awareness and fine motor skills.
Teachers who facilitate their engagement, expand their experiences and challenge and stimulate them.
How do I enroll my child in the program?
In order to enroll a child at the UNM-Taos Kids Campus the contracting person must adhere to the following criteria: The contracting person must have primary legal custody of the child. This can include a parent, foster parent or legal guardian. Enrollment of a child is accomplished by the parent providing the following information:
Completed registration form
Copy of child's immunization record—no child can be admitted
without proof of current immunizations or legal waiver.
Identification and emergency information.
Field trip, photos and sun protection permission forms.
Financial agreement
Signed acknowledgment form
What are the tuition rates?
Families that receive childcare subsidies through CYFD are only required to pay the co‐payment determined by CYFD. We offer a scholarship rate to all families whose income is less than four times the Federal Poverty Rate for their family size. This is determined by showing us your last Federal tax return. Please ask to see a rate chart if you think you qualify. Those with family incomes above four times the Federal Poverty Rate pay the "full" rate. The following is the monthly tuition scale for a full-time student. We also offer 2, 3 or 4 days per week, full or half days. Please call 575.737.6255 for additional information. 
Business Hours for Fall: 7:30 AM - 5:30 PM
Registration Fee:
$50.00
Materials Fee:
$100.00
Per Semester
 
 
Daily
2 Days
3 Days
4 Days
5 Days
Pre-School
 
 
 
 
 
 
Subsidy
 
$26
$152
$228
$304
$380
Mid-Range
 
$35
$280
$420
$560
$700
Full Pay
 
$40
$320
$480
$640
$800
 
 
 
 
Toddlers
 
 
 
 
 
 
Subsidy
 
$27
$168
$252
$336
$420
Mid-Range
 
$38
$304
$456
$608
$760
Full Pay
 
$43
$344
$516
$688
$860
 
 
 
 
Infants
 
 
 
 
 
 
Subsidy
 
$29
$184
$276
$368
$460
Mid-Range
 
$42
$336
$504
$672
$840
Full Pay
 
$47
$376
$564
$752
$940
Tuition is billed by the month. All fees reflect monthly tuition rate
All half days are
$24.00
Subsidy
Families that qualify for assistance with Children, Youth and Family Department
Mid-Range
Families whose income is below 300 % childcare subsidy rate
Full Pay
Families whose income is above 300% childcare subsidy rate
Tuition is billed by the month. All fees reflect the monthly tuition rate.
All Half days are $24.00
Subsidy Rate:  Families that qualify for assistance with Children, Youth and Family Dept.
Mid-Range Rate:  Families whose income is below 300% above childcare eligibility
Full-Pay Rate:  Families whose income is above 300% above childcare eligibility
Are there any additional costs?
All families must pay a $50.00 non‐refundable registration fee at the beginning of each school year or upon enrollment. All childcare rates are based on annual tuition divided into 12 equal payments. Two weeks' notice is required when withdrawing your child before the end of the school year or you will be billed for ½ month tuition after you leave. We charge a $100.00 material fee per semester ($50.00 summer) that we will waive for families who pay for the entire session in advance.
What is the daily schedule?
The Kids Campus opens each day at 7:30 am. Daily schedules are posted in individual classrooms. The infants' schedules will be more individualized than those in the other classrooms. Check with your child's teacher about your classroom's daily routine. Our traditional program ends at 5:30 pm each day. All classroom routines are predictable but flexible and allow adequate time for transitions to occur.
Can I visit my child during school hours?
The Kids Campus maintains an open-door policy. You are your child's first and most important teacher. We need your help to make this experience the best possible one for your child. We encourage you to participate in as many center activities as you can. Our classroom is always open for you to observe your child during the school day. We encourage you to visit anytime.
What is the Kids Campus discipline policy?
The goal of discipline is to maintain a safe and fair environment that encourages growth and development of a child's self‐esteem. This type of environment encourages the building of interpersonal competence and fosters self‐discipline and respect for others.