Natural resources student Nathan Oswald strives to be steward of public lands
March 8, 2023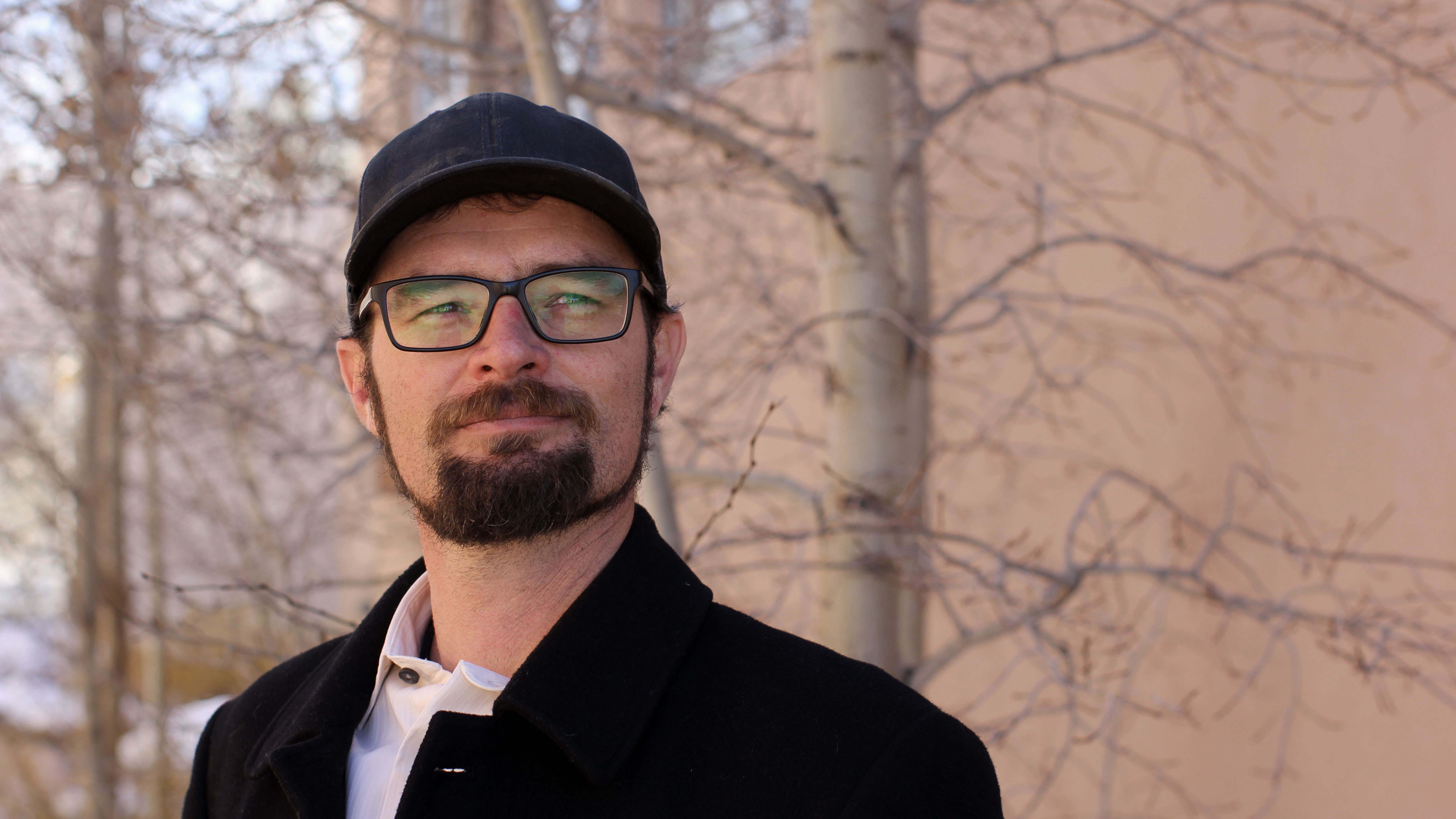 Photo by Enrico Trujillo
All-State Academic Team honoree Nathan Oswald
A perfect day for UNM-Taos student Nathan Oswald, 39, is to wake up camped on the side of a river somewhere in the Southwest, head downstream, run some whitewater, then pitch another camp. 
A memorable day for Oswald came when he learned of being named to the New Mexico All-State Academic Team by the Phi Theta Kappa Honor Society. The recognition event was slated for Community College Day at the Roundhouse in Santa Fe on Feb. 15, but a snowstorm forced its cancelation.   
"The nomination did come as a surprise," said the 2001 Farmington High School grad who holds a current GPA of 4.09. "Enrolling in college later in life on a shoestring budget was a difficult decision, but I'm glad that I didn't wait any longer. I have worked in service industry jobs my entire life, and only didn't pursue an education earlier because I was living hand to mouth."  
Each year, the New Mexico All-State Academic Team is honored at the Roundhouse in Santa Fe. UNM-Taos is a state chapter of the Phi Theta Kappa Awards program in the New Mexico Region. 
At UNM-Taos, Oswald is studying toward an Associate of Pre-Science Degree with a focus on Environmental Water Resources. He will graduate in May and intends to continue his studies at New Mexico Highlands University in the fall. His goal at Highlands is to earn a B.S. in Environmental Geology with a water resources concentration. 
Thinking about his future after Highlands, Oswald's dream job reflects his "perfect day."   
"I would find a career as an environmental coordinator or natural resources specialist, and get to influence and fairly implement public land policy," Oswald shared. "I've had the great fortune to spend most of my life out on public land in the Southwest, and feel compelled to help protect and steward it for future generations." 
For Oswald, it's better late than never when it comes to finding his ideal career. He said he was more excited than apprehensive about attending UNM-Taos. "Staff and faculty, especially advisement and financial aid, were extremely welcoming, reassuring, and helpful," he added. 
As Oswald pondered his time at Klauer campus, he quickly recalled many of his favorite courses. A couple of classes he mentioned as especially enjoyable were Introduction to Native American Studies taught by Eileen Mitchell and Terrestrial Ecology with Karen Loveless.
"It's even harder to pick a favorite instructor," he said, "but if I had to, Sheila Edwards-Mitchell of the math department gets my vote on the basis of her enthusiasm, attitude, and ability as an instructor."  
All in all, Oswald said the availability of aid and assistance has been another pleasant surprise throughout his experience at UNM-Taos: "I encourage the community, especially public-school students, to become familiar with and utilize the great resources available to them at UNM-Taos."
In addition, it was announced after the publication of this article that Oswald has been selected as a 2023 Coca-Cola Academic Team Bronze Scholar and will receive a $1,000 scholarship. For this honor, students are nominated for the academic team by their college administrators. Selection is based on academic achievement, leadership, and engagement in college and community service.
Coca-Cola Academic Team members will be recognized in both local and statewide ceremonies and will also be recognized internationally during Phi Theta Kappa's annual convention, PTK Catalyst, to be held in Columbus, Ohio, April 20-22.