Getting a forestry job is 'as good as it gets' for a natural resources student
February 8, 2023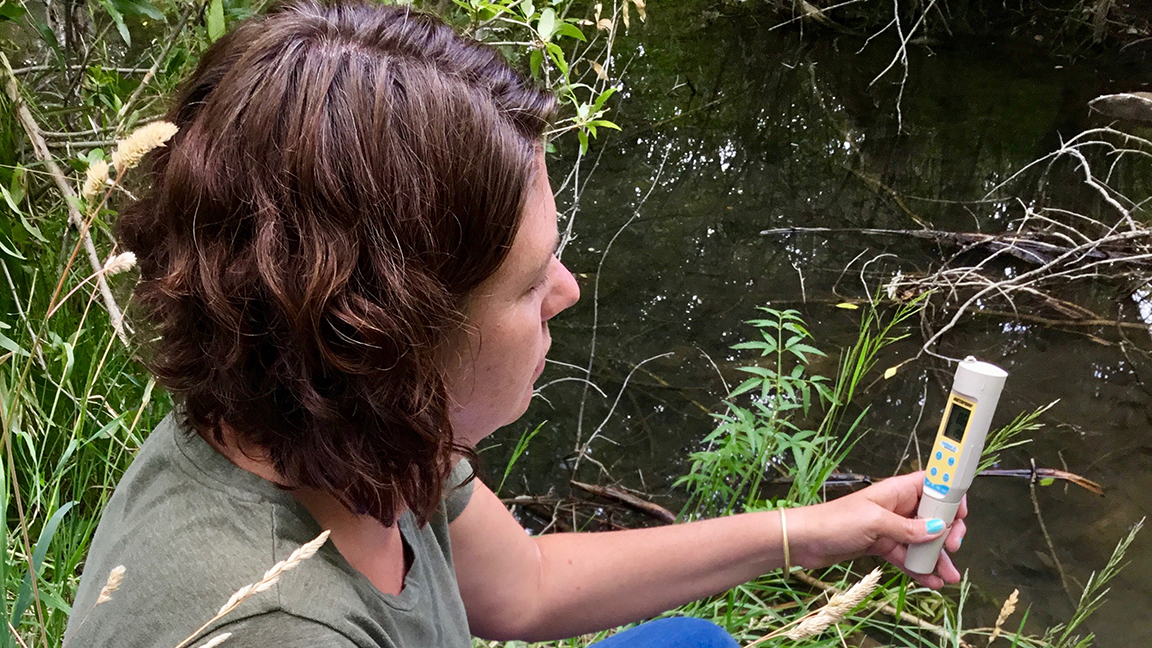 Photo courtesy Brooke Zanetell
CCC Program Coordinator and UNM-Taos grad Ganga Little testing water.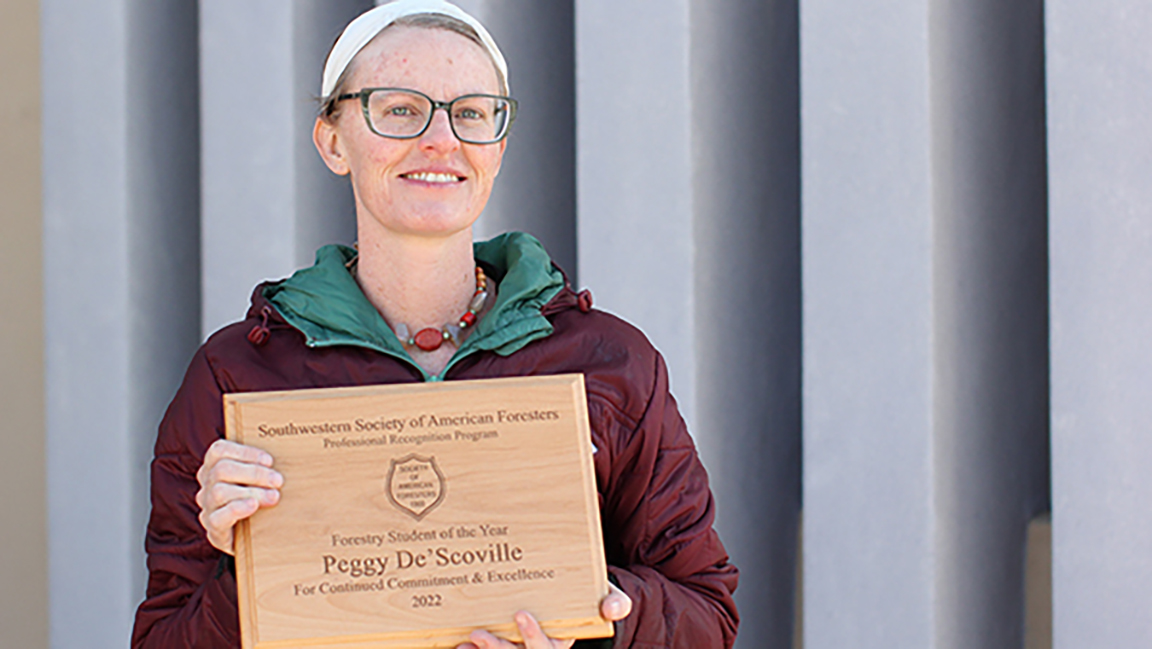 Photo by Enrico Trujillo
UNM-Taos grad Peggy De'Scoville shows her Southwestern Society of American Foresters Forestry Student of the Year award.
During a recent Northern New Mexico Climate Change Corps (CCC) semester meeting, it was announced that UNM-Taos associate degree grads Peggy De'Scoville and Ganga Little were selected for Pathways positions as Natural Resources Student Trainees with the Carson National Forest (CNF).
"This is a huge score for Peggy and Ganga," said Brooke Zanetell, UNM-Taos research associate professor and CCC program director. "It means they will be able to stay in Taos with their families and have a great career working in a forest they both love. Getting a Pathways position is as good as it gets for a student who wants a career with a federal agency like the US Forest Service (USFS); It is our hope for every CCC student we work with." 
Pathways positions are awarded to current students and recent graduates. De'Scoville and Little will work for the Forest Service in CNF during any time they have off from school. The USFS allows them to continue completing their degrees to the highest level they want — B.S., M.S., Ph.D., etc. Once a student completes their desired degree, they are guaranteed a permanent position with the agency.   
This is also the first time in over a decade that CNF has offered Pathways positions. "We are very grateful to them for navigating the bureaucratic processes that make it possible for them to hire our local students into such amazing positions. CNF is a great partner to UNM-Taos," Zanetell added.
Both Pathways recipients are transfer students at New Mexico Highlands University (NMHU). De'Scoville is nearing completion of her Bachelor of Science in Forestry degree. Last fall, she was named Forestry Student of the Year by the Southwestern Society of American Foresters. Little is currently a master's student having completed her B.S. in Forestry in May 2022 and is the CCC program coordinator. 
An introduction to new CCC students, an overview of the Spring 2023 program and schedule, current student accomplishments, and peer mentoring by CCC transfer students were also on the agenda. 
Peer mentoring for CCC transfer students was conducted through a "Speed Panel." Each transfer student could ask a question of their peers for everyone to answer in 30 seconds and then move on to the next round. The recording of the Speed Panel can be viewed here: https://mediaspace.unm.edu/media/CCC+LIFT+Meetings/1_f2oc0qy1. 
The CCC program has two primary educational components: an associate degree in Pre-Science at UNM-Taos and a B.S. degree in Forestry, Biology, or Geology at NMHU. Corps members may also continue in their education and earn a master's degree in Natural Science with a concentration in Biology, Geology, or Environmental Science and Management at NMHU.