UNM-Taos, Film Prize Junior New Mexico are growing the next generation of storytellers
February 16, 2023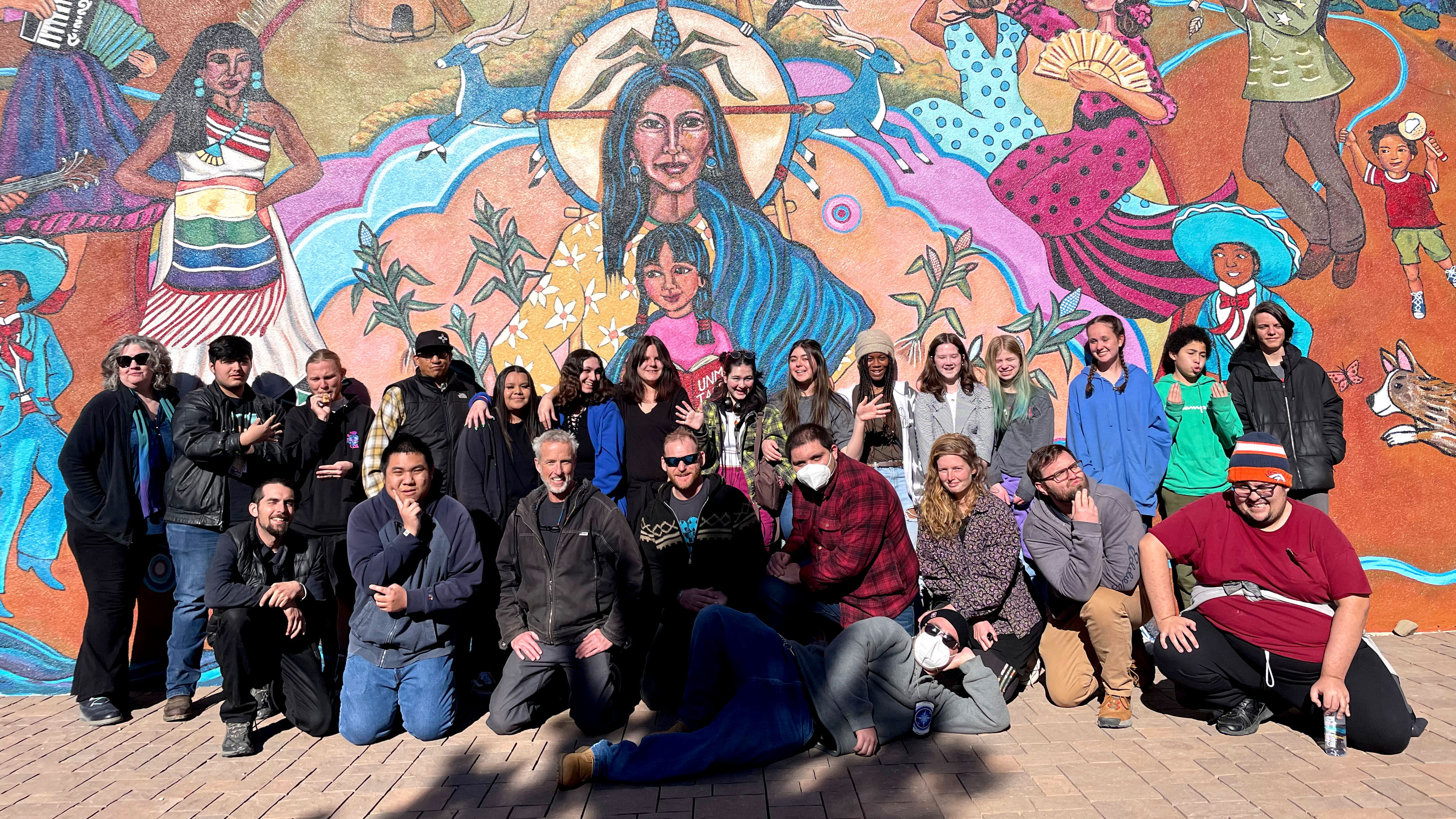 Courtesy Peter Walker
Film students from Taos High School, Red River Valley Charter School, TISA, and Taos Cyber Magnet School who are producing short films for a state competition took advantage of a filmmaking Q&A at UNM-Taos.
During the afternoon on Feb. 10, UNM-Taos Film and Digital Media Arts (FDMA) hosted students from Film Prize Junior New Mexico (https://www.filmprizenm.com), for a demo of the new FDMA space on Klauer campus and to take part in a filmmaking workshop for high school students. The workshop gave the budding filmmakers the opportunity to describe their films and get feedback from FDMA faculty and the program's advanced internship students about ways to proceed with their projects.  
Film Prize Junior New Mexico is an initiative from the creators of the award-winning Louisiana Film Prize and Film Prize Junior Louisiana in partnership with the Stagecoach Foundation, as stated on the Film Prize Junior New Mexico website. Film Prize Junior is a student short film competition for middle and high school students across the state of New Mexico. Hayett said there are 120 film projects in the works around the state readying for entry into the Film Prize Junior competition. 
"This project is an opportunity for the students to find their voices," Film Prize Junior New Mexico Director Rosey Hayett told the room. "It's your film." 
The attending student groups — some with their teachers on hand — hailed from Taos High School (THS), Taos Cyber Magnet School, Red River Valley Charter School, and Taos Integrated School of the Arts (TISA). 
For this competition, educators and students work together to create a concept, write a story, and produce and edit a short film with help from Film Prize team members and film mentors. If an entrant to the festival makes it through the competition, their short film (3-10 minutes long) will be showcased at the Film Prize Junior New Mexico Film Festival on April 1 in Albuquerque. 
Furthermore, entries can qualify for huge prizes including equipment grants for the schools, scholarships for the students, and cash rewards for the educators. The inaugural Film Prize Junior New Mexico Film Festival was held in 2021. 
Roughly 20 students started the conversation by discussing their film script ideas, needs, and concerns during an open forum. Some of the needs expressed by the student filmmakers were advice on advanced script development and everything from props to costumes. 
Then, they broke up into their individual school teams to discuss topics in more depth with the mentors. 
In regard to challenges, Hayett said a common thread he heard from the students was "time, locations, and transportation." The students can film outside of class but because of other obligations and/or lack of a ride, they often can't. 
"Time is their biggest challenge," Hayett said. "But that is one of the benefits of this collaboration — learning about time management."
Most of the students are using their phones to film. All of the films must be original works, including any graphics and animation. They also receive virtual supports such as editing workshops, for example. 
Red River Valley Charter School is working on a Western complete with a bar fight and breakaway glass. 
TISA has chosen an emotional story to film about a young boy's grief over the death of his dad and flashbacks on the amazing meals they ate together. When gently pressed by mentors about any resolution in the end of their script, the students elaborated on the personal growth aspect of the story in relation to the boy's emotional healing. 
Taos Cyber Magnet School is going the thriller route and the THS project is an animated film about "a dude running from a monster through various portals." Hayett inquired of the THS trio how they saw their film ending and after a few minutes of sharing ideas, and some laughs, they had a clearer picture — literally. 
"This was a chance to show these students the UNM-Taos campus environment for future consideration and also give them tips on how to make their movies," said FDMA director Peter Walker. 
Film Prize Junior screens all short film entries that complete the required forms so long as they adhere to the rules and guidelines. If a school enters a short film that meets the criteria, then the film will be seen at the in-person festival and virtually around the world. All qualifying short film submissions will be available to screen on the Film Prize Junior festival page until the virtual festival begins for the following competition cycle.