Trail Upgrades Include 'Art Walk', Fitness Stations, and Trail Signage
February 1, 2023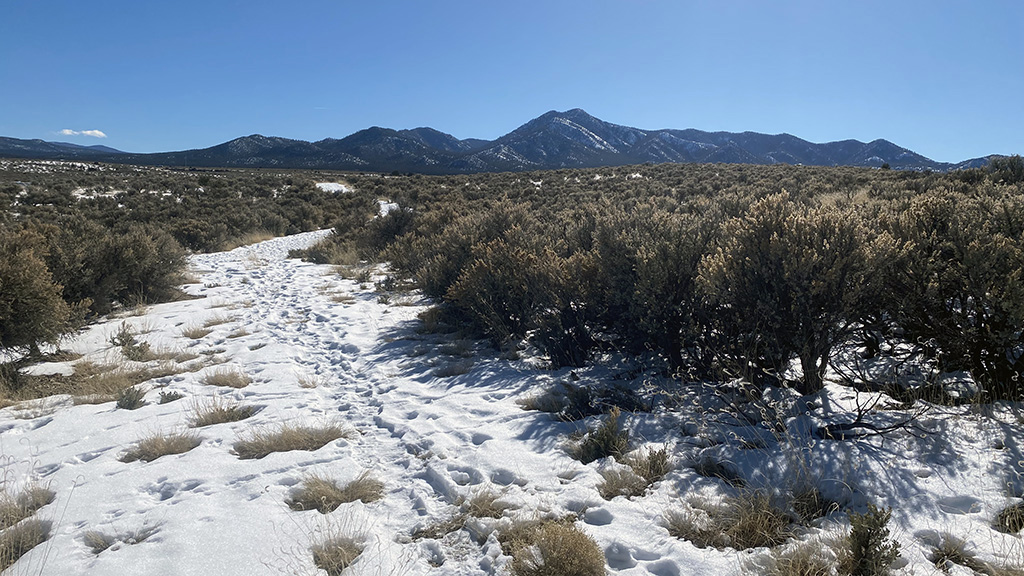 Photo by Scott Gerdes
The Kids Campus Loop Trail will undergo a transformation thanks to funding through the NM Outdoor Recreation Division Trails+ grant.
Folks who live in the area of the Taos Country Club say they love to walk their dogs around UNM-Taos — the four-leggers find great joy romping atop the grassy spots — and on the Kids Campus Loop Trail. Klauer campus gets joggers and walkers of all ages and abilities from around town who come out to bask in the quiet and the views. Students, faculty, and staff stretch their legs, too. Later this year, the easy-to-navigate trail will be even more enticing and accessible. 
In January, UNM-Taos received the NM Outdoor Recreation Division (ORD) Trails+ grant to restore and upgrade the existing trail developed by the Rocky Mountain Youth Corps NM (RMYC). The plan is to enhance the trail with the addition of fitness stations, signage, and an "Art Walk." 
The addition of an ADA-accessible Art Walk will curate existing outdoor sculptures, much of which was donated by local artists — such as Ted Egri — or created by UNM-Taos Art Department students. Trails will not be paved, but new trail additions will be made on flat terrain. 
The Outdoor Recreation Trails+ grant seeks to enhance economic development, prosperity, and wellness for New Mexicans through projects including outdoor classrooms, river walks, and trail accessibility. Round one of awards was announced last June, and round two in September. The third round of 19 awards totaling $1,809,946 million brings the 2022 total in Trails+ funding to $6,559,352 million for 54 statewide projects. Gov. Michelle Lujan Grisham created both ORD and the Trails+ grant in 2019 in order to increase outdoor jobs and access throughout New Mexico. UNM-Taos will receive $99,999 for the upgrades. 
The 1-mile trail was developed on the south side of campus around 2006 by an eight-person RMYC crew, ages 18-25. RMYC Executive Director Ben Thomas said it took them about two months to complete. 
Taos Mayor Pascual Maestas is currently the RMYC Board of Directors treasurer. In 2012, he supervised the building of the split-rail fences on campus and a trail that connects Pueblo Hall to the main entrance and to what is now the STEM Building. 
Mayor Maestas is familiar with the ORD grant. "It's super exciting," he said of the trail upgrades. "It will be great for students, too, to get out there and clear their heads." 
Work is expected to begin in late spring or early summer. RMYC will be assisting with some of the remediation work on the current trail.