De'Scoville's Stewardship, Dedication, and Reforestation Win the Day
January 18, 2023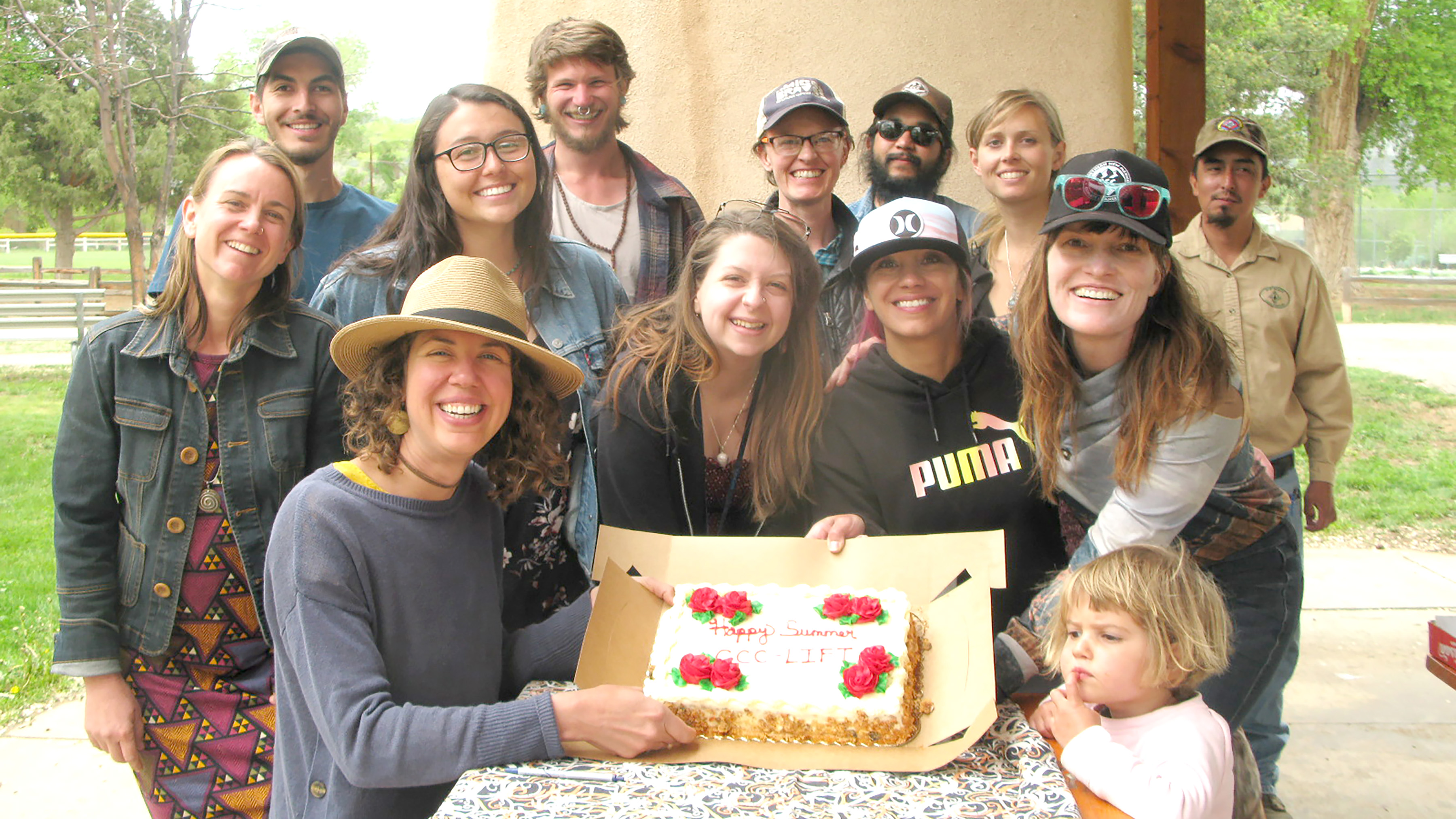 Courtesy photo
Forestry Student of the Year and UNM-Taos grad Peggy De'Scoville (back row, middle) with her former UNM-Taos CCC Lift cohorts.
New Mexico Highlands University (NMHU) natural resources student Peggy De'Scoville — a UNM-Taos alumnus — was named Forestry Student of the Year at the Southwestern Section of the Society of American Foresters (SAF) annual gathering last October in Show Low, Arizona. The Southwestern SAF presents its annual awards to those committed to educating the public and working on reforestation issues in the Southwestern states. 
A non-traditional forestry student, De'Scoville was nominated by NMHU professors Jennifer Klutsch and Joshua Sloan for her civic service, her love of engaging young students in forestry and ecology, and her overall dedication to the field. 
"In (De'Scoville's) classes, work, and volunteerism at NMHU she has distinguished herself as committed to gaining experience in science, forestry, and botany along with sharing those experiences with students," Klutsch wrote in a recommendation letter. "Peggy is an outstanding student in the three academic semesters I have taught and known her and maintains a GPA of 4.0 with a full load of science classes. She is a consistent participant in class discussions, engages in forestry, science, and education topics outside of class, and helps students with lab exercises." 
Explaining that she came to NMHU a little later than most undergraduate students, De'Scoville says that she and her UNM-Taos transfer cohort coined the term "maximum engagement" to reflect their educational experience. "We give everything we have to this school, our education, and our forestry department," she said, adding that her hard work has paid off well. De'Scoville plans to continue in research and hands-on forest management after graduating from NMHU this spring. 
"The SAF Forestry Student of the Year award is a huge honor, which I owe in part to my amazing start at UNM-Taos," De'Scoville said. "My teachers were incredible and I joined Dr. Zanetell's CCC-Lift Leadership in Forestry Training program. CCC-Lift prepared me with more than an education. My transfer from UNM-Taos to Highlands came with a strong cohort from the CCC, knowledge of what to expect, an amazing experience interning with the Forest Service, and an education stipend."
She also credits UNM-Taos' Student Support Services for helping her along the way. The student support services taught her how to apply for scholarships, and different ways to take notes, and provided "amazing" math tutoring and a mentor.
"I became a LANL Scholar and LANL has continued to support my education. My advice to all students is to give your education everything you can, engage with your school and your peers, apply for every scholarship and grant, and you will succeed. In my whole life, I have never been happier," De'Scoville expressed.   
De'Scoville is an advocate for STEM and forestry in the student body association at NMHU as an elected undergraduate senator and is an active member of the NMHU Forestry Club. She also has volunteered in science research, such as establishing forest health plots in the Southern Sangre de Cristo Mountains and planting ponderosa pine seedlings for restoration research during the fall of 2021. In addition, De'Scoville helped set up the dendrochronology lab at NMHU. Dendrochronology is the technique of dating events, environmental change, and archaeological artifacts by using the characteristic patterns of annual growth rings in timber and tree trunks.
Her achievements and active engagement in forestry were also recognized during the 2021 SAF Annual Meeting with her becoming a SAF Student Diversity Scholar. 
SAF was founded in 1910 in the State of New York under the funding of the Department of Agriculture. Its continuing goal is to inform and involve the public regarding the importance of maintaining and protecting healthy woodlands.