Hewlett Representing UNM-Taos at Albuquerque Author Event
April 27, 2022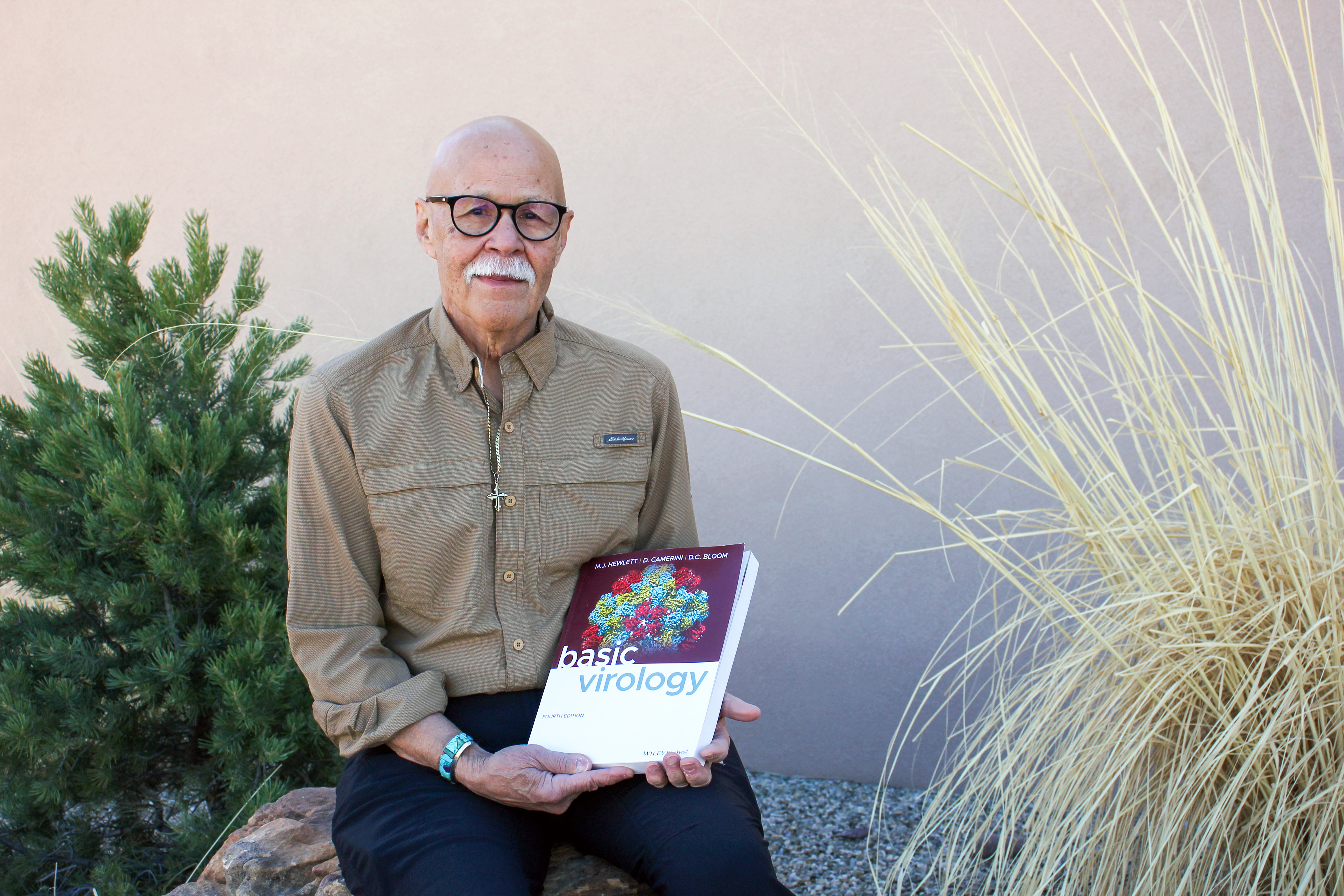 Photo by Enrico Trujillo
UNM-Taos Research Scholar Marty Hewlett will be recognized during the Published Professors event at UNM Albuquerque Campus May 3. He is shown here with the textbook he and two peers worked on together.
UNM-Taos Research Scholar Martinez "Marty" Hewlett received an invitation he wasn't about to refuse. 
UNM has planned an afternoon event at the Albuquerque campus on Tuesday, May 3, honoring UNM and branch campus published professors. Hewlett, UNM-Taos Research Scholar, was invited to attend because of his collaboration on the textbook, Basic Virology, 4th Edition. The reception will be held at the UNM University House, Office of the President.
"I'm happy to accept the invitation. I want to represent UNM-Taos down there (Albuquerque)," said Hewlett, who is also a Professor Emeritus in the Department of Molecular and Cellular Biology at the University of Arizona. The other contributing authors are David Camerini, assistant professor in the Department of Molecular Biology and Biochemistry at the University of California Irvine, and David C. Bloom, associate professor in the Department of Molecular Genetics and Microbiology at the University of Florida.
Hewlett has worked on each version of the Basic Virology textbook published by Wiley-Blackwell. This edition cements this series' position as the leading introductory virology textbook in the world. Its easily read style, outstanding figures, and comprehensive coverage of fundamental topics in virology all account for its immense popularity.
This undergraduate-accessible book covers all the foundational topics in virology, including:
The basics of virology
Virological techniques
Molecular biology
Pathogenesis of human viral disease 
For this edition of the textbook, Hewlett lists his current affiliation on the title page as UNM-Taos. The final editing work on the book took place in Taos in 2017, in his then-administrative office on Civic Plaza Drive. In fact, he used a picture in the book's preface of himself and his two co-authors after breakfast one morning at Michael's Kitchen. 
The 4th edition was planned to be published in the summer of 2020 but like so many things, COVID threw a wrench in the gears. The three authors said they wanted to wait so they could add information about COVID.
"We revised text from past editions," Hewlett explained. "There was a big span between the third and fourth editions. There was a lot to cover and edit." 
In the end, Basic Virology, 4th Edition includes new information on the SARS, MERS, and COVID-19 coronaviruses, hepatitis C virus, influenza virus, as well as HIV and Ebola.
What Hewlett is most impressed with regarding advancements in virology are the input of high-end techniques including bioinformatics — the science of collecting and analyzing complex biological data such as genetic codes — and advances in viral therapies for human disease are also explored in-depth.  
"Virology is a very fast-growing field," Hewlett commented. "We keep in touch with the science going on." For more information about the book, visit: 
https://www.wiley.com/en-us/Basic+Virology%2C+4th+Edition-p-9781119314059