Campus Holds Ribbon-Cutting Ceremony, Introduces Chancellor's Circle
October 19, 2022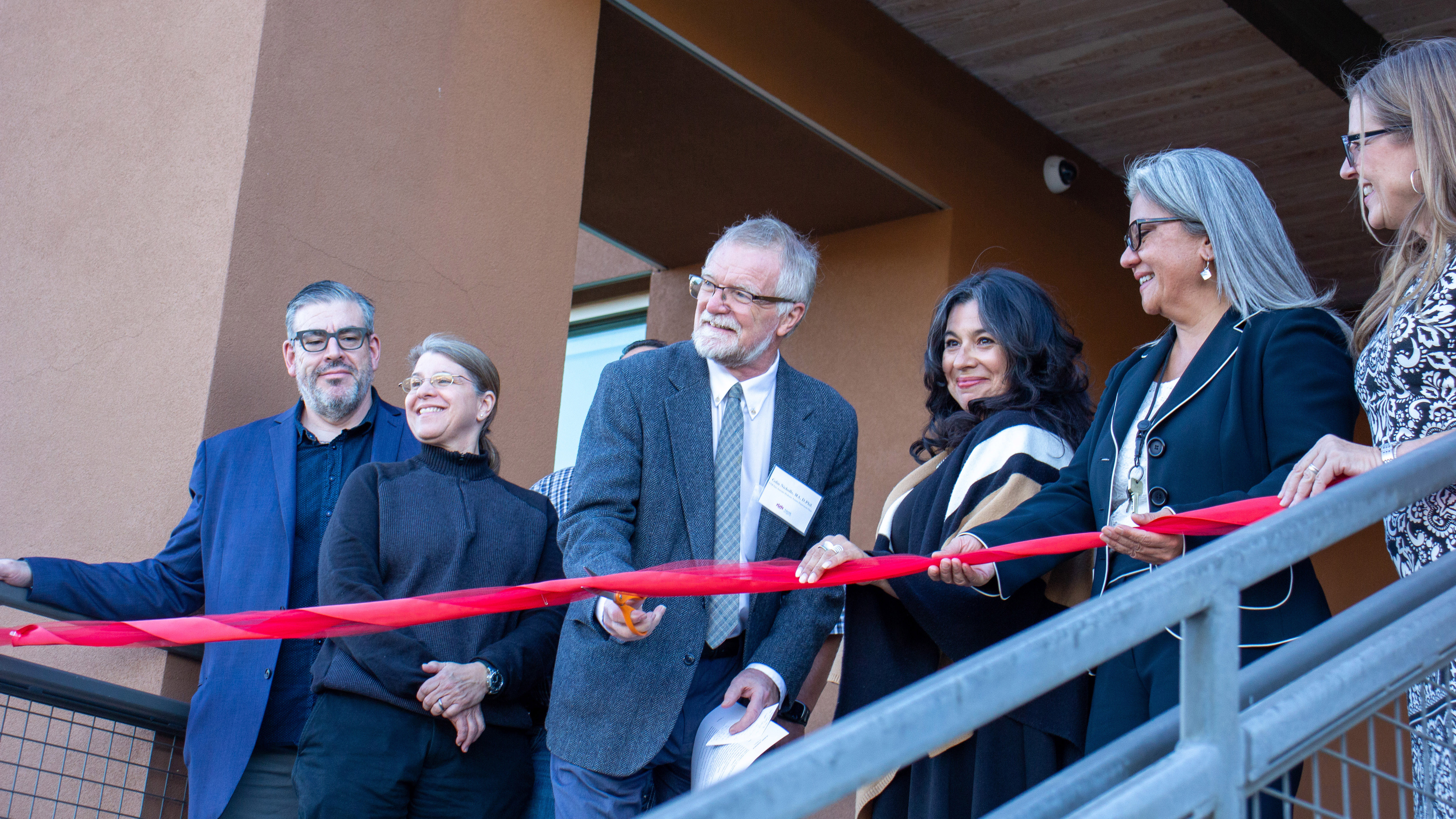 Photo by Enrico Trujillo
UNM-Taos' Dr. Colin Nichols, department chair and associate professor of sciences, gets the STEM-H building ribbon-cutting honors during a ceremony on Oct. 13. From L-R standing with Nichols is Director of Grants and Institutional Advancement Louis Moya; Dean of Instruction Randi Archuleta; State Rep. Kristina Ortez; Strategic Support Manager Anita Bringas; and Chancellor Mary Gutierrez.
The onset of COVID-19 crashed many parties. One of those celebrations was the ribbon-cutting and grand opening of the new STEM-H (Science, Technology, Engineering, Math and Health) building on Klauer campus, which would've happened a couple of years ago if not for the pandemic. The wrong was righted during the evening of Oct. 13. 
UNM-Taos faculty, staff, and Student Government Association (SGA) senators, along with invited guests from the Taos community, gathered to formally welcome the addition of the STEM-H building to the UNM-Taos campus. In attendance from the community were State Rep. Kristina Ortez, Taos Town Counselor Darien Fernandez, Kit Carson Electric CEO Luis Reyes, Taos County Manager Brent Jaramillo, and Taos News Publisher Chris Baker to name a few. 
As the sun began to set, everyone gathered outside at the eastside entrance. Chancellor Mary Gutierrez addressed the crowd: 
"It is our pleasure to have the official ribbon cutting for the new UNM-Taos STEM building. UNM-Taos is committed to providing students in Northern New Mexico every opportunity to learn and excel in the fields they choose. Our students need roads into STEM fields and it is our priority at UNM-Taos to provide access to high-demand, living-wage careers for our rural communities. This state-of-the-art science, technology, and mathematics building has already increased access to technology exposure and learning, as one of our recent graduates in 3D printing is teaching students of all ages, elementary to college, about 3D printing — a technology that can be used for everything from designs and prototypes to medical devices and housing. Thank you to the citizens of New Mexico for your support in the building of this facility. Our community is also thankful for the support of our elected officials who are crucial partners in education. We are grateful for the support provided by Senator (Roberto) Gonzales, Representative (Susan) Herrera, and Representative Ortez." 
The STEM-H building was funded with local funds and General Obligation (GO) Bonds (public money distribution approved by voters) in 2016. Every building constructed on a branch campus in New Mexico is built with local funds — at least 25% of the total cost comes from the local community. This building — along with the new College Pathways to Careers Center building — is a testament to how the public's support by voting for GO Bonds helps local students gain a competitive edge when they graduate, allowing them to compete in today's modern economy.    
The event also served as the introduction of the Chancellor's Circle and the inaugural presentation of the Chancellor's Circle Crown award. When Gutierrez first had the opportunity to come to Taos and visit UNM-Taos, she was impressed by the number of community members she met who were invested in the college. "You were a big part of my excitement to come to UNM-Taos as your chancellor," she shared at the event. 
The intention for the Chancellor's Circle is to pull together education advocates so they can learn more about the ongoing work at UNM-Taos and, in addition, to provide community members with the opportunity to experience some of UNM-Taos' riches; to give them an opportunity to meet students, devoted staff, talented faculty, and provide them with chances to hear and meet guest lecturers. "In short, I want you to experience some of the stimulation and learning that is a daily occurrence at UNM-Taos," she said. 
That opportunity began that evening with attendees being offered the chance to meet with the SGA senators to hear of their experiences at UNM-Taos, with the choice of attending any of a few science-related class demonstrations led by Mark Goldman, and Colin Nichols, plus learn about student needs and wellness resources from Cami Hartman and Chenoa Velarde.  
For her backing of and advocacy in providing allocations to support local workforce development, Rep. Ortez was honored as the first recipient of the Chancellor's Crown award. 
"I'm honored to accept this award," Rep. Ortez said. "UNM-Taos is the crown jewel of the UNM system."