Culinary Arts Students, Instructor Put Their Carving Skills on Display for Governor
September 13, 2022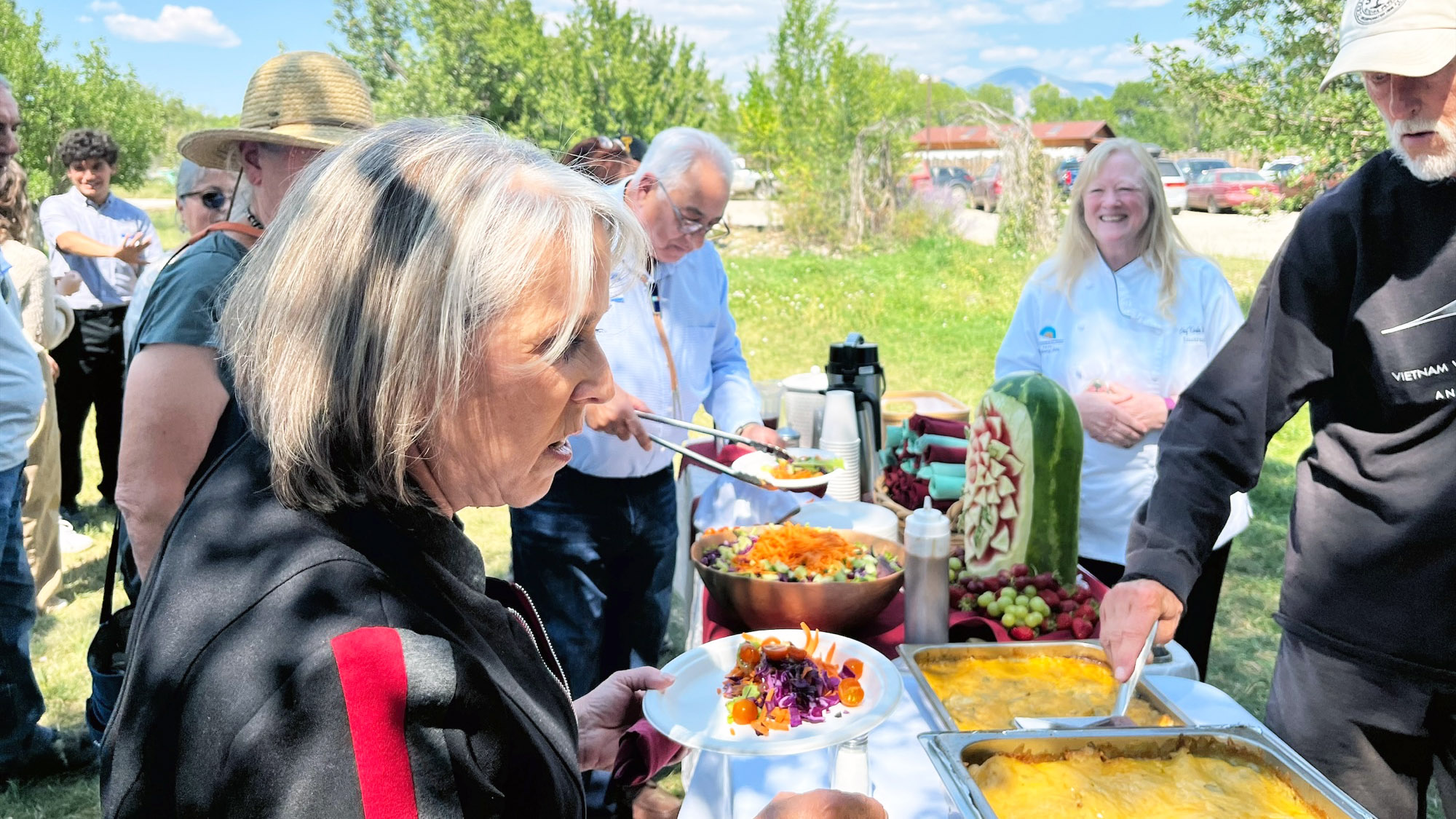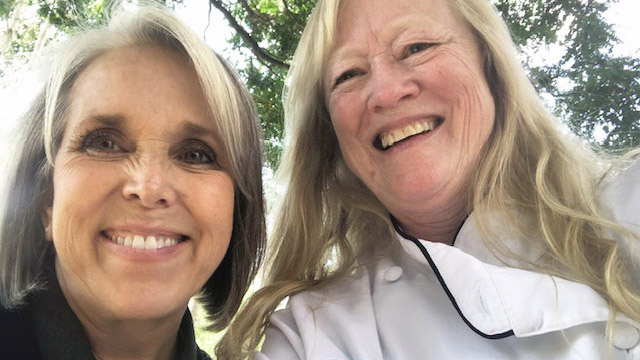 Courtesy photos
Gov. Michelle Lujan Grisham (left) and UNM-Taos Hospitality Coordinator andCulinary Arts Instructor Karla Nardi share a smile during a gathering at the Farmhouse Café and Bakery in El Prado after the governor attended a ribbon-cutting ceremony in Arroyo Seco. The carved fruits created by Nardi and her students were a big hit.
UNM-Taos Hospitality Coordinator and Culinary Arts Instructor Karla Nardi and her Fruit & Vegetable Carving class had been asked to create a centerpiece for a gathering with Gov. Michelle Lujan Grisham, elected officials, and local leaders on Sept. 7 at the Farmhouse Café and Bakery in El Prado. No small order, but they were up to the challenge. 
Prior to the event at the Farmhouse Café, the governor made a visit to Arroyo Seco where she attended a ribbon-cutting ceremony signaling a $5 million state investment in the Clean Energy Corridor. During the event, she stated that Taos County is in a position to be "the first county in America" to create a sustainable model for climate resilience. The Clean Energy Corridor is "collaborative green initiatives ranging from forest and watershed restoration to electrification, clean energy jobs, and education," as reported by Taos News.
This opportunity for UNM-Taos' Culinary Arts program came about in "a serendipitous way."   
Nardi's classes are held at the Taos County Economic Development Corporation's industrial kitchen. She uses half of the kitchen on the days her classes are scheduled. The other half is used by the Farmhouse Café and Bakery, a farm-to-table restaurant in El Prado. From that, Nardi and Farmhouse Café owner Micah Roseberry became friends. 
"We have had several conversations about how we could collaborate. When Micah saw some of the things that we were working on in the Fruit & Vegetable Carving class, she asked if our class could present some fruit carvings for the event she was hosting for the governor," Nardi said. "I talked to my students about this, and they were thrilled. They have just finished the first few weeks of the class, so could only contribute small items (such as adorable mice carved out of radishes). But I told her that I would be happy to carve a couple of watermelons for the event." 
And carve, she did. Both of the large watermelons were transformed into canvases of ornate flowers and one was adorned with a Zia, as well. Nardi was excited to help set up the carvings for the event, and listen to and meet the governor. She expressed what an honor it was to work with Roseberry and the Farmhouse Café staff. 
"I can see us collaborating on more projects in the future," Nardi added.