Chancellor Mary Gutierrez Looks Back on Her First Year at UNM-Taos
August 31, 2022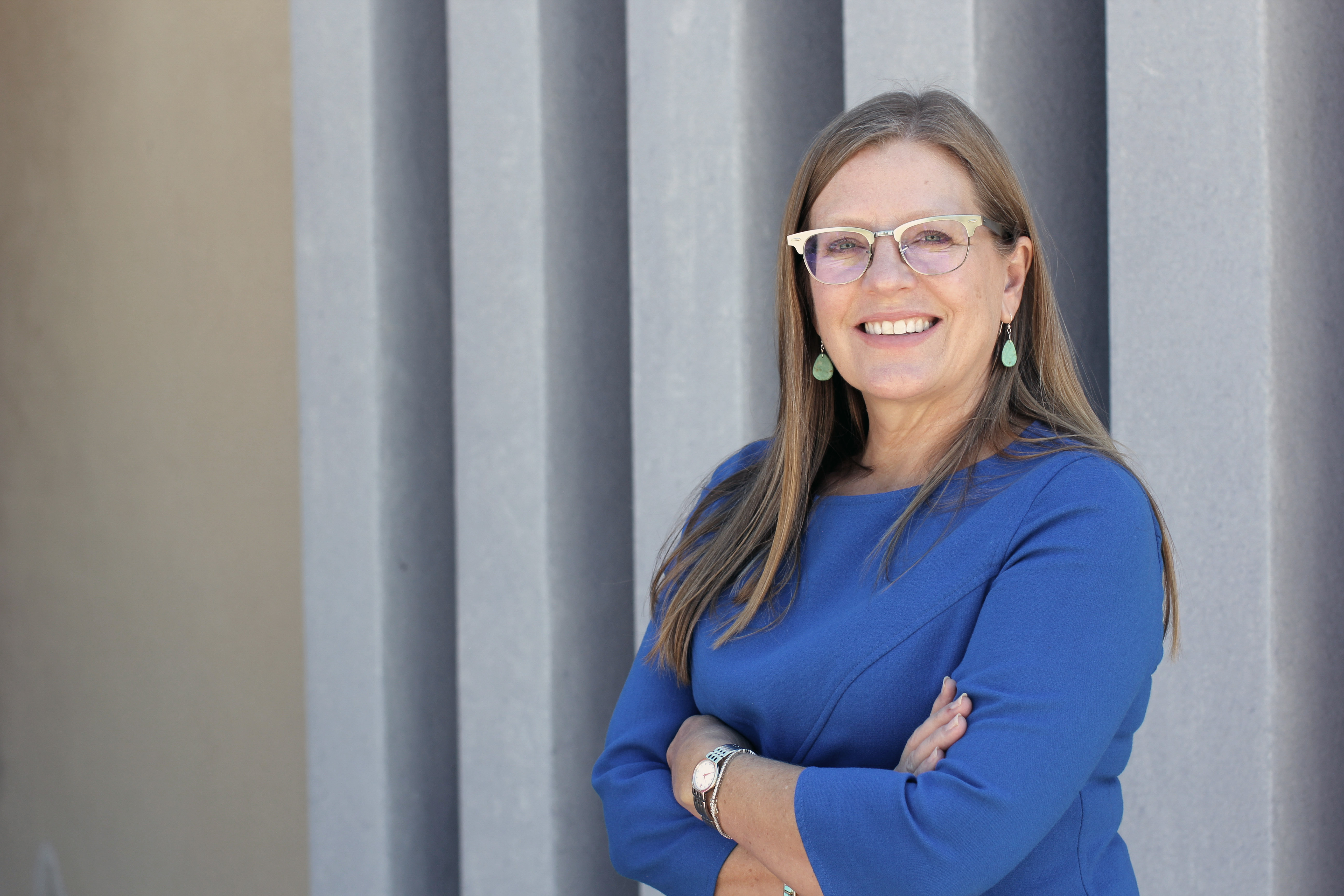 Photo by Enrico Trujillo
Chancellor Mary Gutierrez, Ed.D.: "Taos is rich with people who are invested in the community and are working hard to protect our resources, serve the community, and ensure that Taos is a place of opportunity for future generations. I've had the opportunity to learn about and hear from these folks over the course of this year."
August marked the year anniversary of Mary Gutierrez, Ed.D., being at the helm of UNM-Taos. As chancellor, she maintains community, legislative, state, and federal relations; provides leadership for strategic planning; and assures the institution's fiscal integrity and stability. As a leader, she is guided by a deep commitment to student success and equity, and is known for her integrity, communication, and inclusive leadership. 
We recently caught up with Gutierrez to hear her thoughts about her first year at UNM-Taos.
Q: Why did you want to lead this college?
A: I knew that I wanted to lead a small college because small colleges can be focused, nimble, and responsive. When I interviewed in Taos, I noticed how many community members showed up, which showed me how important the college is to the community. Some community colleges are "community" colleges in name only. UNM-Taos is truly the community's college. That community connection matters to me and to the faculty and staff of UNM-Taos.
Q: After living and working in Taos for a year now do you, your husband, and your dogs feel acclimated?
A: Our first year in Taos has been far more than we ever could have hoped for. Our dogs have hopped through the snow, chased lizards and rabbits and one unimpressed elk, and soaked up the sun. We've enjoyed walks, hikes, snowboarding and snowshoeing, sunsets, and more stars than we have ever seen. We have been grateful to get to know our neighbors and many other wonderful Taoseños. 
Q: On your first day of sightseeing, where did you go and what did you think of what you saw?
A: The view of the Gorge on the drive into Taos took my breath away on that first day and it still does. My husband, and I and our dogs spent a lot of our early days in Taos on the Gorge trails at the end of (County Road) 110.
Q: What were your goals coming into your first year at UNM-Taos?
A: My first and most important goal was to listen and learn. My main focus was to expand workforce programs and collaborate with high schools. We got right on that.
Q: Did you accomplish what you hoped to?
A: I believe so. Taos is rich with people who are invested in the community and are working hard to protect our resources, serve the community, and ensure that Taos is a place of opportunity for future generations. I've had the opportunity to learn about and hear from these folks over the course of this year. In terms of our focus on the workforce, we have hired an associate dean, Dr. Jeannie Baca, to focus on workforce development, we are teaching plumbing courses this fall, and are working on a welding collaboration with Taos Valley Ranch. We have longer-range plans to support the workforce, but I am pleased with what we have accomplished in one year. 
Q: What troubles you most about current student outcomes at our college? What excites you most? 
A: Last year we were concerned that we were not fully serving our local community. With online classes, UNM-Taos was accessible to students living anywhere. While it is great to provide such wide access, UNM-Taos is invested in serving our local community — our high school students, our adults who want to change jobs, who want a degree after years in the workforce, who want to learn English or complete high school equivalency, or want to enrich their lives by taking classes in subjects they have always been interested in. This fall, we are excited by the number of new students and new classes. We are committed to bringing back face-to-face classes and working to provide more New Mexicans with access to trades like welding, plumbing, and sustainable construction. 
Q: Please discuss how you think about systematically bringing about change in a college culture to improve student access and success. How does your experience inform your understanding of how change processes work at community colleges?
A: Anytime we want to change, we start with what's working nationally and then make sure that our data aligns with national trends. If it does, we share the research, the local data, and develop an understanding. In doing this, we start to build ownership. Change can happen when everyone feels connected and is involved. At UNM-Taos, everybody is part of the solution.
Q: What are the hardest things to change on a college campus that, in your view, need to be changed to improve student access and success?
A: Identifying the problem is never the problem. Leading change means redesigning ourselves in order to benefit the students.
Q: What education-related vision do you have for Taos?
A: To build a college-going culture. Economic well-being can be affected by education. From what happens to a young person after high school graduation to what happens to adults who want more opportunities, education creates opportunities. 
Q: What do you want Taoseños to know about UNM-Taos that they may not realize?
A: I'd like it to be more known and understood that you don't have to pursue a 4-year degree to go to college. Many trades and industries are paying well and are in demand such as plumbing, truck driving, welding, and construction technology. Certificates and associate degrees in these fields can provide family-sustaining wages and satisfying careers. UNM-Taos offers more options than just a pathway to a 4-year degree. 
Q: Red or green?
A: When I first got to Taos, I was ordering Christmas but then I started having some amazing reds, so now I'm leaning red.