Enos Garcia students take UNM-Taos tour to help plant career seeds
June 1, 2022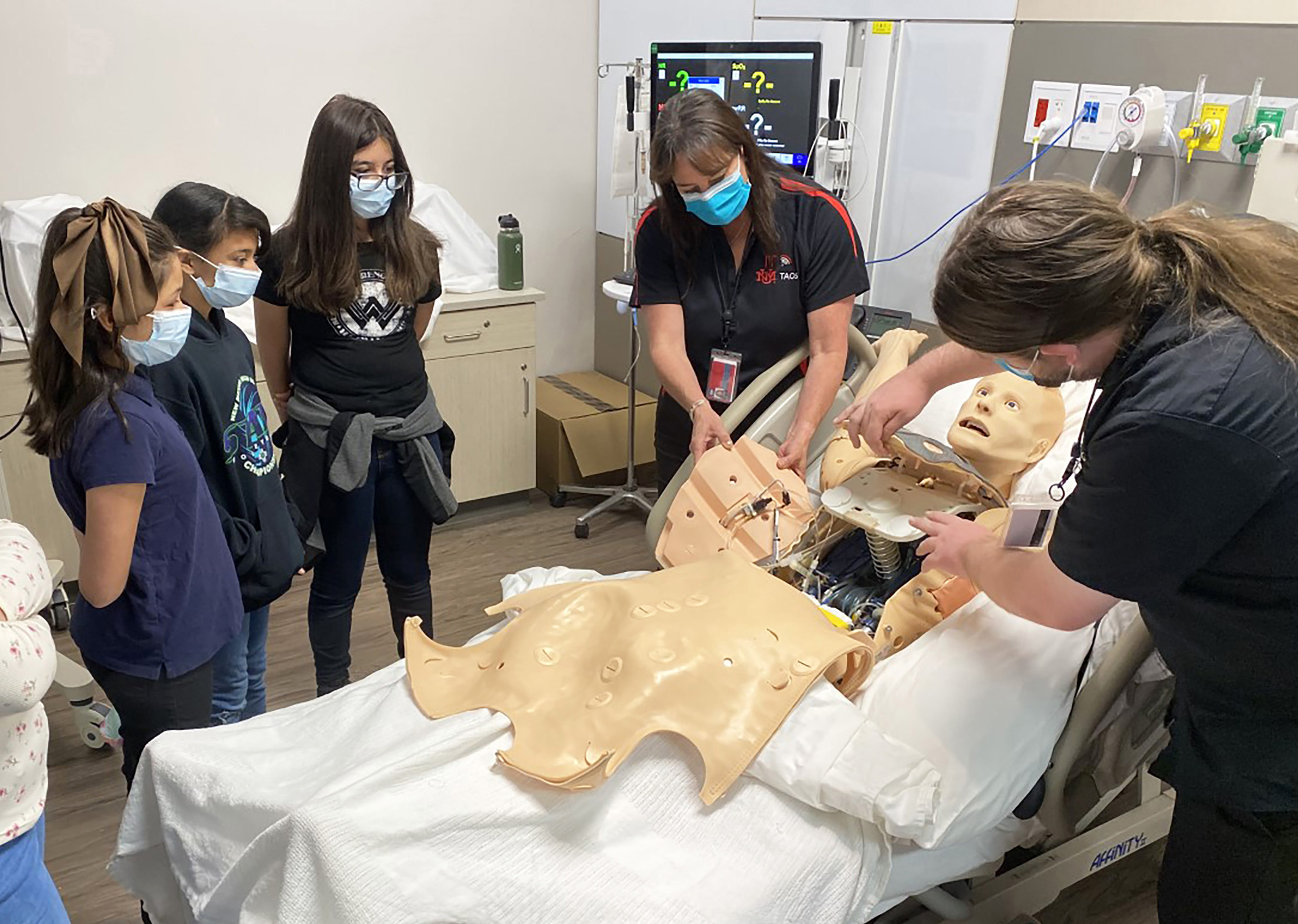 Photo by Scott Gerdes
UNM-Taos IT Support Manager Nikki Maes and IT Support Tech Robert Tougree show students the inner workings of an electronic patient mannequin on May 5 during a student tour at Río Grande Hall intended to give students a taste of possible health care careers.
By Scott Gerdes
It's never too early to get kids thinking about a career — especially when, sadly, some of them express they aren't certain they'll attain one to be excited about. 
In May, 65 students from three different fifth-grade classes at Enos Garcia Elementary took a field trip across the road to UNM-Taos' Río Grande Hall on Civic Plaza Drive. Upon arrival, they were divided into three groups and led on a tour of the Nursing, Emergency Medical Services (EMS), and Holistic Health (specifically massage therapy) program facilities.   
Dawn Kittner, interim Nursing program director; Susan Myers, Medical Massage program coordinator/faculty member; and Mary Ann Ferguson, adjunct EMS instructor and paramedic, discussed the various career path options within their fields and the benefits that come with those choices. UNM-Taos IT Support Manager Nikki Maes and IT Support Tech Robert Tougree were also on hand to show students the inner workings of an electronic patient mannequin, and how other health technologies and computers work together. 
The goal was to inspire and help these young people see their potential by asking if they could see themselves doing this work, and for students to share if they know someone who works in any of those fields.  
The idea started with Siena Sanderson, director of the Nurturing Center at Enos Garcia and Ranchos elementary schools. She attended the UNM-Taos Open House last fall at Klauer Campus. During the event, a conversation sparked between Sanderson and Cami Hartman, UNM-Taos lead community health worker; Sanderson was hearing a troubling pattern among fifth-graders, in particular. 
"Some of our students express losing hope about their futures," Sanderson explained. "I am concerned because if they lose hope in fifth grade, they are at risk of dropping out by the time they reach high school."
Together, Sanderson and Hartman discussed how they could light a fire under those students to think positively about their lives going forward, and about having a meaningful role in their community. From that discussion came the idea to host an introduction to programs offered at UNM-Taos. 
"At first, we thought a virtual presentation might be best due to COVID concerns," Hartman said. "But that's not interactive — not very engaging. So, we thought about busing them to Klauer Campus because a majority of the kids don't even know Taos has a college. No one involved with this idea, however, had a budget for busing. The next best solution turned out to be fabulous; they just walked over and got a tour at Río Grande Hall." 
Besides not being aware that Taos has a college, another higher education inhibitor — in UNM-Taos Academic Advisor Tasha Santistevan's experience — is that many young students don't know that college is financially accessible. 
"We want them to think about UNM-Taos when they are planning for their future career and educational path," she said. "This experience is inspiring and is meant to show them that UNM-Taos is here and we have awesome programs."
The students enthusiastically responded to the program presentations. More than a few hands went up waiting to ask a question of each presenter. As a result, many of them may see clearer visions of themselves in the future. 
"The electronic mannequins were interesting but the weirdest one was the one that talked," said student Gabriel Erickson. "I liked the IT part of health care." 
With pride in his voice, Gabriel made a point of sharing that his grandmother takes classes at UNM-Taos. He said he can see himself going to college too. 
Sophia Apodaca liked what she learned about becoming and working as a nurse. "I want to help people," she said of her newfound interest in the profession. "I enjoyed messing around with the mannequins, and I learned that IT isn't just about home and business computers." 
When Hartman caught up with a group in the EMS room after they had explored the ambulance simulator, she was struck by an 11-year-old boy who told the story of an accident in which he had to be evacuated by helicopter, and how he doesn't remember anything about it due to head trauma. His experience piqued the interest of his classmates who asked him and Ferguson a lot of questions. "At that moment, I felt so grateful that we have emergency personnel who save lives every day," Hartman said. "Who knows, maybe he or one of his friends will strive to become an EMT or a paramedic one day."
Part of the tour's process was for students to go home and tell their moms and dads what they did and what they learned, in hopes of inspiring their parents as well.