UNM-Taos Achieves 100% National Nursing Licensure Exam Pass Rate for Fifth Year in a Row
June 2, 2022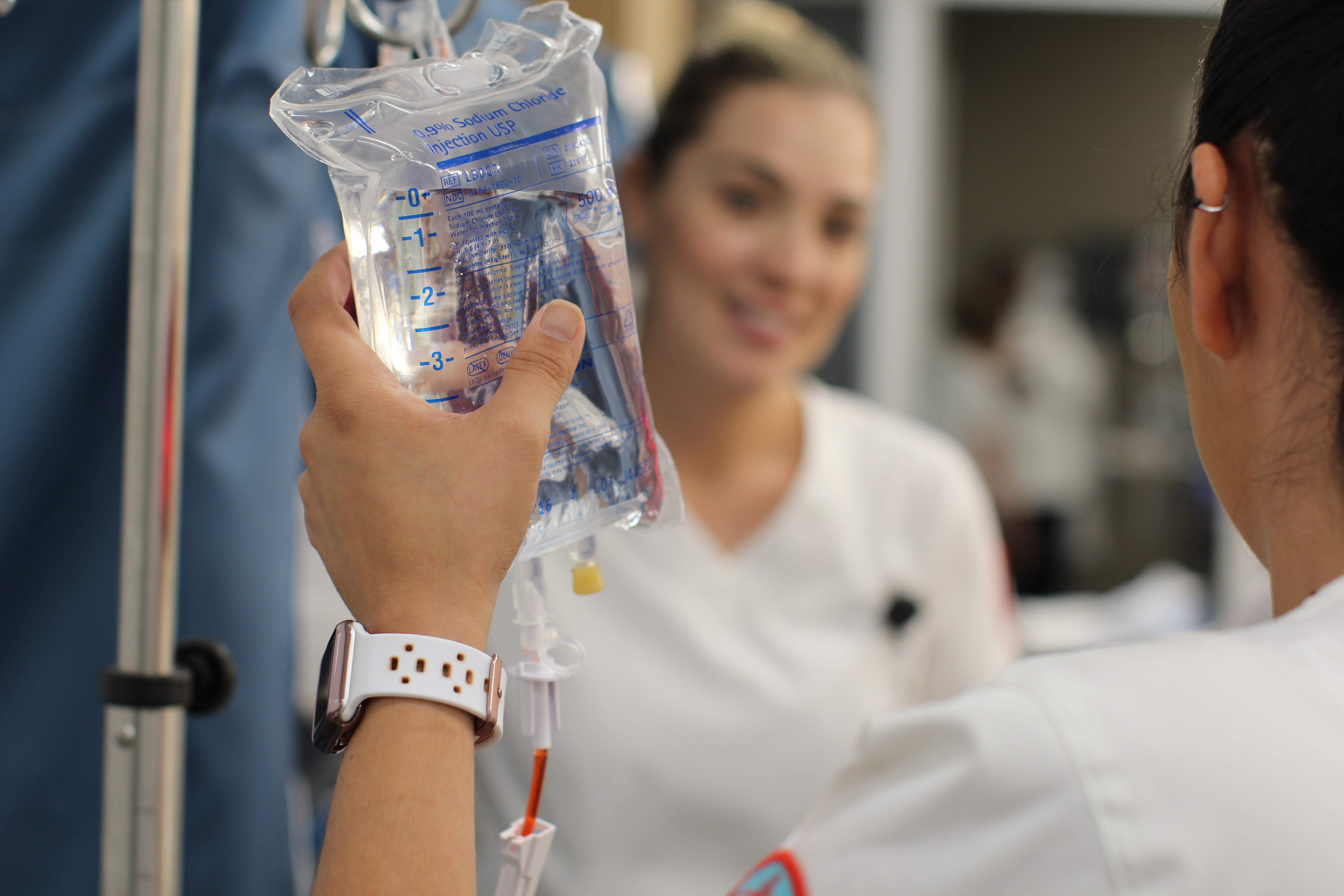 UNM-Taos file photo
Students from The University of New Mexico-Taos' (UNM-Taos) Associate Degree in Nursing (ADN) and Bachelor of Science in Nursing (BSN) programs achieved a 100% first-time pass rate on the National Council Licensure Exam (NCLEX), surpassing both the national 82% average pass rate and 83% New Mexico state average pass rate, according to recently released data from the New Mexico government.
The NCLEX is a nationwide standardized examination that nursing school graduates must pass to become either a licensed practical nurse (LPN) or a registered nurse (RN). 
Dawn Kittner, MSN, RN, CNE, Director of Nursing, says the achievement underscores the caliber of education and clinical experiences UNM-Taos nursing students receive.
"As a premier institution for educating the nursing workforce of tomorrow, UNM-Taos is proud that our graduates are exceeding both state and national averages on first-time pass rates for the National Council Licensure Exam," said Kittner. "Every day, our outstanding nurse educators, excellent instruction, and high-quality, diverse clinical experiences help empower our hardworking students to perform at the highest level. With America facing a historic nursing shortage on top of the impacts of the COVID-19 pandemic, it is more important than ever for UNM-Taos to invest in the next generation of nursing talent who will go on to serve their local communities." 
There is an unprecedented demand for nurses in the United States, underscoring fears of a nationwide nursing shortage. Research shows a third of nurses plan to quit their jobs by the end of this year and, according to a new McKinsey report, there will be as many as 450,000 fewer nurses available for direct patient care by 2025. The Bureau of Labor Statistics (BLS) projects that the employment of registered nurses will grow 9 percent from 2020 to 2030, underscoring the urgent need to invest in the nation's nursing pipeline. With the nursing profession ranked by the public as the country's most trusted profession for the 20th year in a row, bolstering the nurse workforce will have a major positive impact on patient health and community partnerships. 
UNM-Taos serves a rural and largely Hispanic community. Many of its nursing students go on to serve the local community following graduation, giving back to the Taos community as practice-ready nurses. After implementing a concept-based curriculum in 2016, UNM-Taos has seen its nursing students excel and successfully increased its program retention rate to 70%, which is higher than the state average. Outside of the classroom, students gain clinical experience in local hospitals and health care systems, school districts, family clinics, the Department of Health, and behavioral health centers, providing them with diverse, hands-on experience. A low nursing student-to-faculty ratio also enhances the learning experience at UNM-Taos, with nurse faculty equipped to provide personalized instruction to meet each student's needs throughout the duration of the program. 
To help prepare its nursing students for the NCLEX, UNM-Taos also utilizes a comprehensive package of education technology solutions created by ATI Nursing Education. ATI solutions provide nurse educators with support and expertise to help nursing students master core curriculum, develop into practice-ready nurses, and succeed on the NCLEX. According to a recent analysis by the company, institutions like UNM-Taos that utilized the ATI Complete Bundle passed the NCLEX at an average 5.8% greater rate between 2015 and 2020 than schools that did not utilize the prep tools. UNM-Taos also utilizes data from ATI to compare learning outcomes over time and innovate its programs to better meet student needs. 
NCLEX examinations are developed and administered by the National Council of State Boards of Nursing (NCSBN). 
The Accreditation Commission for Education in Nursing (ACEN), which measures nursing education programs against a benchmark of stringent student achievement metrics, uses NCLEX pass rates as a vital statistic during the accreditation process.  
UNM-Taos offers a variety of associate and certificate programs. To learn more, visit https://taos.unm.edu/.