UNM-Taos dual-credit student, associate degree graduate Ryan Himes finds his calling
June 8, 2022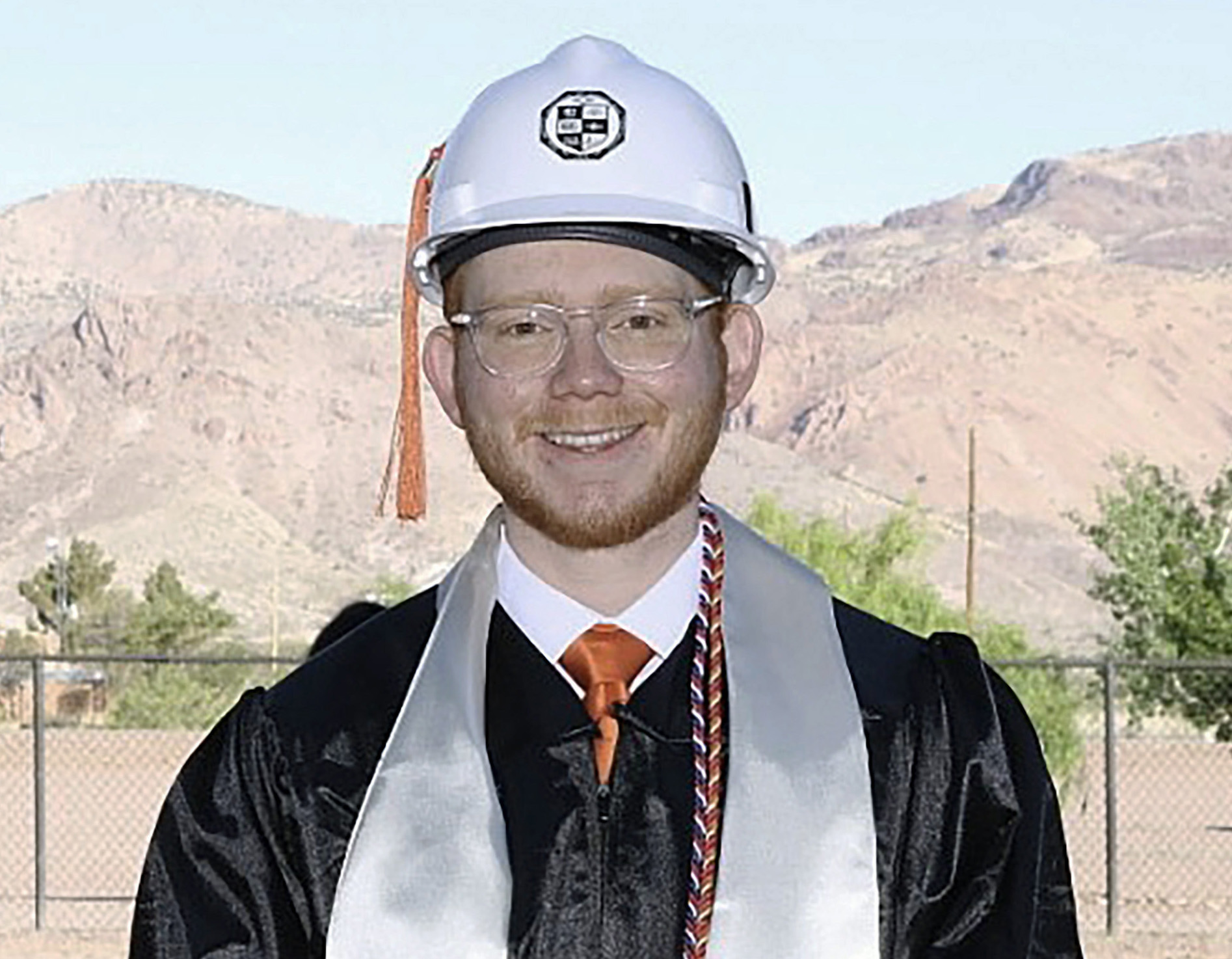 Courtesy photo
Ryan Himes
By Scott Gerdes 
While flames continue to eat up acres of the Northern New Mexico landscape, UNM-Taos graduate Ryan Himes is busy crafting a master's thesis that he hopes will help firefighters battle future wildfires. 
He's currently working toward a Master of Environmental Engineering at New Mexico Tech — one of the top Science, Technology, Engineering, and Mathematics (STEM) schools in the country. His thesis is on surveying wildfires (geometry and air quality in surrounding areas) using automated drone systems. "This information could be very useful to firefighters to gather more information on a fire when conditions would prevent standard airplane surveillance," Himes explained. "Using data from in situ instruments (in the natural or original position or place) and base stations, results from the drone flight will be compared and analyzed to determine whether or not the proposed design of the drone system can provide accurate/reliable data."  
Last December, Himes earned a Bachelor of Civil Engineering with honors from New Mexico Tech, of which he said he was "very fortunate." He graduated from Taos Academy in 2018 and earned an Associate of Liberal Arts at UNM-Taos the day before his high school graduation. His first taste of college came from the UNM-Taos dual-enrollment program. Initially, he was concerned about whether or not he was ready for college-level classes. Those concerns were soon put to rest. 
"I wanted to challenge myself at that time in high school, but was worried I would bite off more than I could chew," Himes said. "However, those fears quickly dissipated because all of my professors were so kind and offered a helping hand, not just academically but with life skills as well. Overall, the dual-credit program far exceeded my initial expectations and has benefited me in numerous aspects of my life." 
One of those life aspects was finding a career path — a passion. Himes' grandfather was a civil engineer and a "huge inspiration" in his life. While his love and respect for his grandfather are unwavering, Himes wasn't sure if following in his footsteps was the right choice. 
"I didn't really have my heart set in stone on civil engineering until probably about the end of my junior year of high school. Going to Taos Academy also really helped me explore my passion for the STEM field," he stated. "However, at UNM-Taos, Dr. (Colin) Nicholls and the Raglands really set the hook for me to go into civil engineering. Taking precalculus with Dr. Nicholls and Calculus I & II with Dr. Tommy Ragland cemented — pun intended — my passion for practical mathematics. Additionally, Dr. Debbie Ragland's geology class was so transformative to me as it was one of my first STEM classes at UNM-Taos, and the way it was taught got me passionate about conserving and preserving our natural landscape."
The smaller college community allowed professors to zero in on topics that were not Himes' strongest, and he added that sometimes faculty explored subjects that weren't listed on a UNM Albuquerque syllabus. 
"Additionally, there were days where I would be camped out in the math tutoring center (Mathematics Learning Lab) and there was always someone there to give me guidance without being condescending or disparaging."  
High school classes. Dual-credit courses. Associate degree. It was a lot of work but he would do it all over again without blinking. 
"By going to UNM-Taos, I was taught not just the material that resides in a syllabus but I also learned so much about time management, scheduling, public speaking, how to present myself, and so many other topics," Himes shared. "My preparation for New Mexico Tech really is a testament to the faculty of UNM-Taos. If it wasn't for their support, encouragement, and positive attitudes I would've gone into New Mexico Tech with a negative mindset, and surely would've been eaten alive by the coursework and new additional responsibilities."