UNM-Taos Culinary Arts class dishes up international cuisine
May 11, 2022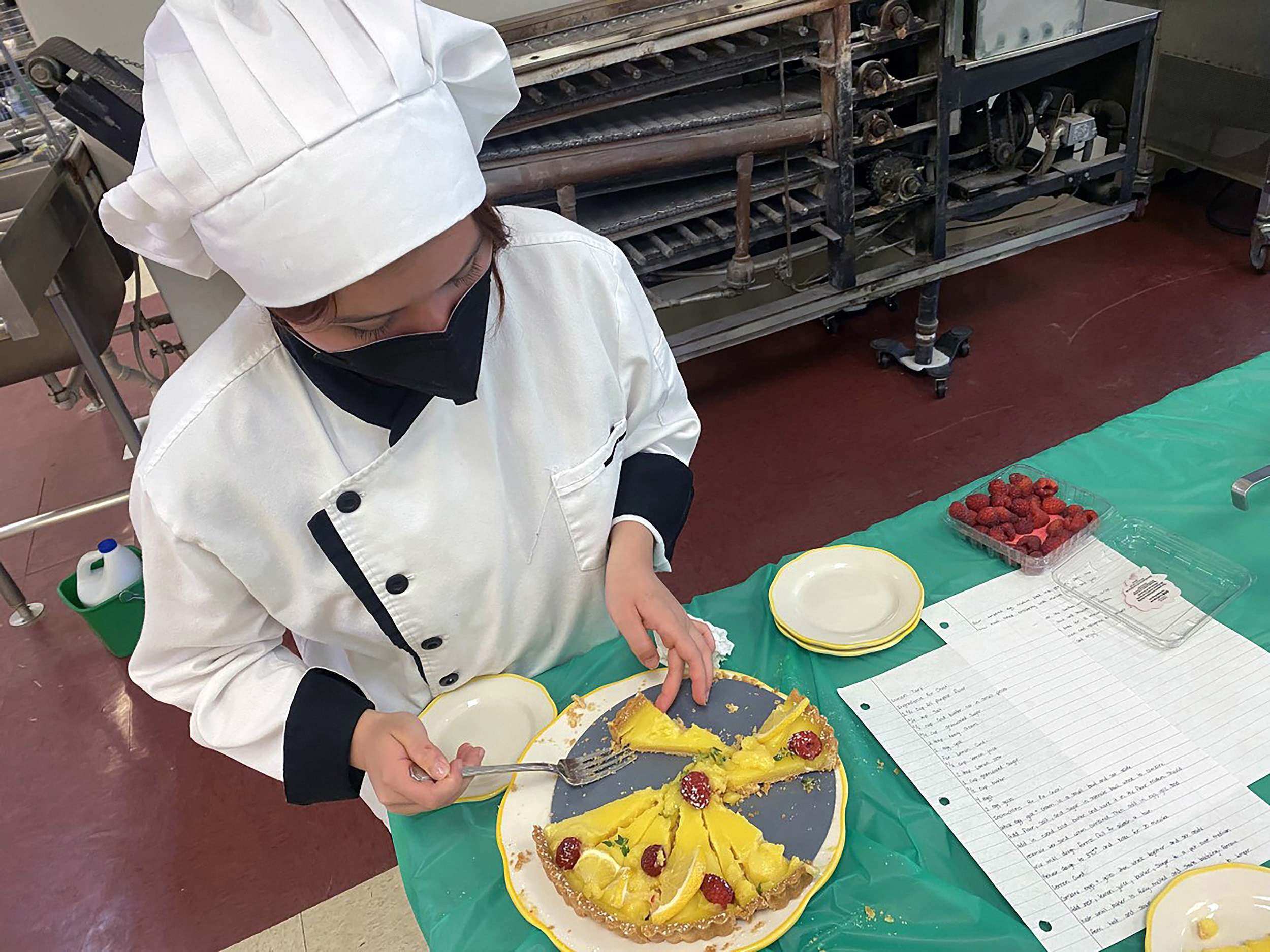 Photo by Scott Gerdes
Culinary Arts graduate Katie Medina plates her lemon tarts (British Isles-inspired) during the International Cuisine class's final presentation on May 2 at Taos County Economic Development Corporation.
By Scott Gerdes
UNM-Taos Culinary Arts Instructor Karla Nardi and her taste buds are well-traveled. This spring was the first time she's taught an international cuisine course for an entire semester. Having spent time in other countries helps in teaching not only about how to prepare dishes from other lands but about the people who live in those lands as well. 
"It was lots of fun," she beamed. "I learned about researching recipes from other countries. We talked about countries' cultures, mannerisms, and traditions all revolving around food." 
Lined up kind of like a "food hall," on May 2 in Taos County Economic Development Corporation's industrial kitchen, eight students proudly and professionally made their final international cuisine presentations. The non-students there were lucky enough to sample everything. 
Why not start with something sweet? First in line was Katie Medina and her British Isles-inspired lemon tart. Medina will receive a Culinary Arts certificate on May 13. She's been an intern at Wild Leaven Bakery. Her true food love is desserts and she desires a career specializing in creating decadent treats.
"I like making and decorating desserts," Medina said. "I baked a lot of cakes when I was younger and decided to take a cooking class. I'm glad I did." 
She is already looking for work and would like to stay as close to her home in Dixon as possible. 
Mikaela Dunnam chose to make Spanish gazpacho because it's one of her favorites and she enjoys "sharing it with everyone." The dual-credit student from Taos Cyber Magnet School sees herself combining her two interests into a career: food and teaching.
Chicken paprikash, a Hungarian classic, was on the menu for Dominic Rodriguez. He made it in class one day, made it at home, and decided to make it again ... "without my parents' help." 
"It's like a tortilla, except it's not from here. Why not make it?" said Alejandro Vigil of his lefse, a potato-based Norwegian holiday staple that is a cross between a heartier crepe and a chewier tortilla.
Gretchen Brockfield made India's version of Scotch eggs called egg chops or chaat — a popular deep-fried snack made from hard-boiled eggs, potatoes, and breadcrumbs. It's a classic street-food snack traditionally consumed during India's rainy season. And Mandy McGarry chose to offer everyone a taste of ancient Persia by making khoresh-e fesenjan, an Iranian pomegranate dish served with rice. 
Never having tried bean sprouts before, Ruben Salazar Jr. thought it would be interesting to make the Chinese classic, egg foo young. "I've never cooked with them before or even ate them before," he said as he gently poured Chinese gravy over the egg and bean sprout mixture. "So, I decided to cook this dish for class." 
Salazar's interesting plans don't stop there; applying to The Culinary Institute of America in New York City and opening a restaurant someday are next. 
And then there's Gordon Hirsch — a gentleman who took the class solely because "I got tired of my own cooking. One can only eat so many burgers, salmon, and turkey sandwiches." He looked to Italy for culinary inspiration and made basil pesto over spaghetti. 
"I've really enjoyed the class," he shared. "It's been nice hanging out with the younger students. Who says you can't teach an old dog new tricks?" 
Hirsch added that the class was more fun and effective than reading a cookbook or watching a video. Plus, he said it was helpful having Nardi around to answer questions. One main thing he learned about cooking is that spices open the door to another world. 
That's what Nardi likes to hear. Her "lofty goal" in conducting the international cuisine course was for the students to embrace the idea that they look at themselves as citizens of the world; learning more about other cultures with the hope that maybe someday they'll get to travel to some of the countries they learned about and represented. 
"This is learning more about the world around you," Nardi explained. "And the only way I know how to do that is through food." (Nardi also contributed by making the Indonesian dish chicken satay with peanut sauce.)
Nardi's students responded to her call. "They impressed me," she said.