Kimberly Thompson brings 'a level of expertise we've never had before'
April 13, 2022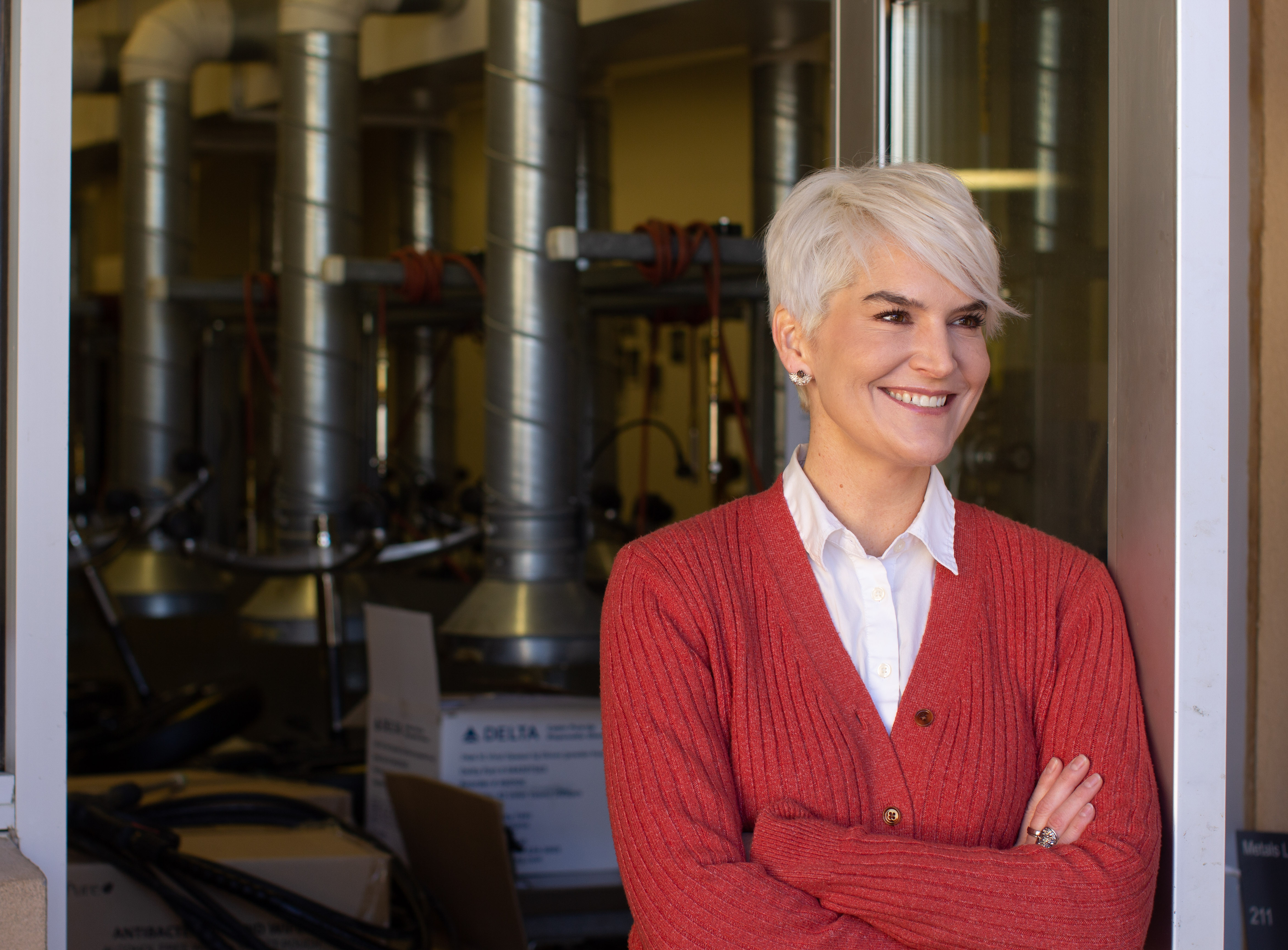 Photo by Enrico Trujillo
Kimberly Thompson checks out the Metals Lab in Fred Peralta Hall  — her soon-to-be new teaching domain.
UNM-Taos metalsmithing machines that have been sleeping for a few years are about to be woken up. UNM-Taos has found a new instructor for jewelry-making and small metalwork. 
Her name is Kimberly Thompson, a California native. She is a professional goldsmith specializing in producing wearable pieces inspired by cultural relics and sacred geometry. Over the past decade, she has studied numerous techniques from around the world in the classical tradition of metal arts and jewelry fabrication.
Sarah Stolar, UNM-Taos Chair of Fine Arts and Digital Media, interviewed the candidates. Thompson's "boundless energy" got Stolar's attention and has the Art Department buzzing with excitement. 
"When asked about her experience with lapidary — the art of working in stone to create small objects — Kimberly answered, 'I love rocks!' with a big exclamation point," Stolar said. "I really felt her down-to-earth, approachable, and friendly personality will fit well here. She's a professional goldsmith, so she's bringing a level of expertise we've never had before."
Through her work as an instructor of small metals and metalsmithing, Thompson passes on her knowledge of the craft to the next generation of artists. After receiving her master's degree in art history from California State University, Sacramento, Thompson has committed herself to the continual education and promotion of craft-based arts. 
Thompson's instruction style, as she described it, "is a multifaceted approach to teaching (jewelry pun intended) with a strong focus on establishing technique fundamentals. The majority of my instruction is verbal direction and process demonstration, as well as establishing expectations through visual examples. All that being said, students learn most through executing techniques themselves."  
She has taught both art history and metalsmithing at multiple college campuses throughout California. But it was Taos that caught her attention while searching for a new place to land. 
"I needed a change and was looking to get out of California," Thompson expressed. "I was looking for a school with a program that values metal arts."  
Her affinity for handmade items started at an early age. She comes from a line of strong, artistic women who taught her that art should be valued, even prioritized, and that being an artist — although she thinks of herself as a craftsperson — is a perfectly honorable life path. 
"I found joy in the art of craftsmanship and an appreciation for the handmade," Thompson wrote on her website, dorisjeandesign.com. "Spending afternoons with my Great-Aunt Doris (Doe), I had my first encounters with the art of jewelry fabrication and found that great significance can exist in even small things. Hours spent experimenting with silver and turquoise, even restringing the odd pearl necklace, formed deep and lasting memories that echo in my artistic expression today." 
Thompson's online business, Doris Jean Design, was named for her Great-Aunt Doe, and is in many ways a tribute to all of the afternoons they spent "exploring the possibilities of imagination and a testament to the impression of those early memories." Using molds cast from Doe's antique button collection, Thompson created her first designs. 
She continues to sell pieces on her website, as well as at various brick-and-mortar locations throughout the country.  
Her classes begin this fall at Klauer Campus. Check taos.unm.edu for courses.