Meet-Up to Level Up
April 19, 2022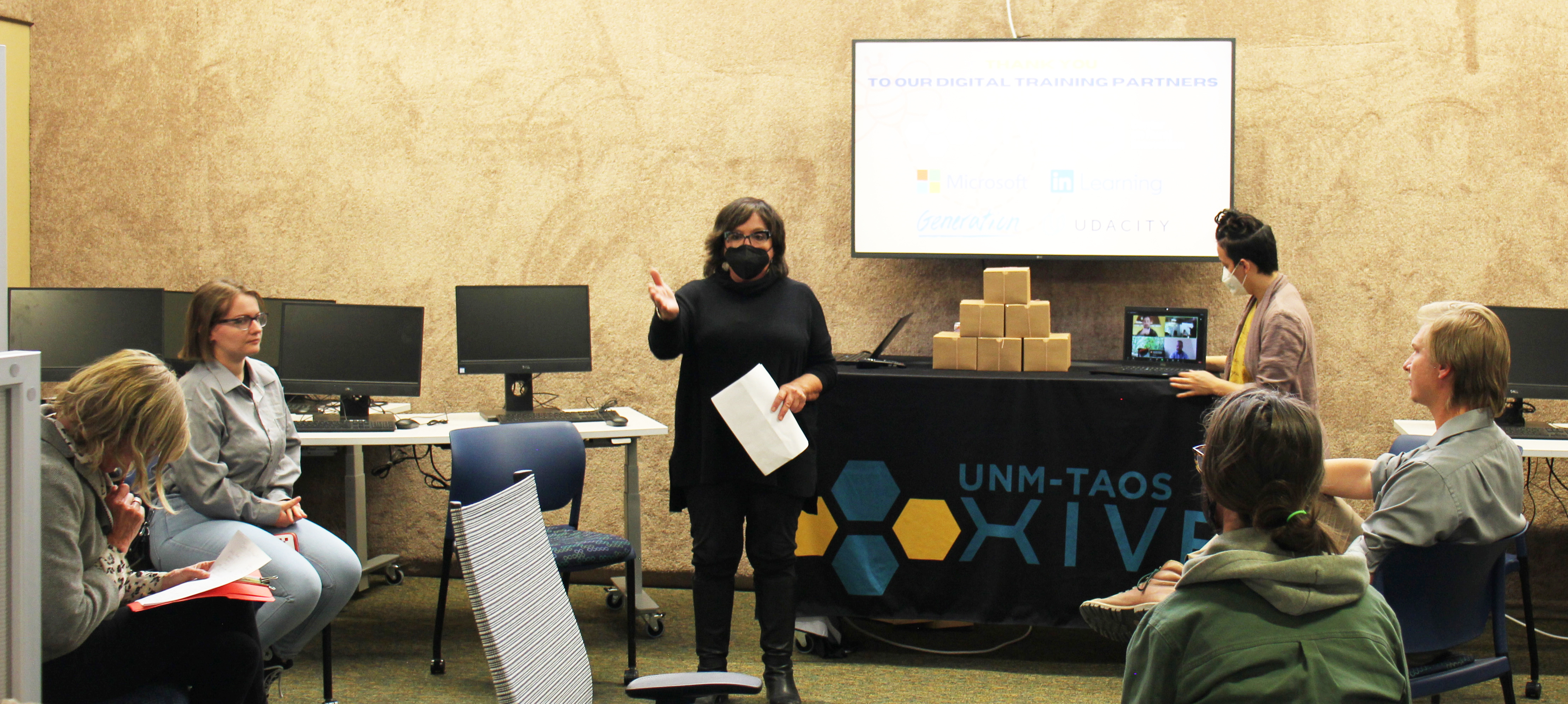 Photo by Enrico Trujillo
Rose Reza, UNM-Taos HIVE executive director, leads a meet and greet on April 11 with recent HIVE digital training graduates and local nonprofits regarding paid internships.
By partnering with Taos Center for the Arts (TCA), Taos Community Foundation (TCF), and Taos County (housing analysis), UNM-Taos HIVE can give 12 recent digital training grads a new lease on a possible new life through a free program.  
Via in-person and virtually on April 11 at the HIVE (Hub of Internet-based Vocation and Education) on Gusdorf Road in Taos, the Microsoft & LinkedIn Learning Internship program graduates met with representatives from the three local organizations to get to know each other. This is the first program offered at the HIVE that transitions into a paid internship, with the possibility of full-time employment down the road.  
Along with HIVE, Microsoft, and LinkedIn Learning, the program's training partners include CORI (Center on Rural Innovation), Generation USA, and Udacity — Udacity and Generation USA were the first industry-recognized credential programming that HIVE offered through its work as a network member of CORI. 
"Two of the five direct drivers of economic diversification are digital workforce development and access to digital jobs," said UNM-Taos HIVE Executive Director Rose Reza. "These are the pillars we focus on when introducing these programs to our community."
Initially, the program received 32 applications. Of the dozen people chosen to participate, nine gravitated toward increasing their digital marketing skills, and three elected the project management focus. Upon completion of the program, all 12 received an industry-recognized certificate. Five grads applied for a paid internship opportunity. 
The interns ranked the host organizations based on who they'd most like to work with and then submitted their choices to Reza for placement: Dustin Morby and Ellen Durant will intern with Taos County; Caitlyn Martin and Bryce Flanagan with TCF; and Michele Potter has been placed with TCA. Now, the organizations will be equipped with communication/tech-savvy people to fill some voids.
A void to fill for TCF, expressed TCF Director of Community Impact Helen Forte, is someone who "will dive into being part of a team to up our game." During the 5 years Forte has served in her role, she's seen TCF's presence in the community grow and communication is a big part of that. But, she said, "We're not telling our story well enough. We're hugely excited to see this opportunity at HIVE come up." After describing to the interns what TCF does for Taos, she's hopeful Martin and Flanagan will come in and breathe fresh air into TCF's website and social media presence. 
Excellent communication needs are at the forefront of TCA's needs as well. Hosting three to seven events per week, Taos' arts collaboration and partnership leader is finding itself struggling to keep up with the information coming in and going out. 
"Jobs at the TCA do not involve creating art, they're elevating and supporting the arts," TCA Executive Director Chelsea Reidy told the group. "We need someone who can straight-up write, and is in control of our language and voice; What does TCA sound like? How do we connect to all of our audiences?" 
Program graduate Ellen Durant has a "big kid side job" as a residential program manager for Taos and Ohkay Owingeh pueblos. One day she saw a Microsoft Internship program flyer hanging at Cid's Food Market — the bulletin board of all Taos' bulletin boards. Upon first glance, she thought, "That looks fun and I'm already interested in tech and marketing."  
And it's a free course, so why not? Durant said she got out of the program what she was hoping — learn in-demand skills. She was "thrilled" by the networking opportunities she got out of it. 
Program graduate Bryce Flanagan — who currently works at Petree Nursery & Greenhouses — met Reza at a local farmers' market where she was peddling her apples. They got to talking and have become good friends. She knows Flanagan well enough to have encouraged him to apply for the digital training internship program — "Whatever he puts his mind to, he will do."
One thing Flanagan wants to do is help Taos, and himself, grow. "I want to grow my skill set in a more intellectual mindset way," he shared. 
Flanagan realizes that the new skill set he's gained only remains relevant if he uses it, and that's why he is interested in an internship. Besides working at Petree, Flanagan writes a column for Questa del Río News and is interested in filmmaking, nature, and the environment. His road looks wide open. 
Like a proud mama, Reza sang the praises of her inaugural internship grads and encouraged the partners to "Mentor them, love them, and bring them along on this journey." 
Reza foresees similar programs available in the future. This is the third program that HIVE has participated in thus far — all supported by CORI. Other programs to be launched in 2022-2023 are pending confirmation. 
UNM-Taos HIVE's purpose is to help bolster Taos' economic development by providing a collaborative and entrepreneurship workspace; inclusive technology culture building; scalable tech entrepreneur support and incubation; access to capital; digital workforce development and support; and access to digital jobs. Projected and hopeful outcomes include local wealth creation by startups and quality digital employment. Interested people do not have to be UNM-Taos students to take courses, enter a program, or use the facilities and information provided at the HIVE.
Learn more about HIVE and its programs and services at taoshive.com.