'The Best Move I've Ever Made'
April 7, 2022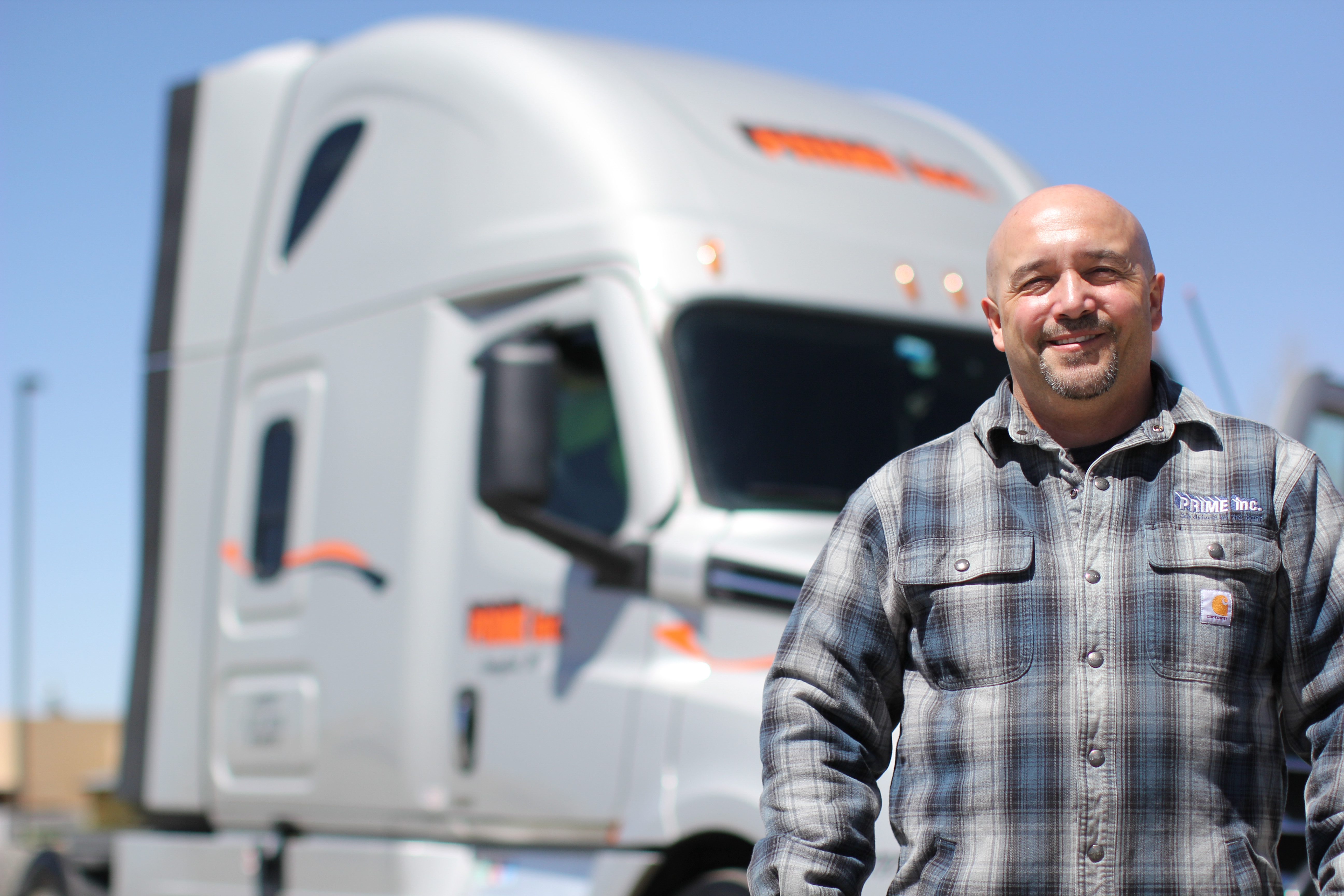 Photo by Enrico Trujillo
"This is the best move I've ever made career-wise, other than serving in the military," Stephen Archuleta said of getting his CDL at UNM-Taos.
By Scott Gerdes 
Stephen Archuleta has made many career moves: he served in the Air Force; worked at Walmart; sold cars and then print advertising; installed satellite television service; was a valet at a high-end resort; and worked in shipping and receiving. All of those "moves" ended up in his job junkyard.
"I was just getting by and not making any headway on my bills — borrowing from Peter to pay Paul," he corresponded from the road. 
Archuleta kept searching for a way up and out of his financial quagmire. Plus, he wanted a job he actually liked. Then he read an article about the CDL (Commercial Driver's License) Certificate program at UNM-Taos. He was intrigued. Archuleta investigated further and discovered he was eligible for a Pell Grant that would pay his way. The cloud began to lift. 
He applied, was accepted, and in 2015 he got a CDL Certificate and an Associate in Pre-Science degree because "One can't have too many tools in the toolbox." Archuleta's decision to utilize a college right in his backyard made it easy for him to work and go to school at the same time. He felt supported and on a clear path from the start; something he hadn't felt in a long time.
"Everything about the process for attending UNM-Taos was easy," he said. "Everyone was always ready to help if I had any questions. I was impressed."
The quality of instruction also struck him. "We spent time in the classroom, which made it so easy to take the written exam for the CDL permit; that really prepared us to take the exam. After getting the permit, we hit the road getting actual behind-the-wheel experience," he recalled. 
When Archuleta started looking for driving gigs, he applied at a trucking company based in Springfield, Missouri. Within one week, he was on his way to the Show-Me State for orientation. 
"I started as a company driver and then leased a truck, became a trainer, and my next move is I'm looking at buying a truck," he shared. "But I'm going to wait until all this inflation calms down."
Archuleta has driven in every one of the Lower 48. "Being a trucker," he said, "allows you to get a load going wherever you want and take some time off for sightseeing." And as for his debts ... gone. 
"This is the best move I've ever made career-wise, other than serving in the military," Archuleta said. "I was able to get caught up and pay off all my bills pretty quick. You really can make some good money trucking. With that comes sacrifices, though, because you have to leave home and go on the road. But it's been awesome."