UNM-Taos' Trisha Martinez helps gather, share untold Hispanic New Mexican family stories
March 30, 2022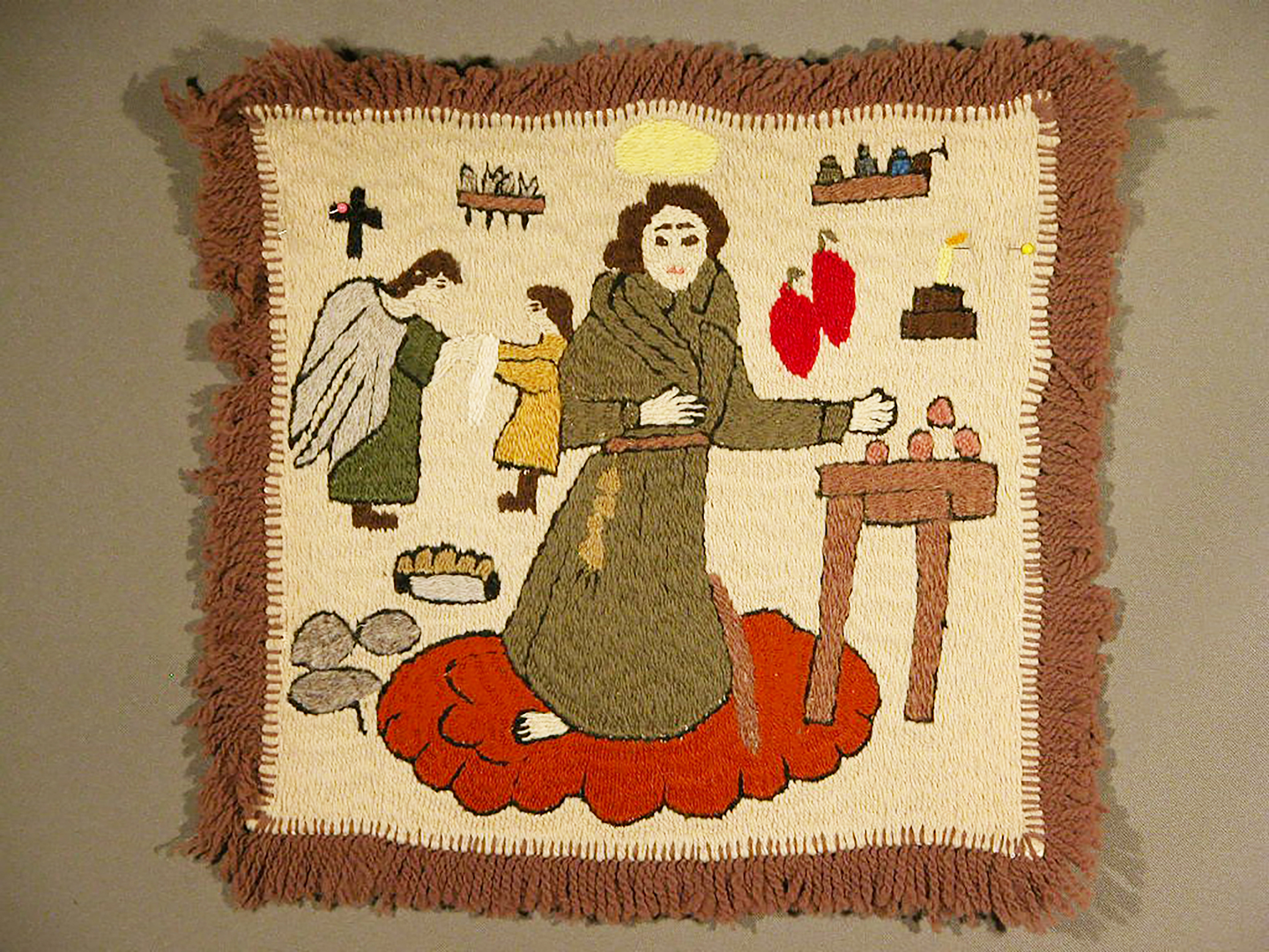 Courtesy Millicent Rogers Museum
Frances Varos Graves, San Pascual, 1979, colcha weaving, wool, cotton — a representation of the Manito artistic, cultural, and religious practices in the American West.
From now through July 31, Millicent Rogers Museum in Taos presents Following the Manito Trail  –  a cultural heritage exhibition that shares with the public the largely untold histories of nine Manito (Hispanic New Mexican) families from Taos County. The project is a collaboration between the museum and several Manito/a scholars – Dr. Vanessa Fonseca-Chávez (Arizona State University); Levi Romero (UNM); Dr. Trisha Martinez (UNM-Taos); Dr. Patricia Perea (UNM); and Jesús Villa (Arizona State University) – who are documenting these families' oral histories through recorded interviews. Both the scholars' work and the exhibition frame these family stories within the broader context of Manito/a migration patterns and the Manito agrarian, artistic, cultural, and religious practices in the American West.
On Sunday, June 12, Martinez will moderate the panel discussion, "Building Community: Wisdom of Place, Educational Attainment & Paying it Forward," from 1-3 p.m. The panel features UNM-Taos Dual Enrollment Program Specialist Dr. Bonavita Quinto-MacCallum and Dr. David Fermín Argüello.
The Following the Manito Trail exhibition shares the migration experiences, creative practices, and largely untold stories of Manito (Hispanic New Mexican) families from Taos County and its surrounding area. These families carried their culture with them through their migrations to other states for seasonal and permanent work during the 19th and 20th centuries. These migrations represent Manito family values in surviving, even if it meant leaving the homes they cherished. Their contributions significantly impacted the American West through their labor in sheepherding, coal mining, railroad construction, and the sugar beet fields. Through sounds and sights, this exhibition highlights Manito family histories; the significance of storytelling; farming; poetic; religious; and culinary practices of Manito families; and the Hispanic art forms of santos and colchas. 
Wherever they went, Manito families never forgot their roots in New Mexico, and they shaped their new homes in other states to preserve and adapt the cultural traditions they brought with them. For some families, the following generations stayed in their diaspora homes, and, for others, they returned to New Mexico. Through their descendants, Manito families carry on the legacy of shaping the Northern New Mexico cultural landscape through professions in medicine, the humanities, arts, linguistics, and agriculture. 
The exhibition's Humanities Discussion Panel series (March 26-May 8) offers audiences several opportunities to join the conversation through direct dialogue with the Following the Manito Trail scholars and the project's cultural community network. This exhibition will travel to two more locations in Northern New Mexico — one in Santa Fe County and one in Río Arriba County. The exhibition is supported by the Northern Río Grande National Heritage Area and the New Mexico Humanities Council. 
For more information about the Following the Manito Trail events and programs, visit millicentrogers.org.