UNM-Taos Redesigning Itself to Offer Clearer, Faster Graduation Paths
March 23, 2022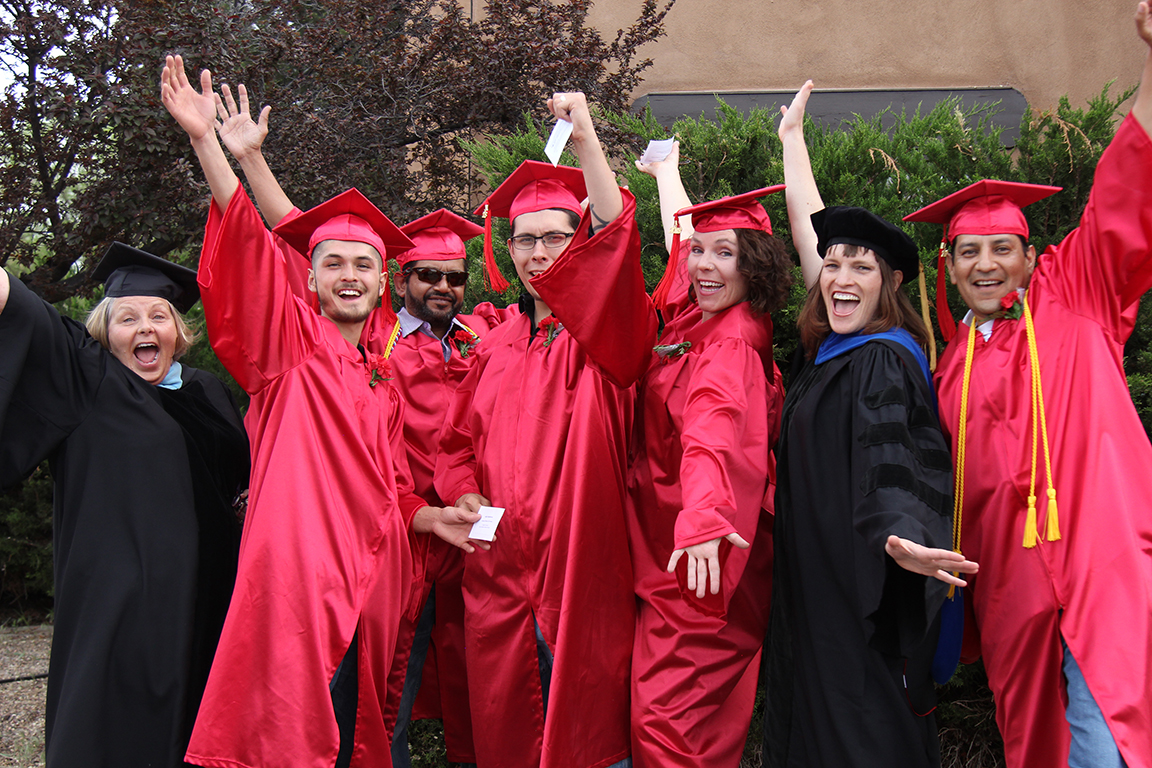 In the fall of 2021, the UNM-Taos Leadership team gave themselves a book assignment. They began reading and discussing Redesigning America's Community Colleges, and campus directors have led their teams in reading and redesign conversations. The information has provided a new way of thinking about how UNM-Taos serves students and has laid the foundation for the new chancellor, Dr. Mary Gutierrez, to reframe the college's work as redesigning themselves for their students. 
The redesign is informed by the Guided Pathways framework, which focuses on helping students explore, enter, and complete programs of study that are aligned with transfer opportunities and good jobs. To help plan and implement Guided Pathways reforms, a 14-member team made up of UNM-Taos staff and faculty (from Instruction, Student Affairs, Executive Office, and BCAM) has been accepted to partake in a Community College Research Center (CCRC) Guided Pathways Summer Institute session from June 6-16. 
The idea and purpose of Guided Pathways is clear-cut — a best practices plan for what colleges should do to best serve students. It's a framework that aims to simplify a student's academic journey by providing informed choices, personalized support, and clear learning outcomes, which will help more students achieve their college goals in less time. 
UNM-Taos has piloted and implemented various best practices from the Guided Pathways framework, thanks to federal Hispanic-Serving Institution grants. The college considers these strategies as important commitments to students and has begun to see positive shifts in student outcomes. However, the approach has not been holistic and systematic as a strategic campus-wide college redesign.
On top of mind for Dr. Gutierrez is knowing that clear and accessible certificate and degree pathways are an important part of increasing completion. "The goal of our participation in the Summer Institute is to examine our data closely and determine crucial next steps for our pathways," she said. 
CCRC, at Columbia University Teachers College (New York City, New York), spearheaded research regarding the use of Guided Pathways in an effort to help students complete programs faster. Through their research, CCRC found that "students are more likely to complete a degree in a timely fashion if they choose a program and develop an academic plan early on, have a clear road map of the courses they need to take to complete a credential, and receive guidance and support to help them stay on plan."
First, however, students need guidance in choosing a career path that suits their goals. If a student isn't sure of where their interests lie, they find it hard to pick courses to take and often make poor choices about what programs to enroll in and when to seek help. In the end, many students may become too frustrated to even continue their education. 
UNM-Taos data reflects national trends regarding student certificate and degree attainment. Due to that, Dr. Gutierrez sees the Guided Pathways model as a positive means to positive ends. "When we look at student persistence term-to-term," Dr. Gutierrez explained, "the rate of certificate and degree completion, and the number of accumulated credits that are in excess of the units required for certificates, degrees, or transfer, it is clear that we can do better. UNM-Taos can benefit from understanding and applying the research that CCRC has done to understand what colleges and universities can do to increase rates of timely completion and to promote equity in those rates."   
During the CCRC Summer Institute, the team will learn how to develop, incorporate, and follow a comprehensive approach to reform using the Guided Pathways model.
"My first desired outcome is that we — myself, our faculty, and staff — embrace responsibility for our student outcomes, and drawing on the research, begin to think critically about what we can change about the educational experience to produce better outcomes," expressed Dr. Gutierrez. "Our ultimate desired outcome is to see more students achieve their educational goals in a timely manner."   
As described by CCRC, "Many community college reform efforts have sought to improve rates of student completion by scaling up discrete interventions focused on only one element of the college experience. The Guided Pathways model, in contrast, entails a systemic redesign of the student experience from initial connection to college through to completion, with changes to program structure, new student intake, instruction, and support services." 
The employment of the Guided Pathways principles allows UNM-Taos to help students from before they even register at the college to after they receive a degree or credential. Students can then move through coursework with fewer obstacles and have a clear understanding of their path. 
Dr. Gutierrez said she is honored that UNM-Taos was chosen to be a part of this "exciting opportunity" for the chance to work closely with national leaders in Guided Pathways research and practice.