If you like to help people, consider an EMS career
January 7, 2022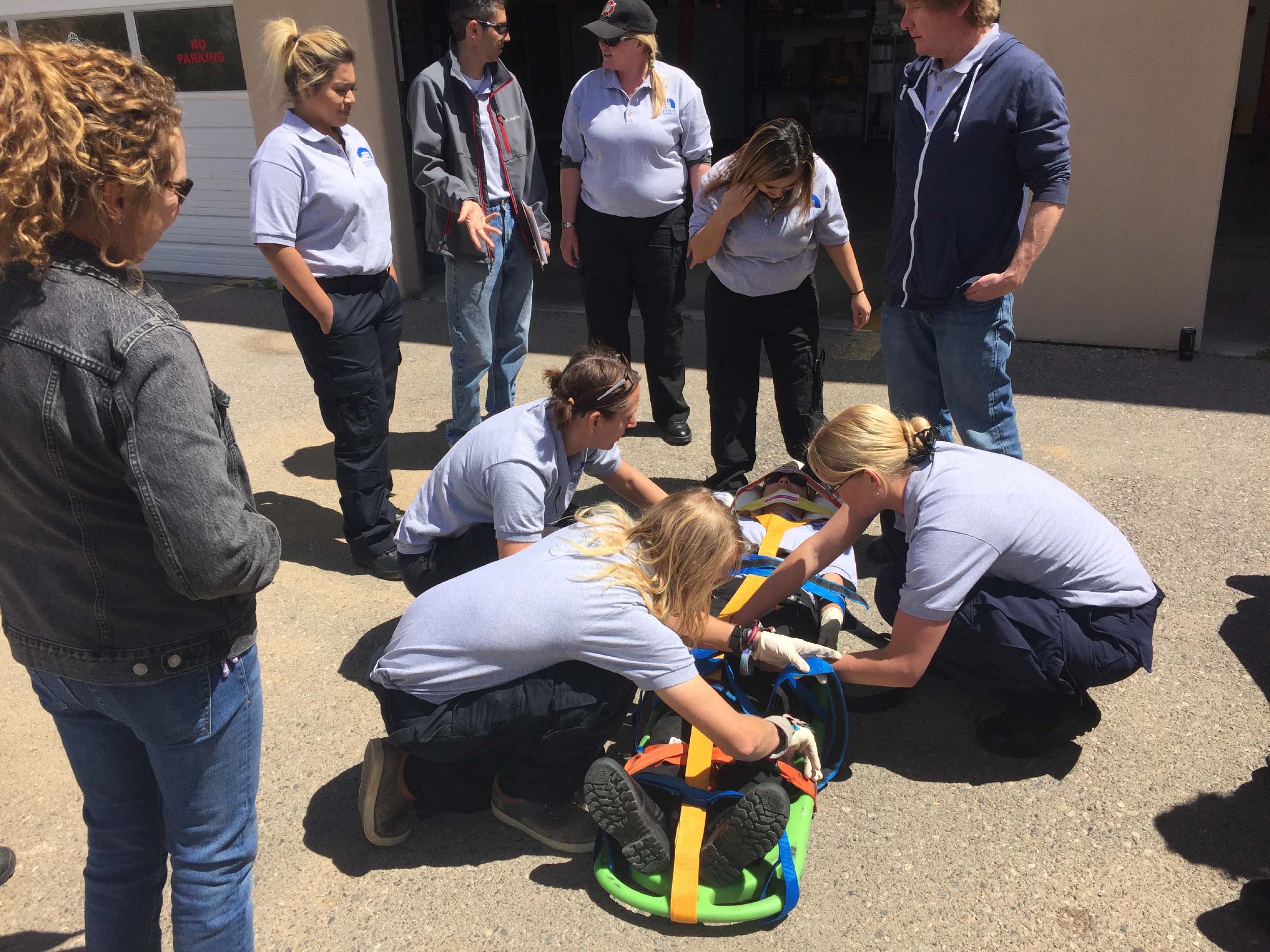 Photo courtesy Josh Wright
Former UNM-Taos students take part in an EMS program clinic under the instruction of Josh Wright, second from the left in the gray jacket standing in the back.
Accidents. Illness. Injuries. We know that the first people to answer a call for help are trained to be calm under pressure. They know how to stabilize someone's health condition. They tend to wounds and get patients to a hospital quickly.
EMTs are not just on ambulances and at fire stations. They can be found on movie sets, search and rescue teams, ski patrols, wildland fire crews, clinics, and urgent care facilities, to name a few. 
A career in EMS is for those who want to help and care for people in need and serve their community. 
UNM-Taos EMS/EMT instructor, paramedic Josh Wright has been teaching students for 7 years after having served in a number of EMS capacities: 14 years with Taos County EMS; 6 years with Questa Fire/EMS; 6 years at Holy Cross Medical Center ER; and 2 years with Mogul Medical at Taos Ski Valley. He has a Bachelor of Science in EMS, and has earned a graduate certificate in biology. But a career as a health provider wasn't something he thought about long ago. 
"Way back, I was trying to help out the Latir Volunteer Fire Department," Wright said. "I learned they were in desperate need of EMTs." 
He was driven by the desire to help people, so he enrolled at UNM and became an EMT.
"You never know until you try," he added. "If you like to help people, this is a great and valuable way to do that, and provide a service to the community." 
The EMT-Basic program at UNM-Taos is accepting students for spring semester. After a semester plus clinical rotations, students receive their New Mexico EMT-Basic licenses and can enter the workforce knowing they are in demand.
"Most grads have no trouble finding work," Wright said. "Some areas of New Mexico don't even have ambulance service due to a lack of EMTs."
The EMT-Basic course is the backbone of prehospital emergency care. The instruction entails lab work, skills training, scenarios, and clinical experience.
There are no prerequisites for entering the program — no extra English or math courses needed, just a high school diploma.
Some people who are interested in the profession might give pause because they don't think they can be calm enough on a call. Intelligence and the ability to learn are not fixed. Wright said they are skills that can be developed. 
Wright has heard his share of misconceptions about being an EMT. "I think people have a lot of ideas about what it is," he shared. "They're going in thinking it's all thrill and excitement. It's a lot of taking care of sick people, substance use problems, and people in mental-health crises. But we do get our fair share of excitement. It's really just about caring for people."
For more information, contact Josh Wright at jwrong@unm.edu or call him at 575.737.3718. 
Classes start on Jan. 18. To get started, call UNM-Taos at 575.737.6215 or go online to taos.unm.edu.