Veterans Off-Grid and On-Track
December 22, 2021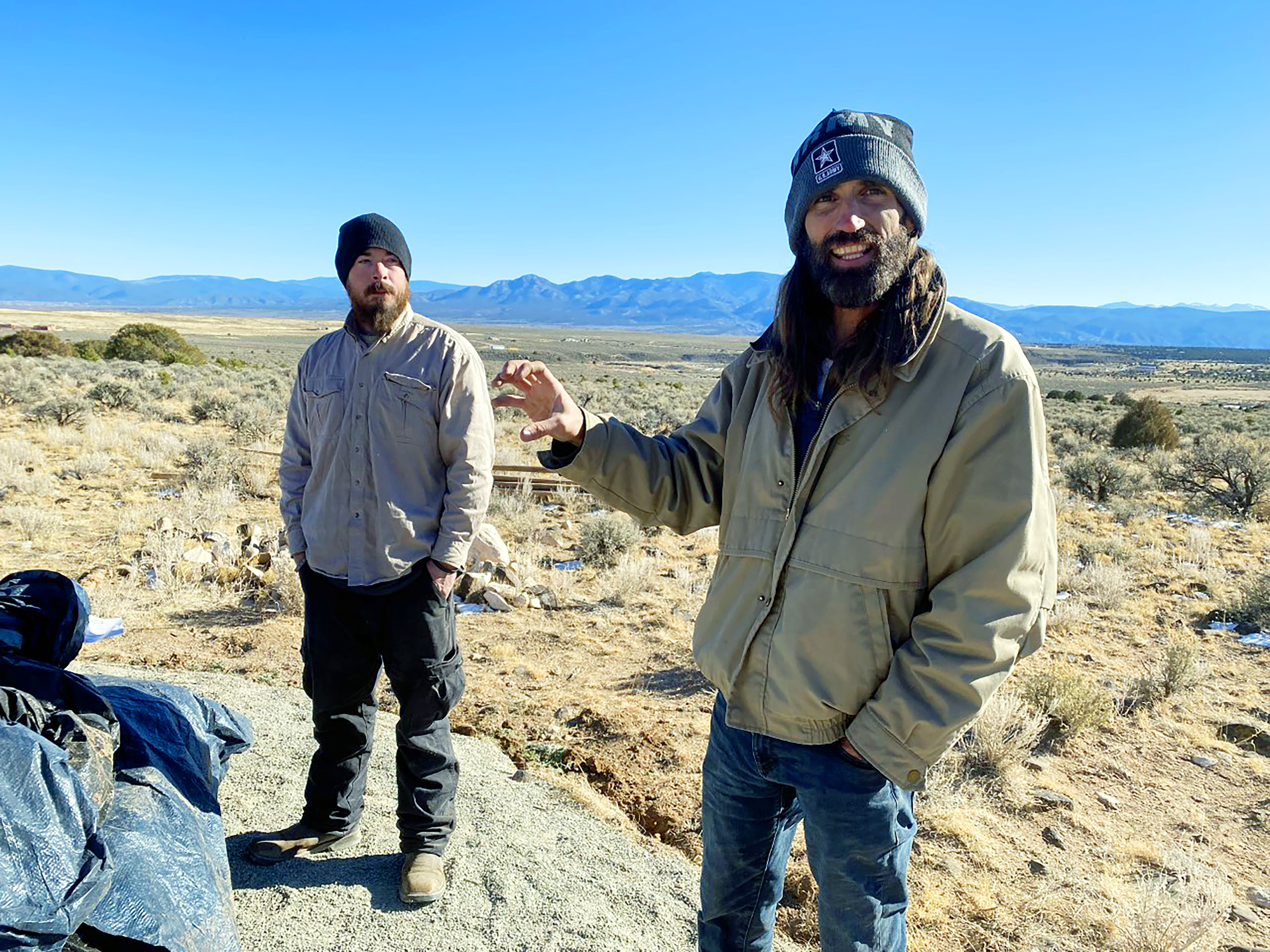 Photo by Scott Gerdes
U.S. Army Veteran and Veterans Off-Grid founder Ryan Timmermans and volunteer Josh Camp (Burlington, Alabama) talk about helping vets learn green construction at the Carson, New Mexico, site through collaboration with UNM-Taos Construction Technology Program Coordinator Mark Goldman.
By Scott Gerdes 
On 50 scenic acres in Carson, New Mexico, sits the self-sustained Veterans Off-Grid (VOG) property — a 501(c)(3) nonprofit organization founded by Ryan Timmermans, whose mission is to restore a sense of purpose, community, sustainability, and peace to veterans in need. 
The story of VOG begins in 2017 when Timmermans realized his vision and bought those many acres about 35 miles west of Taos. Since then, volunteers have accomplished many goals in their mission to help homeless veterans, help themselves, and promote eco-friendly living. Getting to this point has been a bumpy road for Timmermans due to many hurdles.
Taos has the best housing in the world for those who can afford it. It's intimidating thinking about building your own home if you've never worked in the building trade. But it's frightening to think about being homeless.
The number of homeless veterans increased across the country in 2020 even before the effects of COVID-19 "damaged employment prospects and financial resources for a community," according to a report released last spring by the Department of Housing and Urban Development. 
Originally from North Carolina, Timmermans served in the U.S. Army as an Intel Analyst and Psychological Operations specialist. He completed multiple tours to Afghanistan, both as a soldier and contractor. 
Even though Timmermans has been employed in the private sector using his military expertise, he knows homelessness. A deal fell through for 40 acres out by the Greater World Earthship Community that he initially wanted to buy for the building project. He had already sublet his place back in North Carolina. "What do I do? Now I'm actually a homeless veteran for the first time in my life," he recalled of his reaction at the time. Because he had a fifth-wheel RV that he took everywhere he went, Timmermans admits he wasn't technically without shelter, but he didn't have "electricity, heat, and that kind of stuff." 
Subsequently in October 2017, Timmermans was able to purchase 10 acres in Carson and believed he finally had a spot to park his temporary home. However, he soon learned that county residential codes forbade him from living in the fifth wheel. 
He didn't have the money to start building yet. But through an auction, he was able to buy 50 acres in Carson. The fifth wheel could be parked on that property because there was a small self-sustained home already there that he could live in. 
It wasn't just Timmermans' brush with homelessness that ignited his wanting to help other vets from struggling through that same struggle and uncertainty. For there is something much deeper and darker that befalls many veterans — suicide. 
Like many vets, PTSD didn't give Timmermans a pass. He vividly recalled coming home after his last tour in Afghanistan finding his mind and spirit had fallen into an abyss. Reaching out for help, he waited 45 minutes to talk with someone at the VA. "That's a really long time to wait when you're struggling with demons," he said. 
"We lose 22 to 24 veterans a day to suicide. I bought this land because I lost two of my friends to suicide," Timmermans shared. "They deployed with me to Afghanistan. And they lost their mental battle. We didn't know anything was wrong and then they're not here anymore. So, if I don't provide a place for veterans to really feel normal again, who will?" 
The mission
The concept at VOG is that anyone staying there has no bills. No one gets paid for any work they do there. But they do pass it forward by helping build more structures for others to stay in. And through that, they teach green-building skills. Participants can then feel confident in building their own homes and/or getting jobs in construction. 
There are a few permanent dwellings on the property so far: the hyperadobe with a purple and white roof, which UNM-Taos students helped build in a collaboration he co-created with UNM-Taos Construction Technology Program Coordinator Mark Goldman; the earthbag; a yurt; and one being built with a tire-wall system. There is also a greenhouse that over the summer nurtured rows of squash, cucumbers, and zucchinis. 
They are building one structure of each type of eco-friendly style and materials to not only educate the students and volunteers but to show everyone the seemingly unconventional things that can be used, such as the mesh grocery store bags used for limes and potatoes — hence the name "earthbag." 
"You can use those bags to build an entire house," Timmermans explained. "Two-thousand feet for $35. You can fill around those with adobe and it dries in a day. Adobe bricks can take up to two weeks to dry. And then you smear mortar in between." 
All the dwellings have a "solar mass" aspect to them, which keeps the inside warm. They use a lime plaster mixed with crushed glass for the outside of the buildings. 
What happens if there's a major event like a windstorm in Taos? "You're dependent on some random person or a government to function to restore everything that makes your life work," he answered. What if that government isn't able to assist? What if it's a bigger problem? "If everybody had personal responsibility for their own structures, they become self-reliant. And technologically you can do it now. The more people we can teach to green-build, the more self-reliant they become and the more we help Earth."
You don't have to be a veteran to volunteer at VOG. People who come through VOG know they're going to be OK because they're learning to be self-sufficient. There's an undeniable brotherhood. All of the things that are on the property are designed to help a veteran feel normal again. "I take the heavy military aspect out if it and remove the yelling and the forced exercise, and all that kind of stuff. Natural building is exercise and you're doing it with a purpose," said Timmermans. 
Now armed with purpose, someone is helping the next guy, pulling him up while they're working together. Someone is eating organic food. A group is sitting around a fire chatting and laughing under the radiant, quiet night sky. Another is thinking about their future — a future of independence and security. 
The collaboration
To further his construction knowledge, in 2018 Timmermans took one of Mark Goldman's construction courses at UNM-Taos. Goldman learned of Timmerman's mission and started informally helping with VOG. Seemed like kismet. Goldman has had a focus on affordable housing since he was an architecture student in Boston. He brought Timmermans' idea to the attention of UNM-Taos thinking, "This is a logical partnership."
"Victoria (Santistevan, UNM-Taos program manager) lit up when Ryan presented his plan at HIVE describing what kind of partnership he was looking for," Goldman said. 
The fruits of their labor have come to fruition. This spring semester marks the "soft rollout" of the VOG program, with a "hard rollout" expected next fall. Initially, the program will feature two courses: Cooperative Education and Design for Green Building. 
Cooperative Education is similar to an internship but not one. Goldman described it as "100 percent hands-on work" at VOG. The idea is for this course is to be held both in a classroom and onsite. "Together, they are much more valuable than the sum of their parts," he said. 
Goldman will be teaching Design for Green Building, based solely at VOG. Besides being an instructor, Goldman is a New Mexico state-registered architect and builder. He will cover floor plans, how to make models from designs (such as with a 3D printer, which he also teaches), and a heavy dose of building code education. "We're in a time with the most code changes going on," he knowingly said. 
And while the typical green-building styles of traditional adobe, hyperadobe, earthbag, and tire-wall systems will be employed, Goldman is open to any green-building method students are interested in trying. He doesn't want to dictate the solution. He sees it as a real learning experience and that "makes it interesting." 
Construction workers are in high demand. Goldman has worked in construction since the 1990s and said he's never seen such need for skilled workers.
"We're fortunate to have this great opportunity for a partnership. My hope is to build a program that outlasts my tenure at UNM-Taos," he added. 
The hope
A veteran from Taos Pueblo named Clarence "Drew" Mora had always dreamed of living off- grid. After many years of searching, he and his now ex-wife found some land. After the divorce, he said he found himself homeless … twice. 
"At this point in my life I'm 69 years old," Mora said after helping dismantle the large teepee on the VOG property. "I have to do something with my life, and this is a great thing." 
He's been at VOG for about four months. His goal is to hopefully work with the farm and grow vegetables, specifically blue corn. Preservation of his Taos Pueblo culture is utmost in his heart. Mora's larger dream is to start a local culinary school that teaches Native- and Spanish-influenced cooking and then open a restaurant in town that offers those kinds of "underserved" dishes. He sees himself giving back to VOG with funds raised through his cooking school and restaurant to build more dwellings that, in turn, could serve as temporary housing for his students.
It's a big dream to be sure. But that's what VOG projects onto those who enter. Dreams are hope. Hope is motivation. Motivation means wanting to wake up and see another day.
For more information about VOG, visit veteransoffgrid.org. And to learn more about the UNM-Taos Construction Technology program, go to taos.unm.edu or email Mark Goldman at mgoldm01@unm.edu.