'A Sense of Home'
October 20, 2021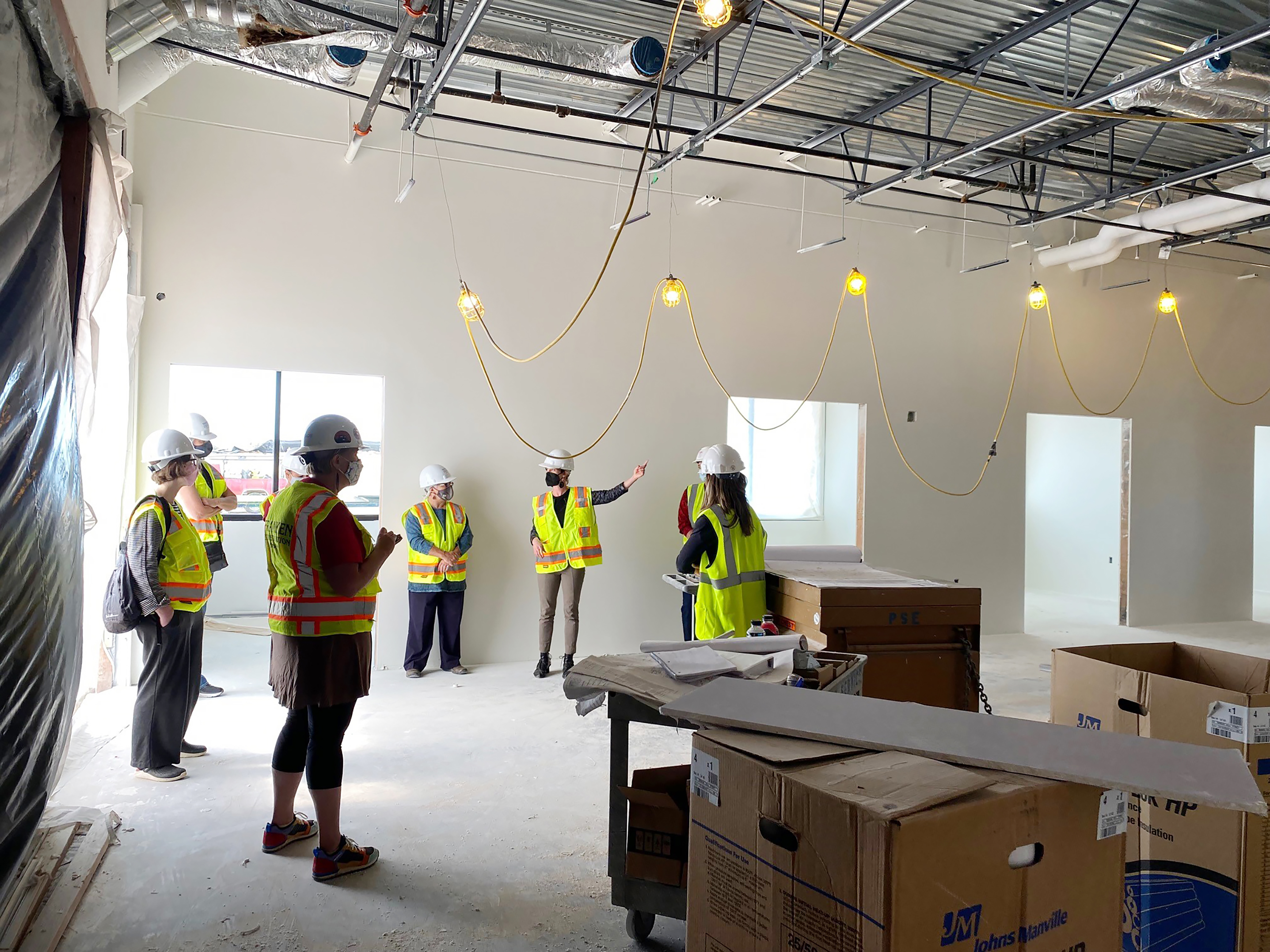 Photo by Jessica Sánchez-Romero 
During a tour of the College to Pathways Career Center on Klauer Campus, a handful of UNM-Taos staff is shown the space that will be the TECC Student Study open-use area.
Anyone who comes to Klauer Campus regularly has witnessed the College to Pathways Career Center progressively rising from the earth. A group of UNM-Taos staffers recently went on a tour of the building to get a firsthand peek at how the future of our campus will look and what it will offer. 
After the walkthrough, Program Operations Director Nina Gonzales said, "Our team was humbled and delighted to see this project come to life — the fusion of best practices for teaching, learning, and construction. Hats off to Jessica (Sánchez-Romero, project/construction manager) for her excellence in vision and execution of this state-of-the-art learning environment for our campus."
Gonzales and Sánchez-Romero envisioned the Pathways Center to be an "open-learning environment" that, by design, supports students in their connection with administrators, teachers, advisors, tutors, peer mentors, information specialists, and student resources navigators. 
The 11,995-gross-square-foot, single-story structure will be the new home of the UNM-Taos Library, Southwest Research Center, Acequia Archives, tutoring services, Taos Education and Career Center (TECC), a learning studio, Career Services offices, and other related services. The center will also enable more services at Civic Plaza Drive to move to Klauer Campus.
The Pathways Center is intended to be a resource for blended learning and living. RMKM Architecture of Albuquerque produced an imaginative design that complements the existing architecture at Klauer Campus. (The firm also designed the campus art building.) It utilizes the space's form and function with other design elements that create classrooms without walls.
"The built learning environment (the school building and the physical conditions of the school) is critical in fostering student success," Gonzales said. "A building directly impacts how such relationships are built — inspiring connections, comfort, and a sense of home." 
The general contractor is Franken Construction of Albuquerque. Funding for the project came from the passage of a 2018 GO Bond. 
Golden shovels broke ground on April 23. The College Pathways to Career Center is scheduled to be completed by December and open for operations next summer.