Community Leaders Guide Natural Resources Students to Sustainability
September 1, 2021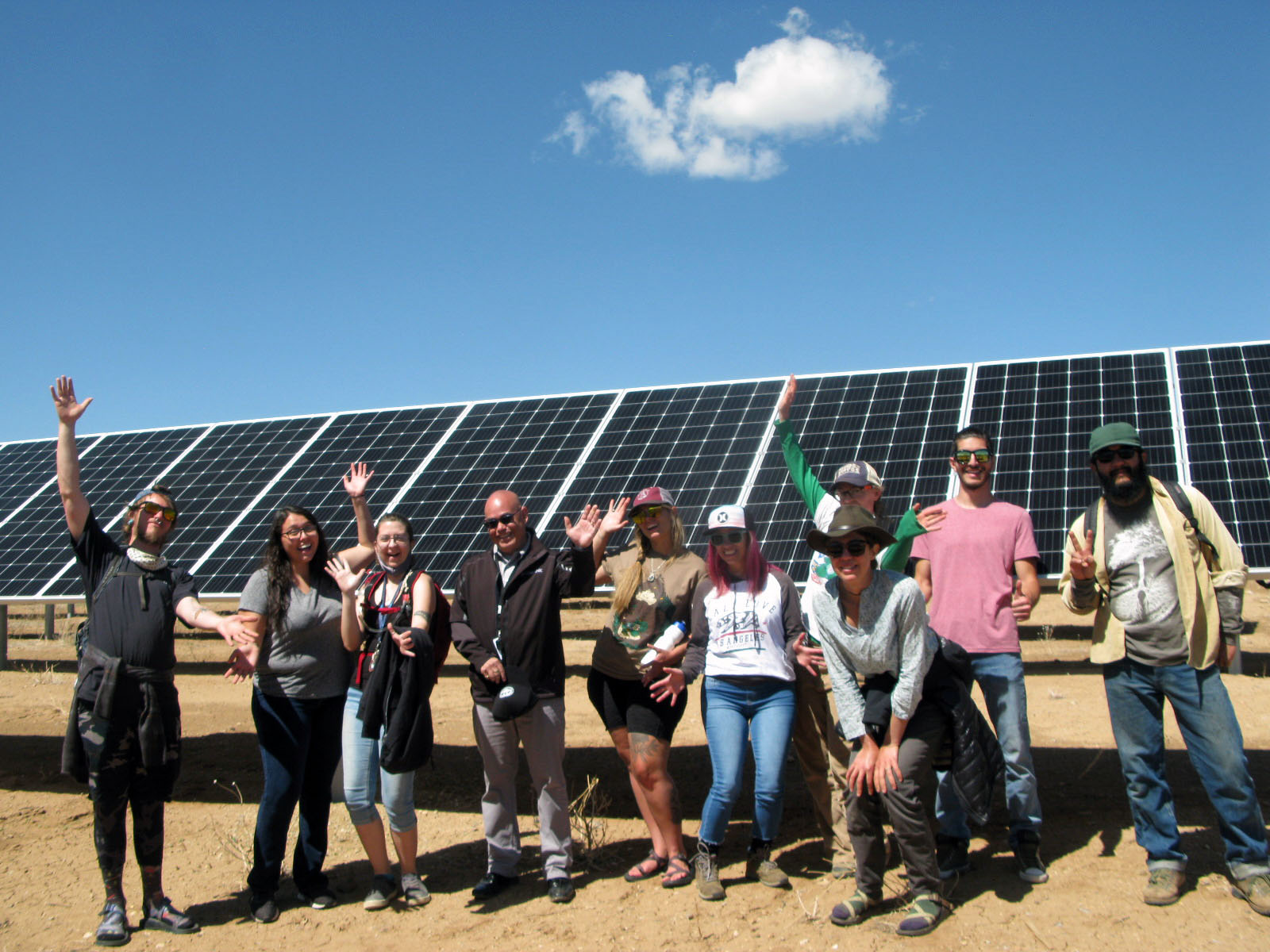 Photo by Brooke Zanatell
UNM-T Natural Resources Management students and Luis Reyes, CEO of Kit Carson Electric Cooperative, show their enthusiasm for solar panels that turn sunshine into electricity. From left to right: Dillon Alexander, Annalisa Martinez, Alexis Albillar, Luis Reyes, Hannah Ryan, Ann Lovato, Peggy De'Scoville, Adrienne Rosenberg, Darin Abeyta, and Kan Namba.
Taos County community leaders in sustainability met with students in the Natural Resources Management (NRM) Program at UNM-Taos to teach them about local initiatives that address environmental challenges. This was part of a 3-credit, one-week intensive summer seminar titled Climate Change and Sustainability.
Featured topics and community leaders included:
Farming as a Solution:

Micah Roseberry, owner, Farmhouse Gardens and Cafe

Forest Management for Wildfire Prevention:

R. Logan, Taos County Wildland-Urban Interface Coordinator
David Gilroy, Scientist & Education Specialist, Taos Soil & Water Conservation District
Manual Torres, Forester, State Forestry Division

How We Live and What We Do with Our Trash:

Michelle Locher, Public Programs Leader, Greater World Earthship Visitor Center
Todd Wynward & Daniel Herrera, TILT Repurposing Plastics Project

The Energy Revolution is Now:

Luis Reyes, CEO, Kit Carson Electric Cooperative
David Munoz, Jay Levine, and Chuck Wright, Renewable Taos Association Electric Vehicle Owners
Bill Brown, Renewable Taos and Distinguished Alumni of the UNM School of Engineering
"Most of these students are familiar with the challenges we face around climate change and sustainability," stated Brooke Zanetell, course instructor and assistant professor/director of the Natural Resources Management Program. "So, we focused on getting out with the people who are dedicating their lives to meeting these challenges in creative, collaborative, innovative, and economical ways. It was fun and inspiring."
With Roseberry at the Farmhouse Café Community Garden, students learned about the role that farming plays in sequestering carbon, creating livelihood for local farmers, maintaining acequia traditions, and feeding people healthy and local foods that require very little energy in transportation from field to mouth. A visit to a hoop house full of salad greens that Roseberry manages at Arroyos Del Norte Elementary School showed how growing food can be a great learning tool for kids and adults alike while providing a lot of food and nourishment. In addition, students helped to plant blue corn from Taos Pueblo. Roseberry discussed the importance of local seed varieties and of maintaining ancient seed strains.  
With Gilroy, Logan, and UNM-Taos NRM alumni Manuel Torres, students explored a post-treatment forest site near San Cristobal where an overcrowded forest had been thinned to prevent wildfire and to promote ponderosa pine growth. A fruitful discussion of fire suppression, forest thinning approaches and goals, and forest ecology occurred between the community leaders, the students, and the instructor. Students learned that there is no perfect solution to forest management and that today's efforts to mitigate past fire suppression are as much of an experiment as it was to put out all the fires we could during the prior 100-year period. In both cases, forest managers thought they were doing the right thing, but only time will really tell what the outcomes will be due to the massive thinning and burning projects now occurring throughout Western forests. 
Students learned about alternative ways to build homes and provide shelter at the Earthship Community Center. From harvesting the sun's energy to heat homes and power electricity to using wastewater to grow plants, students saw firsthand that sustainability solutions don't emerge from doing things in the same ways that created the problem.
They then traveled to Questa to bale plastic trash into large blocks for use as building material at the TILT Repurposing Plastics Project. Instead of plastic waste going into the landfill, it will be used to construct walls. Working alongside Questa resident and TILT employee Daniel Herrera, students saw how work done for a higher purpose – such as sustainability – cannot only provide livelihood but also be a source of pride and purpose. 
The Kit Carson Electrical Cooperative (KCEC), which provides electricity to Taos County, is a national leader in delivering its customers electricity generated by the sun rather than by burning fossil fuels, such as coal. Reyes joined students at a solar array to explain how the switch to solar is happening and how it's good for mitigating climate change and for our pocketbooks. Students then met three members of Renewable Taos who showed them their Tesla and Chevrolet electric vehicles. Again, the emphasis wasn't just on what was good for the environment, but on what was ultimately going to cost car owners less money in gasoline and repairs over the long run. Lastly, students analyzed current national data tracking all streams of electricity consumption and discussed with Brown exactly what is needed to get entirely off of fossil fuels.
Students had this to say about the one-week seminar: 
"I was able to take away tons of information from people who have firsthand experience in renewable energy, forestry, recycling, and sustainable agriculture."
"The field trips were awesome and we met people in our town who are working on the solution."
"I learned a lot. It was great to meet so many influential community members." 
For more information on the Natural Resources Management (NRM) Program at UNM-Taos and to apply to join "The CCC" – a USDA grant-funded project within NRM that provides students with academic stipends, paid summer internships, and academic/career pathways – visit https://taos.unm.edu/naturalresources. To meet the CCC students, go to https://naturalresources.unm.edu/. Call or email the UNM-Taos Natural Resources Management program: 575.737.3758, naturalresources@unm.edu
This work is supported by the Hispanic-Serving Institutions Education Grants Program, grant no. 2019-38422-30210/project accession no. 1020623, from the U.S. Department of Agriculture, National Institute of Food and Agriculture.