The 'beating heart' of America's medical system
August 25, 2021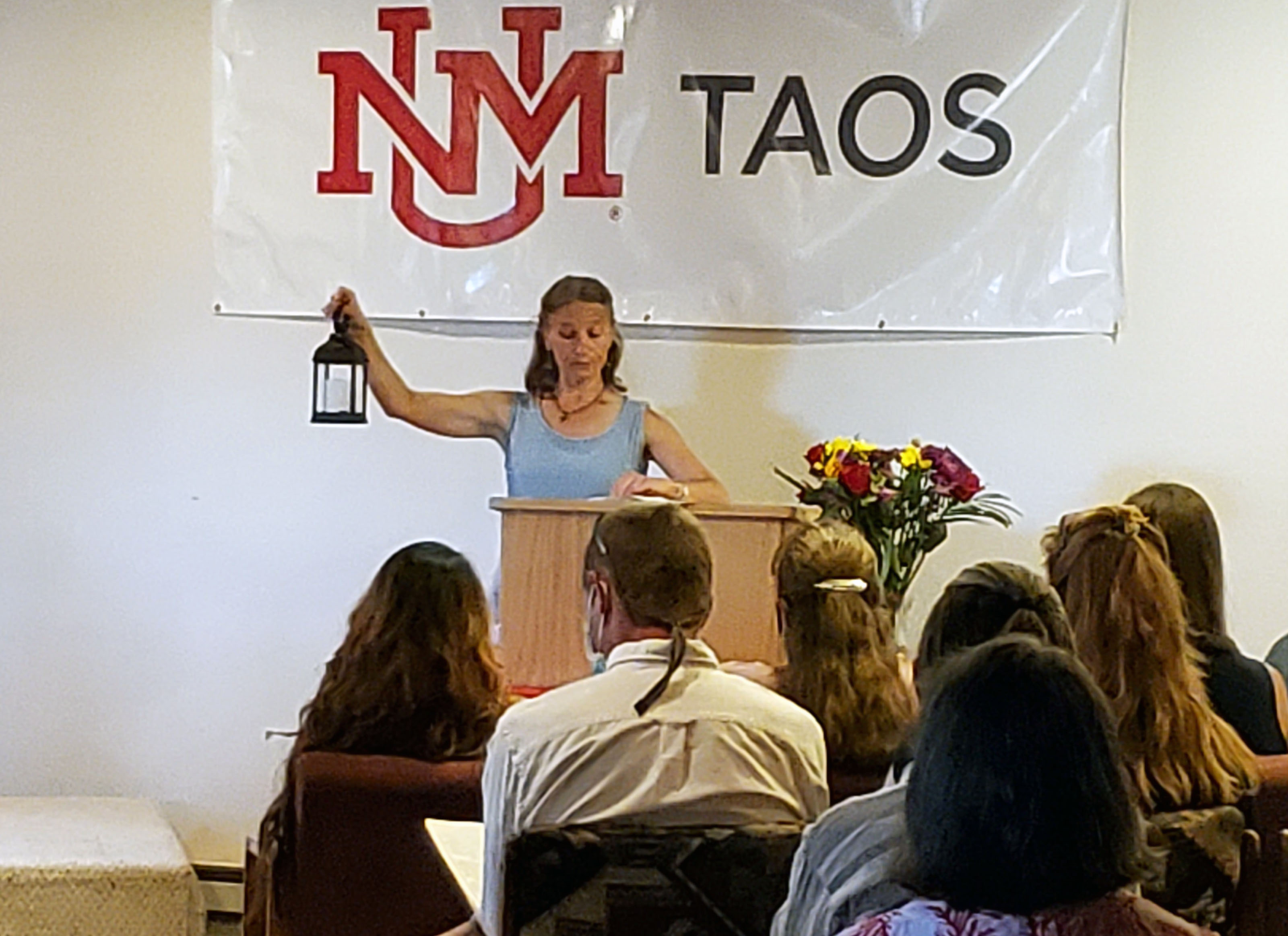 Photo by Anita Bringas
During the pinning ceremony, Interim Nursing Program Director Dawn Kittner holds up a lamp, which symbolizes the one carried by Florence Nightingale as she tended to wounded soldiers during the Crimean War (1853-1856). It has come to symbolize care in nursing. Historically, the lamp has also been used to represent the enlightenment that comes with knowledge.
It's unfathomable to imagine healthcare without nurses — the warriors in scrubs … the compassionate caregivers to the sick, injured and frightened — they witness birth and death, and all with a smile and a warm touch. As former President Barrack Obama once said, "America's nurses are the beating heart of our medical system."
The UNM-Taos Class of 2021 graduated one Associate Degree in Nursing (ADN) student, Sat Atma Maria Ouska-Merritt, in May, and this August graduated 11 ADN/Bachelor of Science in Nursing (BSN) students: Alaina Stenberg; Chelsea Norton; Coleen Schafer; Crystal Padilla; Heather LeDoux; Jennifer Yurkovich; Katherine Matthews; Kevin Taylor; Matthew Vigil; Meghan Matteson; and Sandra Jimenez.
The 11 students received their pins the evening of August 20 during a ceremony at Quail Ridge. The pinning ceremony dates back to the 12th century. It has various traditions and symbols, including the cap, pin, lamp, and pledge. After all of the late nights studying, the clinical work, and the caring for themselves and their families these nursing graduates can say, "I did it." 
Studying to be a nurse requires diligent time management. With all the "clinicals" and homework it wasn't going to be easy, but it's going to be worth it. And as the Nurse's Motto states: "Every day is one more accomplishment." 
"They persevered the ups and downs of nursing school, drawing on each other for support and having support from their family and friends," said Dawn Kittner, interim director of the UNM-Taos Nursing Program. "In the best of times, nursing school is challenging. We often say it is like a marathon. Perhaps for the Class of 2021, it was more like an ultramarathon. They demonstrated their resilience and flexibility whenever shifts in their education were made related to COVID-19."  
Single mom Sandra Jimenez found it important to have a set schedule and to-do lists. She adhered to them like glue. But she also wanted to make sure her body and mind were strong and in sync.
"I found myself taking breaks throughout the day to breathe and clear my mind," she described. "Going on walks and incorporating any type of activity that would help mentally, such as drawing or painting. Then I would get back to the task at hand and complete it."
Heather LeDoux, the mother of two boys, had a smooth routine going during her first year of study: Dinner with husband and kids promptly at 5. Boys to bed at 8. Pot of coffee. Work on assignments and study until midnight. Hit the hay. 
That schedule worked until the pandemic.
"Everything changed in an instant," LeDoux said. "It felt like the world had stopped everything but nursing school. We were forced to transition to online and be at home. This was super challenging because my kids and husband were now at home as well and I had to be a mom, housewife, teacher, and student all in one. All of the lines felt like they just blurred together." 
Distractions inflated the challenge: Her oldest son at the kitchen table in a Zoom class. Her younger son in his bedroom in a Zoom class. Heather in her bedroom in a Zoom class — all at the same time. Exams were hard because she had to take them at home with kids, dogs, cats, and neighbors noisily going about their day.
"It seemed like each time I had a test, the neighbors were blowing the leaves outside," she recalled.
As the next semester started and they were allowed back to clinical sites, "Everything was centered around the COVID-19 pandemic," LeDoux said. "As nursing students, we were in the hospitals, testing sites, and vaccination clinics. I worried about bringing COVID into my home, but there were no exceptions. I couldn't pause nursing school, so I just focused on one task at a time, one day at a time, and I prayed a lot."  
Matthew Vigil understands his fellow graduates' challenges. And like them, he wasn't about to throw in the towel.
"I found that social life is a privilege, and in order to succeed in school just about every aspect of your life — and for my family life — had to be managed tightly to the point of being at family functions or events with note cards, books, or my best friend … my laptop," he shared.
Studying to be a nurse is not only challenging, it's a calling. It's an innate desire to want to help people in their time of need and to make them feel better.
Vigil has had that desire since he was young. He started his adult life in the military. But there was still something missing. So, he became a law enforcement officer. After retirement, he started volunteering at food banks. Vigil enjoyed the positive interactions, but once again felt as if there was a hole in his life. 
His spouse had earned her master's degree and encouraged him to embark on a new journey.
"I went to UNM-Taos to see what programs were available that would engage personal development and would allow me to express my inborn desire to care for people in times of need," Vigil said. "I was accepted to the dual-degree nursing program and found that nursing is a unique profession that is dedicated to caring and curing, and it allows me to make a difference and touch lives."
Vigil is the UNM-Taos recipient of the Outstanding New Mexico Nursing Education Consortium (NMNEC) Dual Degree Award, which is presented to an NMNEC Community College student who is a leader and has truly demonstrated the values of the UNM College of Nursing – academic excellence, diversity and inclusion, innovation, integrity, and respect.
"As an adult learner pursuing a second career, he faced many challenges during the cohort. His humility and continued support of the other students was exemplary," Kittner said. "He remained optimistic and flexible during all of our COVID shutdowns and changes. His positivity was contagious and flowed through the cohort. He cared for a variety of patients in multiple settings and used his bilingual skills to comfort our Spanish-speaking patients. His creative side came out when he presented a poster project in Health Care Participant, which was stunning. During one of the vaccine PODs, he taught the process to administer vaccines to doctors and nurse practitioners with grace and humility. He will truly be an asset to our community after graduation."
Jimenez started working at Holy Cross Medical Center as a nursing assistant when she was 18. Her interest spiked and the experience motivated her to further her education.
"Making someone's day — no matter the circumstance — made me feel amazing," she described. "It's a feeling that no one can take away. Making someone smile in a difficult situation or being able to hear what they are going through made me want to strive to go further and gain more knowledge. This is when I decided I wanted to become a nurse. I knew this would open doors to further help my community and to pursue my passion in the medical field."
LeDoux can't remember a time when she didn't want to be a nurse. Science has always been her favorite subject, specifically anatomy. She hails from a line of nurses and healthcare workers and feels that influenced her decision to follow suit.
"I felt like healthcare was the one thing I knew the most about. I also like people. I like to listen to their stories, and I love making people laugh," LeDoux said. "I have always thought that if I could make one person smile or laugh each day, then I have reached my goal for the day and that's why I chose nursing." 
The recent pinning ceremony marks the start of their nursing careers. It was yet another nursing school experience they'll never forget. Emotions ran high.
"As a first-generation college student, I felt a wave of happiness and achievement and, of course, I couldn't help but shed some tears of joy," Jimenez shared. "During nursing school, I have to say I grew mentally. It also gave me a sense of how far I can come and how determined I was to achieve this life-changing accomplishment."
The pinning is a rite of passage. Vigil could hardly wait for the moment to arrive.
"Throughout my life, I have accomplished many great things, but the pinning ceremony is like a dream come true," he said. "It is one of those things where words will never accurately describe the abundance of emotions that are felt. Only going through the process will anyone ever truly understand what is going through your mind and heart."
In the days and hours leading up to her pinning, all LeDoux could think about was how "surreal" the moment was.
"I think about this whole journey, and I can't help but get teary-eyed. It was long and challenging and it made me question if I had made the right decision," she confessed. "As I receive my pin I take a huge deep breath, and relief comes over me. I did it, I made it. I am now part of a unique group of extraordinary individuals who I am so happy and proud to call my brothers and sisters in nursing." 
Now that they've earned their degrees and have their pins, they can take their passion and goal of helping people to the real world. Nurses are in great demand all over the country. They know finding a job won't be another challenge. It's just a matter of where to go. That was an easy decision for LeDoux, Jimenez, and Vigil.
Taos has always been LeDoux's home. She loves it here and isn't going anywhere.
"I am passionate about my community and the people here. There have been so many people in my community that have taught me, cared for me, and offered support when I needed it. I want to give back to them by serving my community," she declared.
Jimenez feels the same and echoed LeDoux's words.
"I want to give back to my community and this is an excellent way to do so," she said. "I am definitely relieved to find work after completing my degree as I am a single mother, and this is a way I will not only do what I love but also take care of my child. It is also comforting being in such a versatile field that gives many work options/areas to work in, reinforcing job security."
Taos should feel fortunate — Vigil plans to work here as well while leaving the door open for traveling nurse jobs.
"I do plan in working in my hometown of Taos," he said, "giving back to a community that helped raise me. Though, in the future, I would love to do occasional travel nursing assignments to see our country while working. It is very comforting to know that the demand for nursing is great, and if needed I could locate work virtually anywhere. But home is still home."
"The world is truly at their fingertips," Kittner said. "They each have their own caring approach to nursing practice and their patients will all benefit from the care that they provide. I appreciate and cherish their time in our nursing program, as I have gained by knowing them and seeing how they have grown into nurses over the past couple of years."
The UNM-Taos Nursing program provides an ADN. The entering students can select a dual-degree track, which allows them to achieve an ADN and a BSN concurrently. The dual-degree students can stay in the Taos community for their entire nursing education. The UNM-Taos program partners with the University of New Mexico College of Nursing for the BSN courses. The ADN program is four semesters, and the ADN/BSN program is five semesters. The students graduating with these degrees are eligible to take the NCLEX-RN, a national registry exam. Passing the examination allows them to be licensed as a registered nurse (RN). 
On a final note, Jimenez shared words of wisdom for anyone thinking about higher education. "I would also advise anyone that wants to pursue a degree that it will get hard at times, but not to give up. This is a form of giving oneself knowledge that no one will take away. Overall, I felt a great sense of accomplishment and strength."