CCC-LIFT Program sponsors high school interns in Natural Resources Management
July 14, 2021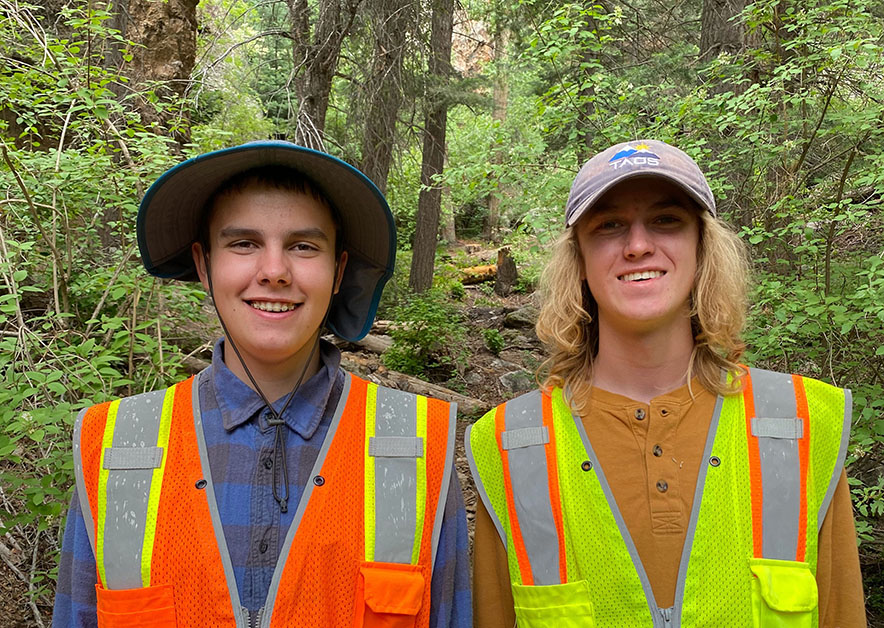 Photo courtesy of Kari Malen
Micah Watkins (left) and Elliot Molz (right) while on-site at the
summer Natural Resources Management internship.
Congratulations to Elliot Molz (Taos Academy) and Micah Watkins (New Mexico Connections Academy, Santa Fe), two UNM-Taos dual credit students selected for the Climate Change Corps-Leadership in Forestry Training (CCC-LIFT) Summer High School Internship Program. 
Micah and Elliot are spending part of their summer shadowing staff from the Taos Soil & Water Conservation District to gain experience and a better understanding of what a career in Natural Resources Management (NRM) might look like. Focusing on relevant local issues, Micah and Elliot learn how to perform forest and water monitoring, soil and well testing, as well as how wells and acequias function in response to natural weather events. The interns also collect data alongside staff and learn how the data is used to make management decisions.  
Further, the interns were introduced to land grant conservation and management, acequia infrastructure, noxious weed biology management and outreach, CAD engineering for agricultural projects and more.
"The most impactful takeaway of mine so far is that I finally am able to see the work, from raw data collection to analysis and design, that informs positive environmental changes in our community," Elliot said of his experience.  
The CCC-LIFT NRM Program is funded by the USDA, National Institute of Food and Agriculture and partners with the UNM-Taos Dual Credit Program allowing local high school students from Northern New Mexico to obtain college credit while still in high school. We are excited about your summer learning experience and opportunities! 
We look forward to hearing from both Micah and Elliot over time to hear what they pursue during and after their high school years. Considering how much they seem to enjoy the events of this internship, we wouldn't be surprised if they land in an NRM career.  
"My favorite part of the internship has been going out and seeing the beautiful mountains, forests, canyons, and streams while collecting data to help preserve it," Micah shared. 
If interested in learning more about the CCC-LIFT NRM Program, please reach out to naturalresources@unm.edu or for details about the UNM-Taos Dual Credit Program, please send inquiries to unmtaosdc@unm.edu.
 — By Kari Malen