UNM-Taos Dual Enrollment presentation chosen for NACEP conference
June 18, 2021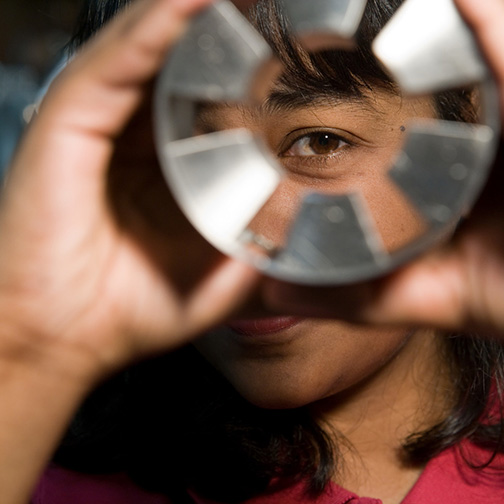 The National Alliance of Concurrent Enrollment Partnerships (NACEP) recently announced that the UNM-Taos Dual Enrollment Program's proposed session, "Expanding Dual Enrollment: Hispanic and Tribal Communities in Rural Southwest," will be presented during the NACEP's 2021 national conference Creating Bright Futures Through Concurrent & Dual Enrollment on Oct 26-27 in Orlando, Florida. 
NACEP is at the intersection of college and high school, advancing quality college courses for high school students. It's the only national organization supporting programs, practitioners, and policy to advance concurrent and dual enrollment programs. 
Conference "breakout" sessions are the core of the NACEP event schedule. The organization sought proposals that engage attendees, provide insights and solutions, identify trends and innovations, and elevate voices from the field in a variety of tracks.
"This national platform usually selects proposals from very large universities and K-12 school districts," said Bonavita Quinto-MacCallum, Ph.D., UNM-Taos Dual Enrollment Programs Specialist, Academic Affairs. "I really didn't think we (being a small school) would be selected as they receive hundreds of proposals." 
Because the event is being held in-person and virtually, she said they will start work on a video production in conjunction with an NACEP team.   
The UNM-Taos panel (below) is a presentation of the innovative partnerships and efforts of dual credit programming in the U.S. Southwest region. Through collaboration and advocacy, university coordinators and high school liaisons provide student support for over 300 students per semester in rural Northern New Mexico. 
"The University of New Mexico-Taos is proud to have partnerships that span more than 100 square miles. Our efforts are driven by the needs of our diverse student populations," as stated in the presentation submission provided by Quinto-MacCallum. "We advocate and promote access to higher education, and student support services to facilitate academic success in Tribal and Hispanic communities."
The UNM-Taos presentation includes information on guided pathways and successful strategies that equip students with skill sets to navigate academia that will extend into their professional careers. UNM-Taos offers dual credit through a variety of platforms: Friday Early College Program, Online/Remote Learning, and dual credit courses offered at partnering high schools. Dulce High School offers general education core courses based on the curriculum at UNM-Taos. 
"It is essential to maintain the continuity of college curriculum when offering dual credit courses at a high school. This presentation will share strategies that maintain the integrity of the college curriculum while teaching dual credit courses in predominantly Hispanic communities and the Jicarilla Apache Nation," the presentation submission continues. "Despite the limitations of our geographical distance and financial challenges, the ability for university coordinators and dual credit liaisons to relate to the students, empowers the success of the UNM-Taos Dual Credit Program." 
Panel presenters:
Doctoral Candidate Roberta Vigil, UNM-Taos Senior Operations Manager — Historical perspective (15 years in the making) of dual enrollment at UNM-Taos
Dr. Bonavita Quinto-MacCallum, Dual Enrollment Program Specialist — Introduce and share the journey in establishing partnerships with predominantly Hispanic communities in Northern New Mexico and highlight the partnership with Dulce Independent School District and the Jicarilla Apache Nation  
Dr. Loyola Bird, Dulce High School English teacher — teaching dual credit on the reservation — Jicarilla Apache Nation (recently earned her Ph.D. in English from UNM)
Post-Doctoral Fellow Dr. Trisha Martinez, Dual Enrollment Support — Enhancement and evolution of the dual enrollment program in the last year 
"We are very excited, as this is a phenomenal opportunity to highlight the amazing work of UNM-Taos with our dual credit partners," Quinto-MacCallum expressed. "It does take a village." 
Read more about the conference at https://www.nacep.org/national-conference/.