Natural Resources Management students set out on a mission to deter beavers from damaging Río Grande Gorge trees
June 1, 2021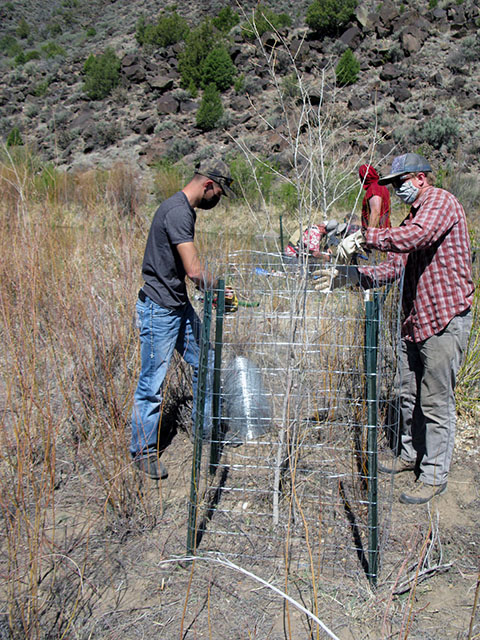 Photos by Brooke Zanetell
Darin Abeyta (left), an NRM student, and a BLM employee work together to protect a young cottonwood tree from beavers.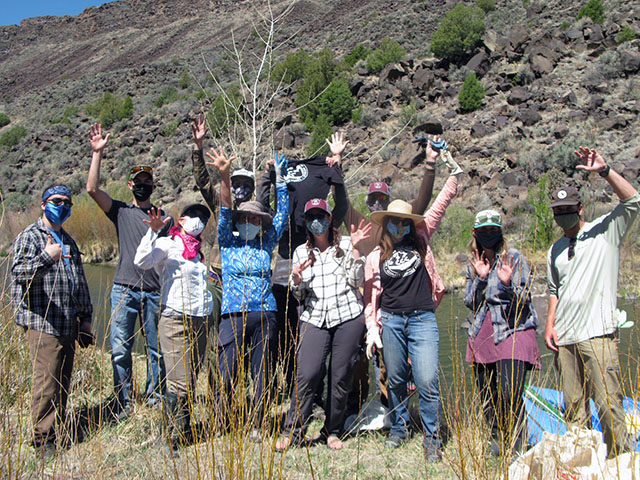 CCC students – including current and former UNM-Taos students now completing B.S. degrees at a 4-year partner institution – celebrate their work protecting native riparian habitat. From left to right: Kenyon Olson; Darin Abeyta; Ann Lovato; Matt Bertram; Rivers and Birds Executive Director Roberta Salazar; Dillon Alexander (behind CCC shirt); BLM employee; NRM Program Director Brooke Zanetell; Hannah Ryan; and a BLM employee.
Students in the Natural Resources Management (NRM) program floated down the Río Grande on April 30 to identify and protect native cottonwoods and boxelders from beavers. The service-learning project was organized by the environmental education organization Rivers and Birds, the Bureau of Land Management and Los Rios River Runners rafting company, all based in Taos County.  
"You're all leaders." That's what Roberta Salazar, executive director of Rivers and Birds, told students in the NRM program at UNM-Taos as they gathered to load into rafts filled with T-posts, post pounders and rolls of steel wire fencing.  
After launching into the spring flows of the Río Grande, the team landed on a remote island downstream of the Taos Junction Bridge. 
"Riparian habitat is the most important habitat in all of New Mexico," explained Salazar. "It's also the most threatened. Invasive species like the tamarisk – aka salt cedar – outcompete native willows. Russian Olives can replace our native cottonwoods. Yet, birds and other wildlife are adapted to the native species and need them to thrive. Cottonwoods are the premier riparian species of New Mexico, providing shade and shelter. And if we don't put this wire fencing around the young cottonwoods, the beavers will cut them down with their teeth because they love the soft wood."
The BLM employees showed the students how to identify the native cottonwoods and boxelders, and then demonstrated how to put a circle of wire fence around the trees to protect them from the persistent and crafty beavers, who are also important to riparian systems. 
"Beavers are important, but we also need our cottonwoods. The beavers are resourceful, but these cottonwoods need a little extra help to get established," said a BLM employee. 
Soon the NRM students were pounding posts and cutting wire below a clear blue sky, with the blacks and greens of volcanic rock and spring growth flanking them on either side. 
"I don't think we'll have enough time to do all the trees," Salazar said. 
Yet, in no time at all the NRM students had fenced as many of the trees as they could before the materials ran out. "I guess we should have brought more wire and T-posts," concluded Salazar as the team broke for lunch.
To end the day, NRM members floated the Taos Racecourse.  For many – even those who had grown up in the Taos area – it was their first time down the Río Grande.
"This is the best day ever!" gushed Ann Lovato, an NRM student who plans to earn her B.S. Wildlife Biology degree from Adams State College in Alamosa, Colorado, after she finishes at UNM-Taos.
After a year of online courses, it was not only enjoyable to be outside in nature, but to be together with the other NRM students – as per current COVID-19 safety guidance provided by the New Mexico Governor's office. Laughter and camaraderie filled the air along with the splash and roar of the intermittent rapids. 
"Stroke left! Left!" called Hannah Ryan who guided one of the boats for Los Rios River Runners and was also an NRM student on the service-learning project. The students worked together to navigate their boats between boulders the size of cars and over rapids full of snowmelt from the Southern Rocky Mountains. 
"When can we do this again?" asked Kenyon Olsen, a Native American student from Taos Pueblo.  
"Sometime soon!" replied NRM Program Director Dr. Brooke Zanetell. "You did good work today. We'll get invited back sometime soon; I'm sure of it!" 
For more information on the Natural Resources Management Program at UNM-Taos and to apply to join "The CCC" – a USDA grant-funded project within NRM that provides students with academic stipends, paid summer internships, and academic/career pathways – visit https://taos.unm.edu/naturalresources. To meet the CCC students, go to https://naturalresources.unm.edu/. Call or email the UNM-T Natural Resources Management program at 575.737.3758 and naturalresources@unm.edu.
Brooke Zanetell, NRM Program Director