Nurturing New Mexico's children: Sen. Heinrich joins Taos early childhood roundtable
May 12, 2021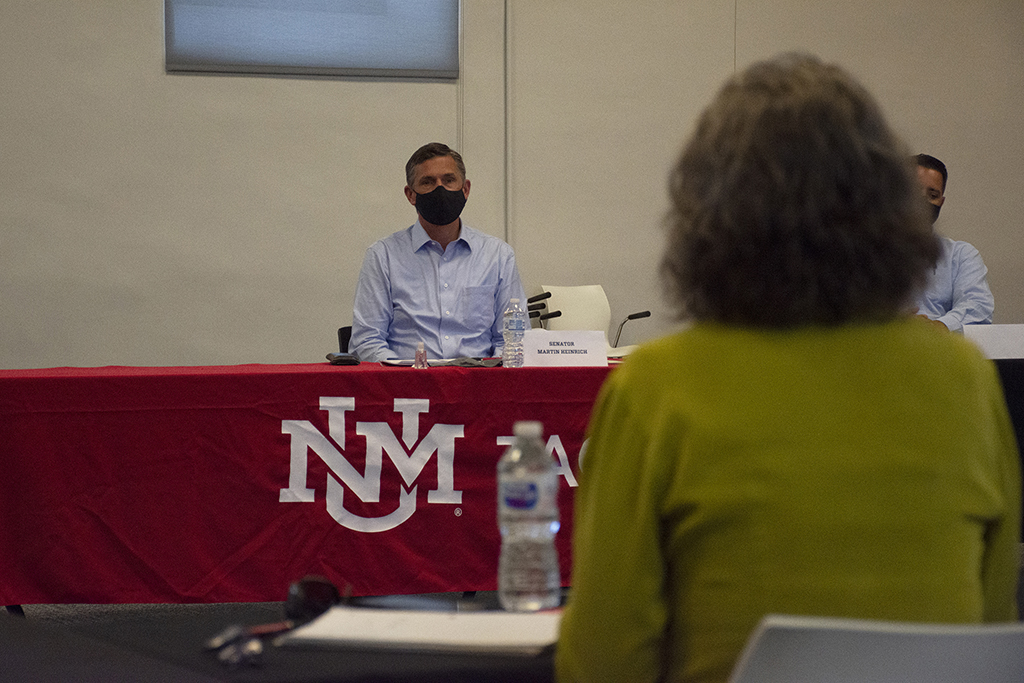 Photo by Michael Tashji, Taos News
U.S. Sen. Martin Heinrich, D-NM, discusses the Child Tax Credit benefits in the
American Rescue Plan and the American Families Plan with Siena Sanderson
and other members of Paso a Paso Network at UNM–Taos on May 5, 2021.
U.S. Sen. Martin Heinrich, D-NM, came to Bataan Hall in Taos on Wed., May 5, to convene a roundtable discussion with members from the Paso a Paso Network to discuss the Child Tax Credit expansion that he helped secure in the American Rescue Plan, and taking a two-generation approach to lifting families out of poverty. They also discussed the American Families Plan — an investment in New Mexico's kids, families, and economic future.
Organizations such as Paso a Paso and Taos Pueblo Health and Community Services work tirelessly to serve Northern New Mexico families with children in securing healthcare, education and social services. So, who better to speak about these topics.
Sen. Heinrich's aim was to hear from local educators and childcare workers regarding what they see as must-fixes when it comes to how the national plan and tax credit can, and should, benefit New Mexico's children and their families.
"Many of the challenges that New Mexico's families face are not going to disappear overnight," said Sen. Heinrich. "But if we make the investments in our children's future that are in the American Families Plan, I am confident that we can build back better than ever before." 
The senator was welcomed by UNM-Taos Interim Chancellor Dr. Cynthia Rooney, who noted it was the first time in over a year that any group had been in Bataan Hall. The remark generated applause. Tracy Jaramillo, director at both the UNM-Taos Kids' Campus and Paso a Paso, started the conversation. Her involvement in helping children and their families gives her up close and personal knowledge of their needs. She expressed to Sen. Heinrich that sees a lack of access in rural communities when it comes to early childhood education and related programs. 
Dr. Pamela Remstein of Paso a Paso and UNM-Taos Student Program Specialist is concerned with inadequate teacher salaries, benefits and leave time. Remstein also sees student debt as a burden, especially as the cost of higher education continues to climb. Finding affordable housing in Taos is difficult, which often increases one's debt in other ways. Remstein suggested to Sen. Heinrich that providing funding for dormitories at the UNM branch campuses would help decrease some of that burden and may increase enrollment.
Wanting to boost family access to education and funding support, Siena Sanderson of Paso a Paso raised the question, "How do we assure money (from the Biden plan) gets to families?" She sees much of that need stemming from the financial impact on grandparents who are raising their grandchildren, and who aren't eligible for the Child Tax Credit — in the American Families Plan the credit will be extended through 2025.
Turning to wellness issues, Jeannie Ross of Paso a Paso expressed a need for better family access to healthcare. A means to achieve that, she offered, is by creating a "system of care" including childcare collaborations across the state.
Barriers of "generational trauma" are a concern at Taos Pueblo, expressed Bettina Sandoval, director of Taos Pueblo Training and Education Division. In regard to wellness, she said kids/students need more support.
Sen. Heinrich walked away from the discussion feeling that the concerns expressed are on par with what the American Rescue and American Families plans are designed to help.
"I enjoyed a productive conversation about the actions Congress has taken to reduce child poverty and how New Mexico will benefit from significant investments secured in the American Rescue Plan," Sen. Heinrich said. "The expansion of the Child Tax Credit will help cut the nation's childhood poverty rate by half and funding for the Child Care and Development Block Grants will help child care providers operate safely, increase the pay and benefits for child care workers, and reduce the costs of child care for families.
"I am committed to building on all of this and passing President Biden's visionary American Families Plan. In addition to universal Pre-K and the president's goal to make the Child Tax Credit expansion permanent, we will substantially increase our investment in K-12 public schools, in our community colleges, and in programs that directly support hardworking families. I'm especially pleased that President Biden is calling for 'wraparound services' like child care and mental health services for college students who are also parents. This aligns with the two-generation approach that I have championed to better align services that help children and their parents — so families can achieve success together."
The event was hosted by Paso a Paso partner UNM-Taos. 
For more information about the American Families Plan, visit whitehouse.gov/american-families-plan. For details about the American Rescue Plan, visit whitehouse.gov/american-rescue-plan.