LOBO BITES | EDITION 36
April 1, 2021
Walker, DMA students release Episode 2 of Río Grande docuseries 
Taos News Tempo has continued their collaboration with the UNM-Taos Digital Media Arts program to get the episodes for Río Grande Serenade released to the public. This week, Episode 2 - Acequia Farmer and a Bee Keeper was released. It's a 9-minute video that shows a remarkable story of a 7th generation farmer in the Bosque of Albuquerque, and the looming developments that threaten his 300-year-old acequia tradition. 
Use the following link to view this excellent video: 
https://www.taosnews.com/tempo/film/r-o-grande-serenade-a-docuseries-featuring-the-iconic-characters-of-the-upper-r-o/article_ba7bec62-c397-5e0c-865d-fec221952ef8.html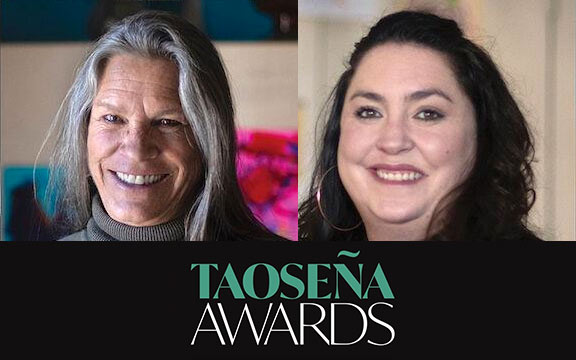 Two UNM-Taos employees honored at Taoseña Awards  
Every spring, the Taos News recognizes the trailblazers, the givers, and the voices of Taoseñas in the publication Taos Woman. This year, UNM-Taos' Kids Campus Director Tracy Jaramillo and her daughter, INSPIRE! Director Taylor Jaramillo Etchemendy, were featured. Both women have devoted their careers to early childhood education and care.  
Alongside six other local women, they were honored virtually during the 2nd Annual Taoseña Awards on March 24. UNM-Taos Strategic Support Manager Anita Bringas returned as master of ceremonies.
Watch the video of the event here: Taoseña Awards 2021 2021 and click here to view the photo gallery. 
UNM-Taos Chancellor Search   
We are pleased to share that the posting for the UNM-Taos Chancellor is open and we are working with Isaacson Miller, our search partners, to generate a list of potential candidates that might be well suited for this position, or who might be willing to provide information about other potential candidates. If any qualified individuals come to mind, please nominate them via the Isaacson, Miller website at www.imsearch.com/7837. Please also feel free to share this information and encourage qualified candidates to submit an application. Thank you for your assistance with this important search.