Howl: The Voice OF UNM-Taos 2021
April 15, 2021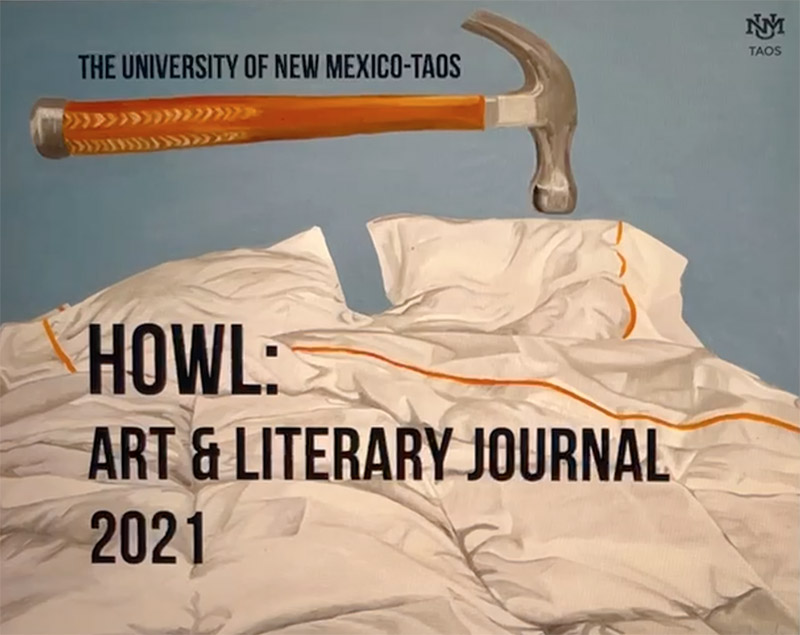 The University of New Mexico–Taos is releasing the annual publication Howl: The Voice of UNM-Taos – Art & Literary Journal on April 24, 2021, as part of Taos Spring Arts. From 8-10 p.m., UNM-Taos will project the art and videos included in this year's first-ever digital publication on a large screen in the historic Taos Plaza.
During the extraordinary circumstances of living in a global pandemic, and in an effort to have greater outreach in the community, UNM-Taos made Howl 2021 a completely digital publication. This digital book will be hosted on the UNM-Taos Fine Arts and Digital Media Department website — unmtaosart.com/howl2021 — where you can view, download, and access a sharable link starting April 24. 
The decision to create a digital publication was driven by an effort to be highly inclusive during a time of social distancing. In this year's journal, you will find artwork, videos, and writings by students, alumni, staff, and faculty of UNM-Taos — as well as work from the greater Taos community. The mission of this endeavor was to bring together a vast array of creatives that demonstrate the diversity of the arts in Taos; 53 artists, writers, and filmmakers are represented.
The Department of Fine Art and Digital Media at UNM-Taos offers an Associate of Fine Arts and Associate of Digital Media. Courses include a variety of studio disciplines, including traditional fine arts, filmmaking, digital applications, as well as art history courses. Students are supported in following their personal goals beyond community college, including pursuing degrees or working within the art community of Taos and beyond.