LOBO BITES
March 11, 2021
Two UNM-Taos employees recognized as Taos Women of Impact
Every spring, the Taos News recognizes the trailblazers, the givers, and the voices of Taoseñas in the publication Taos Woman. This year, UNM-Taos' Kids Campus Director Tracy Jaramillo and her daughter, Taylor Jaramillo Etchemendy, are featured. Both women have devoted their careers to early childhood education and care.
Alongside six other local women, they will be honored virtually during the Taoseña Awards on Wed., March 24 at 1:30 p.m. The free, live event will broadcast on the Taos News Facebook page and on taosnews.com. UNM-Taos Strategic Support Manager Anita Bringas returns as master of ceremonies.
Be sure to pick up a copy of Taos Woman in the March 25 Taos News.
UBMS, TRIO form partnership, organize event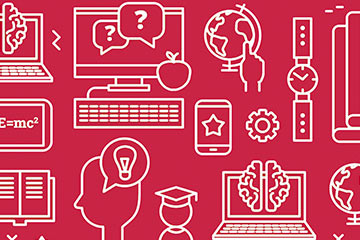 UNM-Taos Upward Bound Math and Science (UBMS) is proud to be a part of TRIO New Mexico! This year, UBMS attended their first ever virtual TRIO Day Celebration with 200 other TRIO New Mexico staff and students. Big shout out to the UNM-Taos TRIO staff that helped organize this event: Dr. Katie Bryant, Director of Upward Bound Math and Science; Mayra Gutierrez-Ramirez, Student Program Specialist for UBMS; and Alexis Laube-Manigault, Student Support Specialist for Student Support Services.
TRIO New Mexico promotes equitable educational opportunities for all students regardless of race, ethnic background, or economic circumstance by providing a forum for communication, advocacy and networking opportunities for TRIO professionals across the state.
MainStreet program gets exposure
Albuquerque's KRQE News 13 ran a story last week featuring the work of the nonprofit organization Taos Downtown MainStreet and its Business Alive program, which is helping local businesses create, use, and maintain websites to increase sales and exposure — a must-have during the COVID-19 pandemic. UNM-Taos, Los Alamos National Laboratory Foundation, LOR Foundation, Taos Community Foundation, and Taos High Tech have been collaborating with MainStreet since last summer.
UNM-Taos facilitates educational webinars that assist business owners with topics such as social media marketing, maintaining a website, and access to available business resources.
Taos High Tech's role is providing technical support to businesses and assisting them in developing or enhancing their eCommerce capacity. Working with Taos High Tech is UNM-Taos student Patrick Irwin, through assistance from UNM-Taos Career Services.