LOBO BITES | EDITION 34
March 16, 2021
HIVE's Reza featured in Questa Del Río News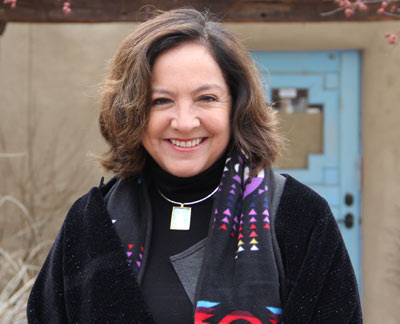 UNM-Taos HIVE Executive Director Rose Reza was featured in a recent article that appeared in the Questa Del Río News this month. Rose's work in providing people the tools for success in business is recognized and valued throughout Northern New Mexico and beyond! 
On Feb. 4, Reza and Lucas Rael presented business advise on the Passion to Profits broadcast. Passion to Profits is a Questa Economic Development series. 
To read the article "Heart + Head = 2 Big Successes!" online, go to questanews.com. It can be found on page 4. To hear the Passion to Profits broadcast, contact Lynn Skall at lynn@questaedf.com or call 575.586.2149.  
Stolar joins Paseo Project writing discussion 
Writer's block happens to everyone — even seasoned wordsmiths — and for many artists, creating prose about themselves and/or their artwork can be the most daunting task. To help artists write an effective artist statement, Paseo Project Executive Director J. Matthew Thomas hosted a live discussion on Facebook on March 16. Sarah Stolar, UNM-Taos Chair of Fine Arts and Digital Media, and Erin Elder, independent curator, consultant, and founder of Gibbous Creative led the discussion. Comments and questions were taken throughout the live conversation. 
This event is part of the Paseo Project's online monthly column Out of the Studio, that addresses key issues impacting artists through collecting advice, tips, and words of wisdom from Taos artists to generate a supportive, inclusive, and thriving arts community. 
Read the article here: 
https://paseoproject.org/artiststatements/ 
UNM-Taos Chancellor Search   
We are pleased to share that the posting for the UNM-Taos Chancellor is open and we are working with Isaacson Miller, our search partners, to generate a list of potential candidates that might be well suited for this position, or who might be willing to provide information about other potential candidates. If any qualified individuals come to mind, please nominate them via the Isaacson, Miller website at www.imsearch.com/7837. Please also feel free to share this information and encourage qualified candidates to submit an application. Thank you for your assistance with this important search.