LOBO BITES 32
March 3, 2021
Congratulationsto UNM-Taos SBDC
UNM-Taos Small Business Development Center (SBDC) Director Anwar Kaelin exceeded 2020 benchmarks assigned to him from the state SBDC office.
We are very proud and grateful for the work Anwar has done for the business community during the devastating pandemic.
Stolar's art displayed at main campus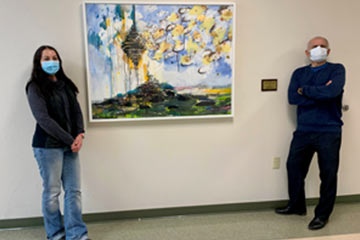 Sarah Stolar's artwork, "Swarm (The Hive)," has been installed in the Centennial Engineering Center at UNM Albuquerque. The piece hangs outside the office of the Dean of the School of Engineering, Christos Christodoulou. The acquisition was facilitated in 2019 by New Mexico Arts — a division of the New Mexico Department of Cultural Affairs — for the Art in Public Places program (also referred to as the One Percent for Art Program). It was installed on-site in January 2021.
Sarah serves as Chair of Fine Arts and Digital Media at UNM-Taos.
UNM-Taos staff, faculty featured on early childhood podcasts
As an ongoing commitment to providing quality early childhood services in Taos County, UNM-Taos representatives and Paso a Paso Network members Brandy Corry, Taylor Etchemendy, Tracy Jaramillo, and Pam Remstein — plus many other community organization members — were interviewed for a number of Paso a Paso podcasts.
Paso a Paso Network integrates organizations into stronger, more flexible and effective structures by merging resources and systems to advance a collective mission. The result is improved efficiency among organizations and greater access, availability, and quality of services for families with young children from prenatal stage to age 8 in Taos and western Colfax counties.
Podcasts are available on the pasotaos.org website and at https://anchor.fm/paso-a-paso/.