Flu vaccine drive-thru a success
November 3, 2020 - Alex Chavez
Approximately 80 people rolled up in their vehicles and rolled up their sleeves at the drive-thru flu shot event held at Klauer Campus on Monday, Nov. 2.  The event was a collaboration between UNM-Taos and Albertson's Pharmacy. Uri Bassan, pharmacy manager for an Albuquerque (South Valley) Albertson's store, regularly travels around the state to give vaccinations.  He brought a team of three assistants to Taos; Jay Romero and Brandy Cherry are both pharmacy technicians who work under Bassan. 
Giving the shots was South Korean Daeyong Kwon, a fourth-year pharmacy student at UNM. Kwon is preparing to study nuclear pharmacy. The next stop on his continuing education journey takes him to El Paso, Texas. He came to Taos to help simply because "Uri asked me." After a laugh he added, "I like to give shots, especially because of COVID. Everything helps."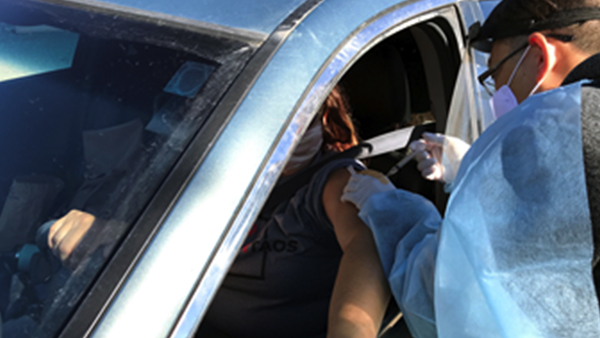 Getting a flu shot will not protect against COVID-19, but being vaccinated this year is particularly important because, like SARS-CoV-2, influenza is a respiratory virus and it's important to do everything we can to minimize having two respiratory outbreaks circulating simultaneously in our populations.