Student Government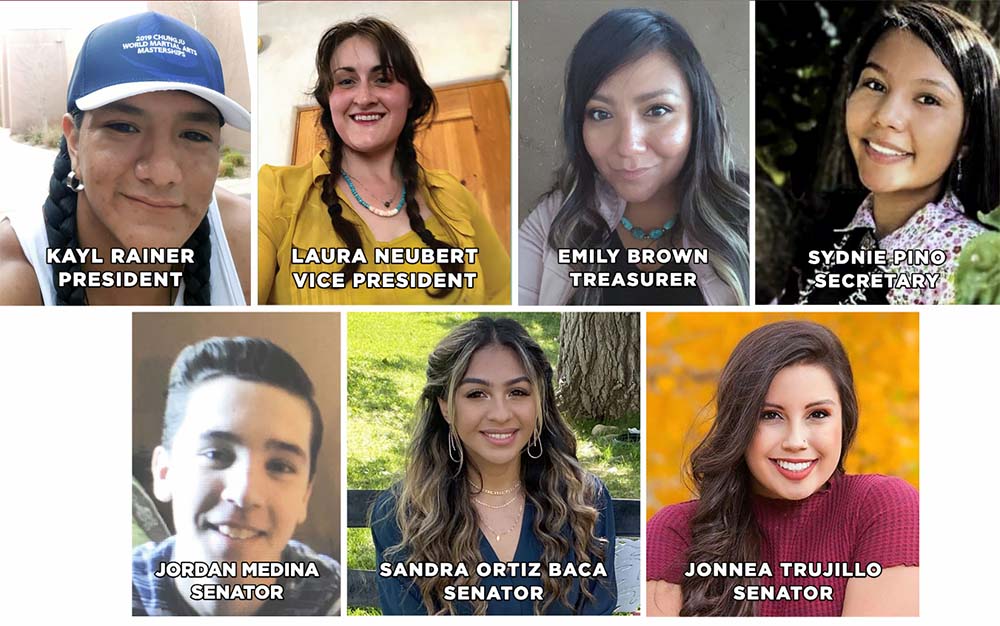 Listed top left to bottom right: Kayl Rainer, Laura Neubert, Emily Brown, Sydnie Pino, Jordan Medina, Sandra Ortiz Baca, Jonnea Trujillo
The UNM-Taos Student Government performs with integrity, honesty, trust and inclusiveness.
Our mission is to encourage and support student participation, to advocate and lobby on behalf of students, to facilitate alternative dispute resolution and to ensure individual and collective student rights. We intend to build constructive relationships among faculty, staff, students and our community.
Student Government 2021-2022
Kayl Rainer President
Laura Neubert Vice-President
Emily Brown Treasurer
Sydnie Pino Secretary
Jordan Medina Senator
Sandra Ortiz Baca Senator
Jonnea Trujillo Senator
FAQs
UNMTSG provides funding for initiatives on campus that will benefit all students.
Some examples of initiatives funded include security cameras and a library fundraiser. If you have a project you would like to fund, you may download the form and bring your proposal to an open meeting. You may also contact us with questions at UNMTSG@unm.edu
Request For Funding Form  
Can I attend meetings?
Yes, meetings are open to the public. Each meeting has an open forum in the beginning where you can present your ideas or concerns.
How do I join?
Student government elections are held in the fall. Students currently taking 6 credit hours and a 2.5 GPA are welcome to apply. You may contact us at UNMTSG to find out more.
GET INVOLVED
Attend a meeting.
Meetings are held once a month. 
Join student government
Email us to discover more about the process of joining student government.
We are happy to hear from you.