2023 Grads
---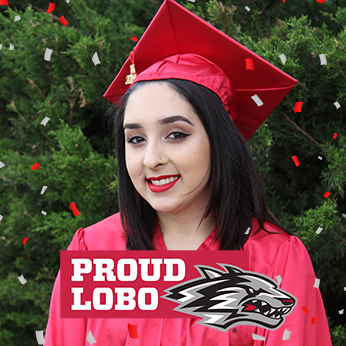 Class of 2023 Graduates, we celebrate you!
Whether you've graduated with your Certificate, Associate, or High School Equivalency degree, UNM-Taos faculty, staff, and administration are proud of you and all of your accomplishments!  
Mark your calendar for the big day!
THUR., MAY 11, 2023 at 6 p.m.
HIGH SCHOOL EQUIVALENCY GRADUATION
FRI., MAY 12, 2023 at 6 p.m.
COMMENCEMENT CEREMONY
STUDENTS: PLEASE ARRIVE AT THE SAGEBRUSH INN AND CONFERENCE CENTER AT 5 P.M.
Graduation regalia is available at the UNM-Taos Business Office!
What:
If you are interested in purchasing Graduation Regalia as a keepsake, whether for commemorative sake or to take pictures with your friends and family (or selfies, of course!) graduation regalia (caps and gowns) is available for purchase!   Please note that regalia purchases can only be done by cash or check.   

How:
Contact Thomas Duran (tlduran@unm.edu) or Geri Montoya (geriemontoya@unm.edu) to schedule a time to purchase and pick up your regalia. 
Where: 
UNM-Taos Business Office at Klauer Campus
When:
By appointment, Monday-Friday, from 10 a.m. to 3 p.m. 
---
Taos Education and Career Center at UNM-Taos
High School Equivalency Graduation
Thursday, May 11, 2023
Will be recorded with a video posted to the UNM-Taos YouTube page at: https://www.youtube.com/user/unmtaos


UNM-Taos Commencement Ceremony
Certificate and Associate degree graduates (as well as UNM Bachelor's degree graduates in Taos)
Friday, May 12, 2023

Location:
Both events will take place at the Sagebrush Inn and Conference Center, located at 1508 Paseo del Pueblo Sur.
Map to the Sagebrush:
https://goo.gl/maps/V4Mucu15pZNzeTh49

Time:
5:00 p.m. - Arrival
5:30 p.m. - procession line up
6:00 p.m. - ceremony begins

Parking:
Staff will be directing traffic and parking. Please arrive early enough to find parking.