Meet Lisa Spencer, New Directing I Instructor
October 18, 2023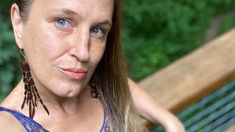 Courtesy photo
New Film and Digital Media Arts faculty member Lisa Spencer, Ph.D.
Lisa Spencer, Ph.D., is an award-winning filmmaker and musician who will be gracing our campus as the new Directing I instructor in the Film and Digital Media Arts program. 
While attending the Eugene Environmental Film Festival in Oregon, she took some time out to help us get to know her. 
Lisa's background is in social justice. She wrote her own doctoral program after two years of Urban Education/ Multicultural Studies as an Interdisciplinary degree, which had five majors: Documentary, Social Justice, English, Music, and Cultural Anthropology. 
A graduate of the University of Wisconsin-Milwaukee and the New Mexico School of Natural Therapeutics (hand medicine), she taught at the Turquoise Trail Charter School in Santa Fe, A-B Tech Community College in North Carolina, and Cardinal Stritch University in Milwaukee. Also in New Mexico, she taught approximately 250 classes of 500 children and youth multicultural courses in nutrition, gardening, health, culture, and agriculture while incorporating public school core curriculum. 
Lisa grew up making music, singing, and songwriting. She uses film to promote education, social advocacy, and change. Currently, Lisa is working on New Mexico legislation to protect children from sexual exploitation. 
While serving in the Peace Corps in the Republic of Georgia (2019-2020), Lisa made a film with a 6-year-old neighbor. "My filmmaking up until that point was limited to music videos and documentary films that were related to social justice issues," she said. "So, this was fun, and I discovered how much I enjoyed teaching her." 
Having taught and worked with youth in schools and outside of the classroom for almost 15 years, she's excited to teach again. 
"I'm looking forward to working at UNM-Taos because my daughter was born in Taos, and I love being back," she said. "I feel that filmmaking empowers traditionally less visible peoples. With contemporary technology and programs such as this one, more access is given to marginalized filmmakers." 
She has a small farm in Appalachia and goes back and forth between the two ecosystems that feed her soul.