Graduation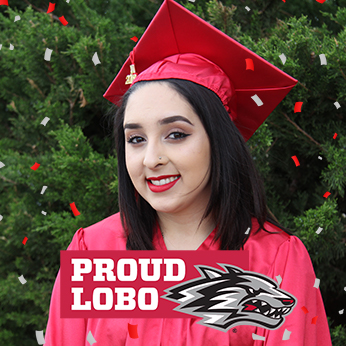 Class of 2021 Graduates, we celebrate you!
Whether you've graduated with your Certificate, Associate, or High School Equivalency degree, UNM-Taos faculty, staff, and administration are proud of you and all of your accomplishments!  What an amazing job you have done, enduring through a year like no other and persisting to complete your degree requirements for your High School Equivalency, Certificate, or Associate Degree.  
Mark your calendar for the big day!
SATURDAY, JUNE 12, 2021 at 5 p.m.
Mark your calendars and save the date! UNM-Taos will honor our Class of 2021 with a Virtual Graduation Ceremony on Saturday, June 12 at 5 p.m. Gather your friends and family to watch it together or you can view the recording any time after that.
Customize your slide for the virtual graduation!
Customize your slide that will show during the graduate name readings during the Virtual Graduation.  You'll be able to submit a photo, a quote, and the name of your favorite instructor that can be included on your personalized graduation slide that will run during the degree recognition portion of the Virtual Graduation.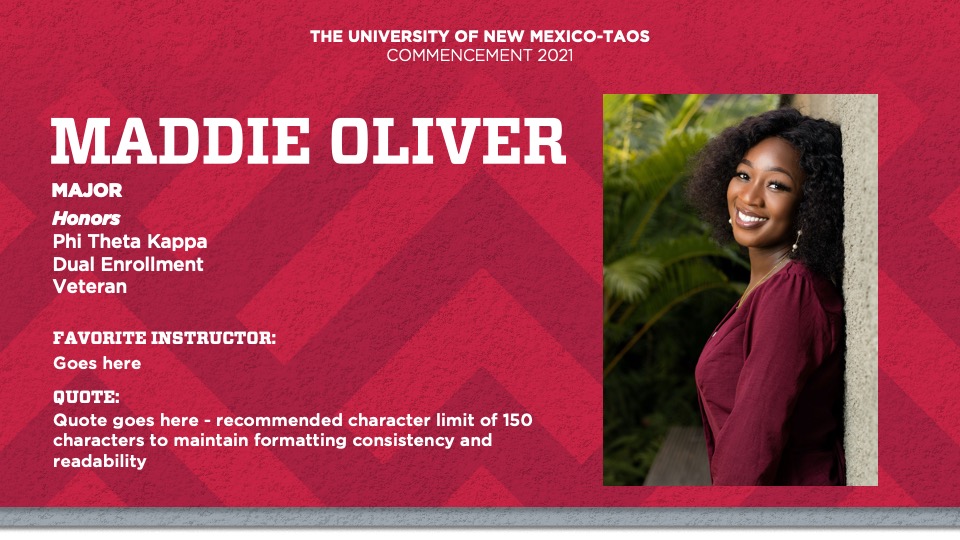 Certificate and Associate Degree Grads
Customize Grad Slide
High School Equivalency Grads
Customize HSE Slide
Graduation regalia is available at the UNM-Taos Business Office!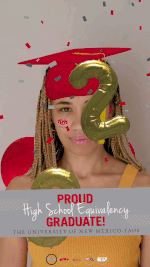 What: If you are interested in purchasing Graduation Regalia as a keepsake, whether for commemorative sake or to take pictures with your friends and family (or selfies, of course!) graduation regalia (caps and gowns) is available for purchase!   Please note that regalia purchases can only be done by cash or check.   
How: Contact Thomas Duran (tlduran@unm.edu) or Geri Montoya (geriemontoya@unm.edu) to schedule a time to purchase and pick up your regalia. 
Where:  UNM-Taos Business Office at Klauer Campus
When: By appointment, Monday-Friday, from 10 a.m. to 3 p.m. 
Smile and say "Diploma"!  Celebrate with a selfie!  
What: Come take your celebratory graduation pictures with a UNM-Taos or TECC at UNM-Taos customized background!
How: Bring yourself and your friends or family members and your camera or smartphone to take pictures in front of a customized graduation backdrop. Save your pictures for your family album or post to social media! 
Where: UNM-Taos Bataan Hall, 121 Civic Plaza Drive, Taos, NM 87571
When: The photo backdrops will be available on a first-come, first-served basis on the following dates and times:
Tuesday, June 1st |11 a.m.-1 p.m. and 4-6 p.m.
Thursday, June 3rd  | 11 a.m. -1 p.m. and 4-6 p.m.
Saturday, June 5th | 10 a.m. - noon
Monday, June 7th  | 11 a.m. - 1 p.m. and 4-6 p.m.
Wednesday, June 9th | 11 a.m. - 1 p.m. and 4-6 p.m.
Friday, June 11th | 11 a.m. - 1 p.m. and 4-6 p.m.