Bus Schedule
The North Central Regional Transit District (NCRTD) provides Free Bus Service to UNM-Taos students. 
The 350 UNM-Taos Blue Bus runs between the Guadalupe Church Parking lot to Klauer Campus. Riders can connect to the 350 UNM-Taos Blue Bus route from the 340 Chile Line Red route.


Please note: Due to COVID-19, some routes may be operating differently.  Currently, the 350 UNM Taos Blue Bus is operating as DEMAND SERVICE*. Passengers may reserve a ride from any stop on the route to any stop on the route within the service hours. Passengers must reserve a ride at least 24 hours in advance by calling 866-206-0754 ext. 2.  The 340 Chile Line Red is operating under NORMAL SCHEDULE, NO RESERVATION REQUIRED: Route operating according to normal schedule. Seating remains limited. 

To view the current status of each route during COVID-19, visit: https://www.ncrtd.org/news/ncrtd-statement-on-measures-in-response-to-covid-19/ or call 505-629-4725 ext. 2, or toll-free 866-206-0754 ext. 2.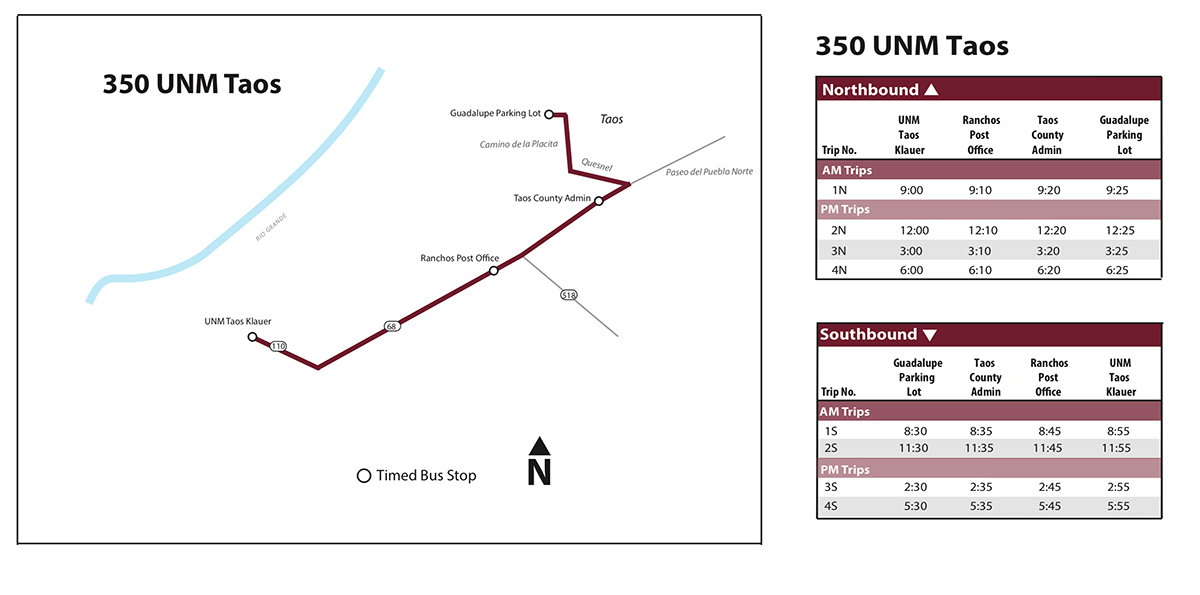 *Demand service allows riders to call and schedule a trip being picked up and dropped-off at established RTD bus stops. Riders are asked to limit trips to only those that are essential. Face coverings are required to ride and must remain on for the duration of the trip. Seating on vehicles are limited due to social distancing and groups of five or less.
Where's my Bus?
See where your bus is in realtime and be sure to download the MYSTOP app.